5 Tips for Managing Paperwork as an Owner-Operator in the Trucking Industry
When you decided to start your career as an owner-operator in the trucking industry, you probably didn't envision hours and hours of paperwork. But the truth is that as a business owner, you can't avoid all paperwork. Especially when you want to get paid, submitting paperwork (invoicing) efficiently is important. 
At Truckstop, we are committed to the success of owner-operators. Below are five tips to making the paperwork process more efficient. 
Organize paperwork per trip. 
Whether digitally or physically, you'll want to keep all load trip information together. 
Load-specific paperwork such as current BOLs, receipts, and all load information that you kept track of manually should be organized per trip. Again, this can be done digitally, but if you feel you want to keep it in a binder or folder, make sure you're organized by trip to make invoicing, taxes, and any future revisits easier. 
Manage as much as you can digitally. 
In today's day and age, there is no reason to fill your cab with physical paperwork. Check out the best technology for your needs. Things you can consider when deciding which technology is best for your business are cost, ease of use, features, etc. 
Many apps that you use, like the Truckstop Load Board, have mobile features that make managing what used to be strictly paper much more streamlined in a digital way. Truckstop Go™ keeps you covered from finding the right freight to getting the right rate, all in the palm of your hand. 
Download from the App Store or Google Play, free for Truckstop subscribers.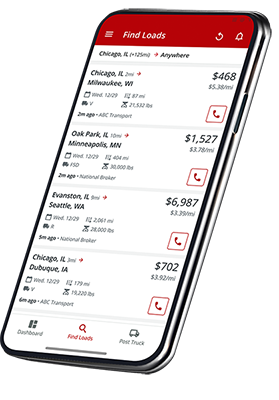 Quick Tip: Digital solutions make almost everything in your trucking business an easier process. Check out our blog on mobile apps that might help your business do various things digitally: Mobile Apps That Make Your Trucking Business More Efficient
Invest in a TMS.
A transportation management software, or TMS, could help you streamline and organize your trucking business. 
Each TMS is a little different, but whichever you choose should help you reduce manual entry, automatically calculate your IFTA, help you stay more organized, and handle your invoicing. All from online – where you will be able to reduce time spent filling out paperwork and have access to documents wherever you go. 
Keep your receipts.
Even if they seem unimportant, trucking is a business where your receipts matter. For fuel costs, food, etc. When you are doing your taxes, you will want your receipts for write-offs and accuracy purposes. 
To store receipts, we recommend a folder with several pockets so you can organize the receipts into categories such as food, fuel, maintenance, etc. This will make finding them much easier. 
Use Factoring.
Another popular option that nearly 70% of small carriers use is factoring. Factoring (also called accounts receivables financing) means you use a third-party finance company to get paid faster than the 30 days it usually takes for an invoice to work its way through a broker's accounts payable department. Factoring allows you to you have cash on hand sooner to cover expenses and keep moving.
Truckstop offers non-recourse factoring, meaning if the broker doesn't pay due to credit insolvency, you'll still get paid. Truckstop Factoring also helps eliminate a lot of the time-consuming paperwork with full-service billing, sending the invoice to the broker on your behalf. And all of it is available in the same Truckstop Go app you use to find loads.
Send invoices quickly.
If factoring isn't the right choice for you, make sure to send invoices immediately after you complete a load. When you're on the road, it can be difficult to maintain invoices, especially if you fall behind. But to keep cash flow strong, you will want to invoice immediately. This will ensure you always have money coming in and avoid a backlog. 
When using an automated system to send invoices, double-check all your entries. Any inaccuracies can potentially lead to a delay in payments. Check out systems that make invoicing easier, like a TMS. 
Truckstop can help 
The good news is that a TMS (trucking management software) can help you streamline and organize most of this paperwork. 
If you're looking for an easy-to-use and affordable TMS, Check out ITS Dispatch, a top-rated TMS that helps you manage invoices, calculate IFTA, manage driver settlements, and so much more. 
Schedule a demo.
Find out how our platform gives you the visibility you need to get more done.