Rate Analysis
No more spreadsheets.
No more guessing.
Benchmark rates in real-time. Get better rates on every deal.
Rate against hundreds of thousands of daily loads and one million power units.
The industry-trusted rate platform for carriers, brokers, and shippers.
check_circle
Enjoy speedy bulk analysis.
Process tens of thousands of rates in minutes and quickly respond to RFPs.
check_circle
Get big rates data fast.
Easily manage rate data from many sources.
check_circle
Easy-to-use interface.
Use predictive search boxes, drag-and-drop uploads, send quotes directly, and save favorite settings.
check_circle
Integrate into your TMS or API.
Give your team the tools to accurately and reliably import and export rate data.
Rate Forecasting
Get week-by-week, lane-by-lane rate trends from over 160,000 active lanes with Rate Forecasting.
Learn More

→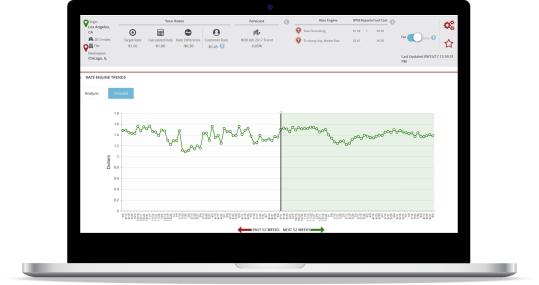 Let's talk rates.
Learn how Rate Analysis can give you a competitive edge.