Rate Analysis
No more spreadsheets.
No more guessing.
Benchmark rates in real-time. Get better rates on every deal.
Rate against hundreds of thousands of daily loads and one million power units.
The industry-trusted rate platform for carriers, brokers, and shippers.
check_circle
Enjoy speedy bulk analysis.
Process tens of thousands of rates in minutes and quickly respond to RFPs.
check_circle
Get big rates data fast.
Easily manage rate data from many sources.
check_circle
Easy-to-use interface.
Use predictive search boxes, drag-and-drop uploads, send quotes directly, and save favorite settings.
check_circle
Integrate into your TMS or API.
Give your team the tools to accurately and reliably import and export rate data.
Rate Forecasting
Get week-by-week, lane-by-lane rate trends from over 160,000 active lanes with Rate Forecasting.
Learn More

→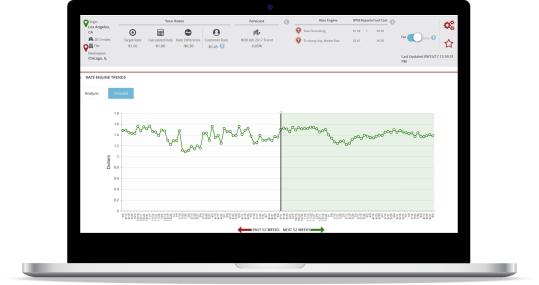 Let's
talk rates.
Learn how Rate Analysis can give you a competitive edge.
Want to talk right now?
"My whole team uses Rate Analysis. We do mostly spot market at our company so it helps us get the best rate to the customer as well as the best rate to the carrier."
"Truckstop.com takes data and turns it into information. We can upload our own historical data and compare it to Truckstop.com data to compare the two, side by side, for a more accurate rate to present to our customers."
"We have 110 offices that work independently of each other. Rate Analysis gives our network one page, one screen they can view, which saves them time and money to find out the most accurate market data that they can find."