Blog
Explore more.
Get inside the industry with expert advice, tips & tricks, and in-depth articles to help you navigate your business.
12/08/2022
Truckstop Partner Marketplace November Roundup
In November the Truckstop Partner Marketplace added 5 new partners in just the first week! The total number of partners before the Thanksgiving holiday was at 87. In just 5 months the Truckstop Partner Marketplace, a curated list of trusted and vetted partner related solutions, has become a very robust rolodex. We are excited to
Read More

→
12/02/2022
6 Ways Freight Brokers Can Find Quality Loads
As a broker, you make money by connecting shippers with carriers. The more connections you make, the better your margins will be. The market is huge. Freight brokerages and agencies are expected to account for $98.8 billion in 2022. This year, the broker business is forecasted to end the year with 6.6% growth. It's a
Read More

→
11/29/2022
5 Tips for Managing Paperwork as an Owner-Operator in the Trucking Industry
When you decided to start your career as an owner-operator in the trucking industry, you probably didn't envision hours and hours of paperwork. But the truth is that as a business owner, you can't avoid all paperwork. Especially when you want to get paid, submitting paperwork (invoicing) efficiently is important. At Truckstop, we are committed
Read More

→
Access your FREE guide! "Can I Make More Money Using a Load Board?" You'll learn:

Why a load board is a must-have for today's carrier.
How a load board works.
How to choose the best load board.
How to make more money with a load board.

Get the Guide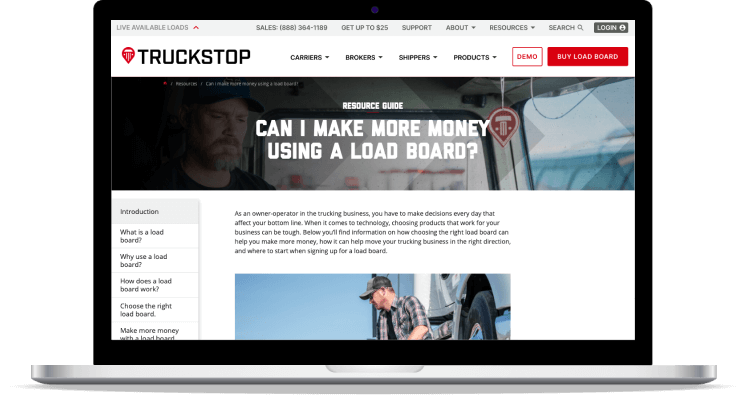 11/09/2022
5 Best Places for Truckers to Get Thanksgiving Dinner in 2022
If you're going to be one of many truck drivers braving snow, ice, and/or traffic this Thanksgiving and would still like to have a turkey dinner, check out this list of restaurants and truck stops open on Thursday, Nov. 22.
Read More

→
11/04/2022
Freight Broker Business Plan
As the name implies, a freight broker business is the link between freight shippers and carriers. As a freight broker, you will receive requests from companies that need goods shipped and match them to carriers for transport. But how do you make that happen? How do you take your freight broker business from an idea
Read More

→
11/02/2022
How to Get Your Trucking Authority (6-Step Process)
Make the Switch to Being Your Own Boss Getting your trucking authority to start your own trucking business can be downright intimidating. With so much conflicting information available on the internet, it's hard to keep track of all the steps you need to follow. Getting your own authority requires startup cash, attention to detail, and
Read More

→