Blog
EXPLORE MORE.
Get inside the industry with expert advice, tips & tricks, and in-depth articles to help you navigate your business.
07/22/2021
A Freight Broker's Guide to Carrier Insurance Monitoring
As a freight broker, you are the go-between for shippers and carriers. You might already know that it's important to require proof of insurance during the carrier selection process. But did you know that even if you have a carrier's certificate of insurance on file, you might be still be held legally responsible if something
Read More

→
07/15/2021
Everything You Need to Know About Wide Load Trucking
600 million tons worth of oversize or wide loads hit the highways annually, according to the Department of Transportation. Nearly 5 million permits are granted each year. Wide load trucking can be a lucrative business, but you need to meet additional safety regulations. If you're moving heavy equipment or oversize loads, you will need to
Read More

→
07/14/2021
A Broker's Guide: How to Automate Carrier Onboarding and Monitoring
In the broker industry, carriers are more than the people who move products safely on a deadline. As part of your transportation team, they're also an extension of the services you, as the broker, provide to your clients. An honest, trustworthy, qualified carrier can go a long way to growing and maintaining your reputation among
Read More

→
Access your FREE guide! "Can I Make More Money Using a Load Board?" You'll learn:

Why a load board is a must-have for today's carrier.
How a load board works.
How to choose the best load board.
How to make more money with a load board.

Get the Guide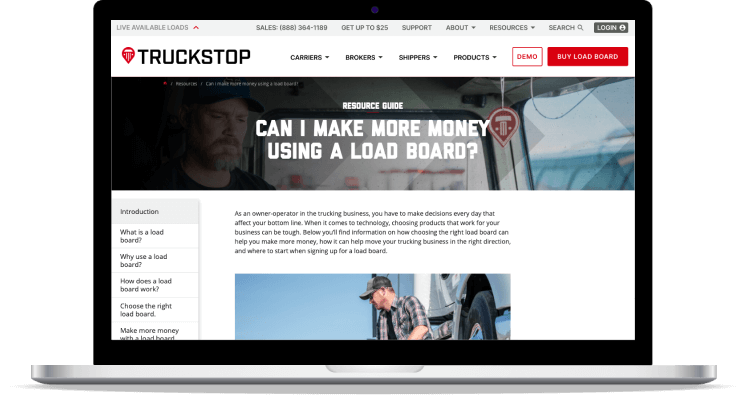 06/18/2021
10 Common Ways Truck Drivers Get Paid
No matter how freeing the open road is, you still have to figure out how to get paid. If you're new to the trucking industry, you might wonder, "How are truck drivers paid, and how much can I expect to make?" Exactly how much money you'll earn depends on multiple factors, including your reputation, level
Read More

→
06/10/2021
Truck Factoring: Everything You Need to Know
What is truck factoring? Being a carrier can lead to a great deal of freedom, especially as an entrepreneur. But one downside of being an owner-operator is getting paid on time. If you're lucky, you might get paid at the end of a delivery. But more often than not, you end up waiting for your
Read More

→
06/09/2021
Partial vs. LTL Freight: Which One Should You Choose?
In a perfect world, you want a full trailer of cargo, whether driving state to state or coast to coast. But oftentimes, the freight brokers and shippers you work with might not need 100% of your trailer space for their shipments. Instead, they might opt for either partial truckload (PTL) or less than truckload (LTL)
Read More

→