Blog
EXPLORE MORE.
Get inside the industry with expert advice, tips & tricks, and in-depth articles to help you navigate your business.
11 Bookkeeping Tips for Truckers: The Basics
Simplify bookkeeping tasks by following six simple practices.
Read More

→
9 Tips to Control Expenses in Your Trucking Business
If you're running your own trucking business and looking to cut some costs, these 9 tips will help.
Read More

→
Top 14 Apps for Truckers
Having difficulty trying to figure out the best apps to use when you're on the road trucking? Find out some of the most helpful apps for truckers!
Read More

→
08/04/2022
How to Write a High-Converting Freight Broker Sales Pitch
To grow your freight brokerage, you'll need to prospect for new business constantly. You'll need to refine your freight broker sales pitch to be successful, whether you're doing in-person visits or sending cold emails. Some customers will drop over time, no matter how good you are at your job. If you're not adding new customers
Read More

→
08/03/2022
7 Steps to Become a Professional Truck Driver
If you want to know how to become a truck driver, you've come to the right place. Here is everything you need to know to get started on a career as a professional truck driver. What does a truck driver do? Truck drivers help keep our country's economic engine churning by transporting goods from one
Read More

→
08/01/2022
Dry Van Shipping: Pros, Cons, and Rates
Dry van shipping is one of the most popular, reliable, and enduring shipping forms. Shippers choose dry van trailers because they protect freight from the elements, provide security, and offer versatility. But what is dry van trucking, when and why should you choose to offer dry van shipments, and what are the pros and cons?
Read More

→
Access your FREE guide! "Can I Make More Money Using a Load Board?" You'll learn:

Why a load board is a must-have for today's carrier.
How a load board works.
How to choose the best load board.
How to make more money with a load board.

Get the Guide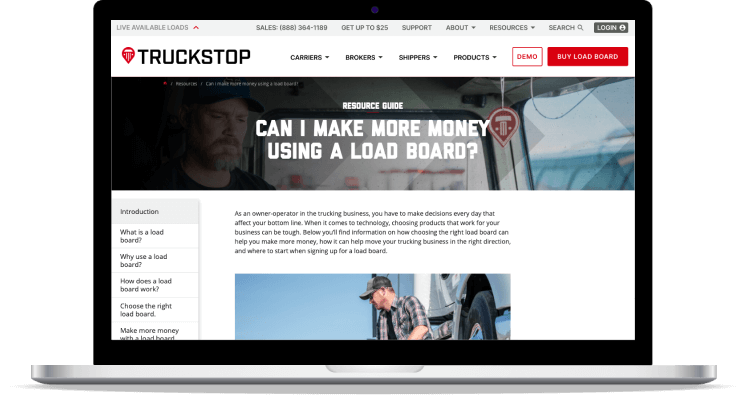 07/07/2022
How to Become a Freight Broker in Georgia (Complete Guide)
Freight brokers play an important role in keeping supply chains functioning and moving goods across the country. Brokers connect shippers with carriers and handle the logistics involved in moving freight between companies, warehouses, distribution centers, and stores. Here's a breakdown of what freight brokers do, how to get a freight broker license in Georgia, and how
Read More

→
07/05/2022
3 Ways to Increase Freight Broker Commission
Many freight brokers are paid on commission. To figure out your take-home pay, it's important to understand how the commission structure works and what determines how brokers get paid. How do you increase your commissions as a freight broker? Here's what you need to know, plus three actionable steps to increase your margins and commissions.
Read More

→
07/01/2022
Is the Trucking Business Slowing or Growing?
The past two years have been anything but ordinary, and industries of all types have experienced seismic shifts in how they do business. The trucking market is no exception. But exactly how has it been affected? Is the trucking business slow (or even in a downturn) right now, or is it growing? And why is
Read More

→