Blog
EXPLORE MORE.
Get inside the industry with expert advice, tips & tricks, and in-depth articles to help you navigate your business.
07/01/2022
Is the Trucking Business Slowing or Growing?
The past two years have been anything but ordinary, and industries of all types have experienced seismic shifts in how they do business. The trucking market is no exception. But exactly how has it been affected? Is the trucking business slow (or even in a downturn) right now, or is it growing? And why is
Read More

→
06/28/2022
Truckstop.com launches Truckstop.com Partner Marketplace: Your comprehensive source for transportation and logistics needs
Truckstop.com is excited to announce the launch of the new Truckstop.com Partner Marketplace. This comprehensive transportation and logistics marketplace provides a hand-picked selection of products, solutions, and integrations designed to help carriers, brokers and shippers move their businesses forward. The Truckstop.com Partner Marketplace includes industry and technology partners in several business categories including financial services,
Read More

→
06/24/2022
3PL vs. 4PL Logistics: Which is the Right Fit for Your Business?
If you're a shipper looking for help with logistics, you might wonder about the advantages and disadvantages of 3PL vs. 4PL providers. Or, you might wonder what a PL is in the first place and why you would need one. PL stands for party logistics. A 3PL logistics company offers third-party logistics, while 4PL companies
Read More

→
Access your FREE guide! "Can I Make More Money Using a Load Board?" You'll learn:

Why a load board is a must-have for today's carrier.
How a load board works.
How to choose the best load board.
How to make more money with a load board.

Get the Guide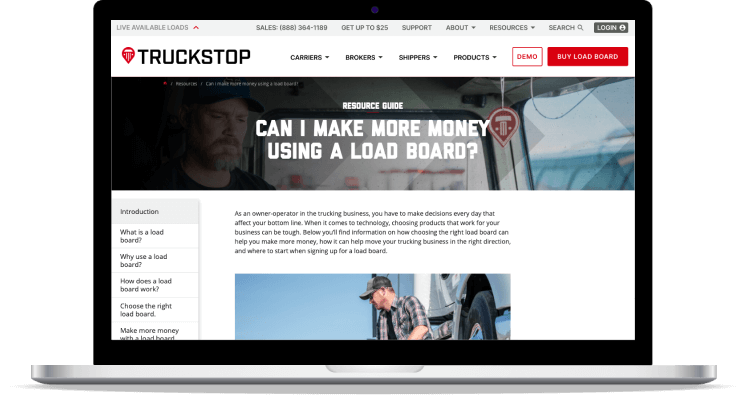 06/01/2022
7 Best Freight Broker Software Tools for 2022
To manage the fast-paced business of matching carriers and shippers, choosing the right freight broker software is essential for your success as a broker. Especially if you're just starting, you might think an off-the-shelf accounting package or generic transportation management software will do the job. But freight brokers need specialized solutions that help manage carrier
Read More

→
05/27/2022
5 Steps to Become a Freight Broker in California
Brokers serve as an intermediary between two parties. In the transportation arena, a freight broker connects shippers and carriers to move goods from one place to another, such as from warehouse to store. It's a lucrative field, but we need more brokers to serve the industry. If you live in the Golden State, here's how
Read More

→
05/26/2022
What is Hot Shot Trucking?
Hot shot trucking (AKA hotshot trucking) involves hauling smaller, more time-sensitive LTL loads (less than truckload) within a specific timeframe and usually to a single customer or location. Hot shot loads are usually delivered using medium-duty trucks that pull flatbed trailers. Hot shot truck requirements vary. Some hot shots need to be delivered a short
Read More

→