Blog
EXPLORE MORE.
Get inside the industry with expert advice, tips & tricks, and in-depth articles to help you navigate your business.
03/01/2021
The Owner-Operator's Quick Guide to Taxes
Avoid any big surprises in April by using good planning and recordkeeping throughout the year.
Read More

→
03/01/2021
Choosing the Best Factoring Company for Your Trucking Business
One of the most significant issues for any small business is cash flow. Most clients you haul for pay your invoices 30, 60, or
Read More

→
02/25/2021
11 Factors That Influence Freight Shipping Costs
In an industry so large, you might think there would be a freight shipping cost standard. But there isn't one. Because
Read More

→
Access your FREE guide! "Can I Make More Money Using a Load Board?" You'll learn:

Why a load board is a must-have for today's carrier.
How a load board works.
How to choose the best load board.
How to make more money with a load board.

Get the Guide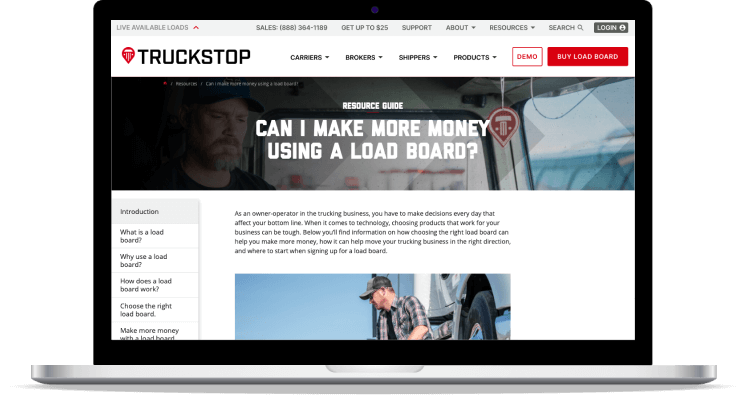 02/02/2021
How to choose a freight broker
Many factors come into play when looking for broker partners to connect with to help you find good loads to haul. Like in any
Read More

→
01/30/2021
Flatbed vs Dry Van: Which is Right for Your Business?
When it comes to freight shipping, there are a lot of choices out there. But for those in the transportation industry, it often
Read More

→
01/26/2021
How to Get More Owner-Operator Loads
As many as 400,000 owner-operators are driving on America's roads. One of the most important parts of being a successful
Read More

→