Blog
EXPLORE MORE.
Get inside the industry with expert advice, tips & tricks, and in-depth articles to help you navigate your business.
01/21/2021
Truckstop.com Brings Book It Now Digital Freight Matching To Mercurygate's TMS Customers
Transportation and logistics industry leaders Truckstop.com and MercuryGate International today announced the availability of
Read More

→
01/19/2021
6 Best Trucker Trip Planners for 2021
Truckers must accomplish many tasks every single day. They have client deadlines to meet for shipping but must also stay safe on
Read More

→
01/14/2021
What is a Transportation Management System (TMS)?
As with many other industries, the logistics and transportation industries rely more and more on technology to
Read More

→
Access your FREE guide! "Can I Make More Money Using a Load Board?" You'll learn:

Why a load board is a must-have for today's carrier.
How a load board works.
How to choose the best load board.
How to make more money with a load board.

Get the Guide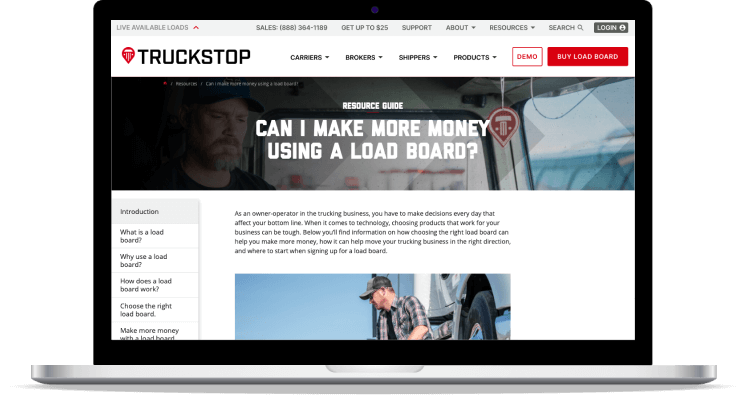 12/22/2020
6 Steps to Get a Freight Broker License
If you want to act as a freight broker, matching goods that need to be shipped with trucking companies that do the shipping, you
Read More

→
12/21/2020
The Top 10 Trucking Posts of 2020
2020 has proven to be an unprecedented year, but the trucking community has remained strong and resilient. Facing the Covid-19
Read More

→
12/18/2020
Starting Fresh in 2021 with Lessons Learned from 2020
It's hard to believe the year is nearly over, yet, when I look back, it's amazing to think about everything that has happened
Read More

→