Blog
EXPLORE MORE.
Get inside the industry with expert advice, tips & tricks, and in-depth articles to help you navigate your business.
08/12/2022
California's AB5 Law: What It Means for Independent Carriers
Regardless of where your trucking business operates, you're probably paying close attention to California's "Assembly Bill 5," or AB5, which reclassifies large numbers of independent contractors as "employees." Although signed into law in late 2019, a lawsuit from the California Trucking Association prevented it from initially affecting trucking companies. However, the Supreme Court's refusal to
Read More

→
08/10/2022
Choosing the Best Factoring Company for Your Trucking Business
One of the most significant issues for any small business is cash flow. Most clients you haul for pay your outstanding invoices 30, 60, or even 90 days later. In the meantime, you still have expenses to continue to run your company. Some daily and monthly expenses like fuel, maintenance, and insurance can't be put
Read More

→
08/04/2022
How to Write a High-Converting Freight Broker Sales Pitch
To grow your freight brokerage, you'll need to prospect for new business constantly. You'll need to refine your freight broker sales pitch to be successful, whether you're doing in-person visits or sending cold emails. Some customers will drop over time, no matter how good you are at your job. If you're not adding new customers
Read More

→
Access your FREE guide! "Can I Make More Money Using a Load Board?" You'll learn:

Why a load board is a must-have for today's carrier.
How a load board works.
How to choose the best load board.
How to make more money with a load board.

Get the Guide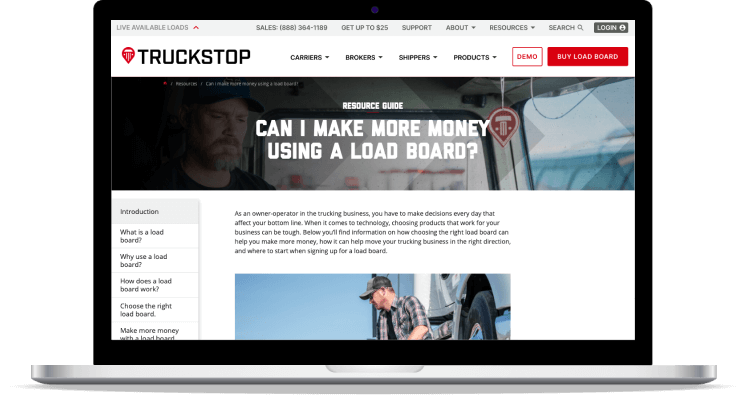 07/14/2022
Flatbed vs Dry Van: Which is Right for Your Business?
When it comes to your freight shipping needs, there are a lot of choices out there. But for those in the transportation industry, it often comes down to which trailer is the best for the job. Dry vans and flatbed trailers are the two most common. But when it comes to dry van vs. flatbed,
Read More

→
07/07/2022
Infographic: How to understand—and limit—the impact of rising costs on U.S. truckers
The costs of hauling freight in America today are rapidly skyrocketing, and U.S. truckers are seeking solutions that help them reduce expenses and protect tight profit margins. With overall costs up by more than half in a year's time, it's more critical than ever to know your operating cost-per-mile, the amount you need to earn
Read More

→
07/07/2022
How to Become a Freight Broker in Georgia (Complete Guide)
Freight brokers play an important role in keeping supply chains functioning and moving goods across the country. Brokers connect shippers with carriers and handle the logistics involved in moving freight between companies, warehouses, distribution centers, and stores. Here's a breakdown of what freight brokers do, how to get a freight broker license in Georgia, and how
Read More

→