Blog
EXPLORE MORE.
Get inside the industry with expert advice, tips & tricks, and in-depth articles to help you navigate your business.
01/19/2021
6 Best Trucker Trip Planners for 2021
Truckers must accomplish many tasks every single day. They have client deadlines to meet for shipping but must also stay safe on
Read More

→
01/14/2021
What is a Transportation Management System (TMS)?
As with many other industries, the logistics and transportation industries rely more and more on technology to
Read More

→
01/13/2021
How to Become a Freight Broker: Simple 11-Step Guide for 2021
Freight and shipping in the USA is almost an $800 billion industry, and a freight broker plays a key role in managing the
Read More

→
Calculating your cost per mile is the single most important calculation you can do for your trucking business.
Download our "Cost Per Mile" worksheet to see spending patterns and areas you can cut costs.
Download Today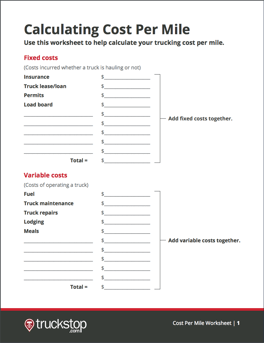 12/21/2020
The Top 10 Trucking Posts of 2020
2020 has proven to be an unprecedented year, but the trucking community has remained strong and resilient. Facing the Covid-19
Read More

→
12/18/2020
Starting Fresh in 2021 with Lessons Learned from 2020
It's hard to believe the year is nearly over, yet, when I look back, it's amazing to think about everything that has happened
Read More

→
12/17/2020
How to Find the Highest Paying Truck Loads
Trucking is a tough job. The highways are crowded, fuel costs are climbing, overheads are high, and every mile under your wheels
Read More

→