Blog
EXPLORE MORE.
Get inside the industry with expert advice, tips & tricks, and in-depth articles to help you navigate your business.
09/09/2021
Flatbed Trucking: How it Works, Rates, Pros & Cons
Dry vans and refrigerated trucks are some of the most common haulers in the U.S. because they can carry a wide variety of cargo types. But when freight is large and/or heavy, dry vans and similar trucks can't always handle the job. This is where flatbed trucks come in. Flatbed trucks are important to many businesses and industries.
Read More

→
08/31/2021
11 Tips to Negotiate Better Freight Rates
As a carrier or owner-operator, rate negotiations can be frustrating. It takes valuable time and energy to come to an agreement that works for both you and the broker. But knowing how to negotiate freight rates or load rates is critical to a successful business. Good rates mean more money in your pocket and a
Read More

→
08/27/2021
How to Calculate Cost per Mile
Understanding how much it costs to keep your truck operating is the single most important financial calculation you can do for your trucking business. But it's something that a lot of drivers and owner-operators don't keep track of. Don't be one of them! Knowing your cost per mile reveals your spending patterns and areas where
Read More

→
Access your FREE guide! "Can I Make More Money Using a Load Board?" You'll learn:

Why a load board is a must-have for today's carrier.
How a load board works.
How to choose the best load board.
How to make more money with a load board.

Get the Guide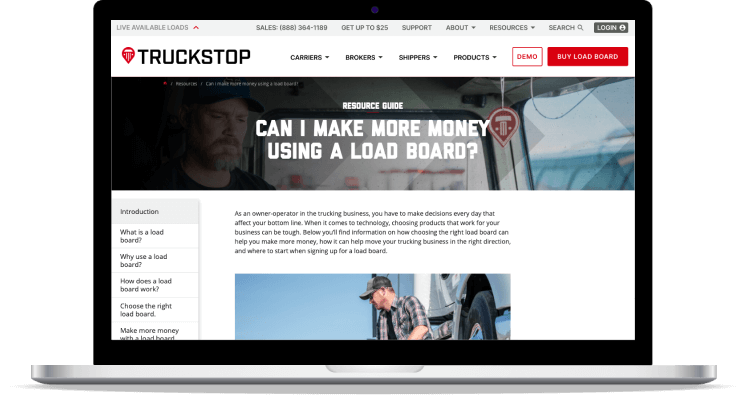 07/27/2021
Truck Driver Essentials: 19 Must-Have Items for the Road
You chose trucking as a carrier because you like the flexibility, travel, and pay. Being a carrier can be a terrific career for these and other reasons. But planning is important when it comes to a successful trip. Truck driver essentials include items and tools that can prepare you for potential problems while keeping you
Read More

→
07/26/2021
Truck Driver Salary: Top Paying Jobs (By State & Freight Type)
No matter how much you might love being on the road, very few people get into a career without the expectation of making money. How much do truck drivers make a year? The differences in truck driver salaries can be immense. It depends on a wide variety of factors, from the certifications you hold to
Read More

→
07/22/2021
A Freight Broker's Guide to Carrier Insurance Monitoring
As a freight broker, you are the go-between for shippers and carriers. You might already know that it's important to require proof of insurance during the carrier selection process. But did you know that even if you have a carrier's certificate of insurance on file, you might be still be held legally responsible if something
Read More

→