Blog
EXPLORE MORE.
Get inside the industry with expert advice, tips & tricks, and in-depth articles to help you navigate your business.
10/22/2020
Deadhead Miles
Deadheads. Deadhead miles. Deadhead trucks. Tractor-trailers sometimes have empty flatbeds attached or they might not have a
Read More

→
10/20/2020
What is Hot Shot Trucking?
Hot shot trucking (AKA hotshot trucking) involves hauling smaller, more time-sensitive LTL loads within a specific timeframe, and
Read More

→
10/15/2020
Owner-operators: know your costs. An interview with industry expert Kevin Rutherford
For carriers who mean business, it pays to follow this basic business principle. When it comes to getting advice on how to surviv
Read More

→
Calculating your cost per mile is the single most important calculation you can do for your trucking business.
Download our "Cost Per Mile" worksheet to see spending patterns and areas you can cut costs.
Download Today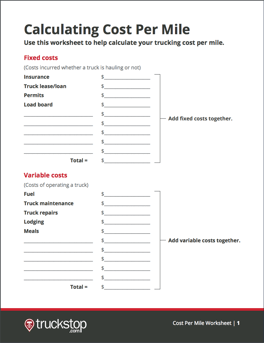 09/30/2020
Truckstop.com and IQ Dispatch announce Truck Post and Load Search Integration
Truckstop.com is pleased to announce a new integration with IQ Dispatch, a carrier transportation management system (TMS) designe
Read More

→
09/16/2020
5 Tips for Managing Paperwork as an Owner-Operator in the Trucking Industry
When you decided to start your career as an owner-operator in the trucking industry, you probably didn't envision hours and
Read More

→
09/10/2020
Truckstop.com Announces Load Post and Rate Mate Integration with FreightZip
Truckstop.com, the first online load board, is pleased to announce its latest integration with FreightZip, a transportation
Read More

→