Blog
EXPLORE MORE.
Get inside the industry with expert advice, tips & tricks, and in-depth articles to help you navigate your business.
05/25/2022
Truck Driver Lingo: Truck Industry Terms and Slang Sayings
If you're new to the trucking industry, it's easy to get lost in a sea of trucker lingo. Alligator? Anteater? Berth? Trucker slang doesn't always make much sense if you're new to the business. Then there's all the official trucking terminology, such as authorized carrier, bill of lading, and common carrier. Fortunately, trucker language will make
Read More

→
05/23/2022
6 Best Trucker Forums for Owner Operators in 2022
Online forums have become the place to be for people with any sort of shared interests, and truck drivers are no exception. Trucker forums are packed with useful tips and information, and they are a great place to ask very specific questions of other truck drivers. Whether you make lifelong friends or simply pop in
Read More

→
05/20/2022
Motor Freight Trucking 101: What It Is and How it Works
Motor freight trucking is the backbone of the U.S. economy. It is how virtually all the goods and commodities we use in our homes and businesses get from their point of origin to their final destination. The industry raked in more than $732 billion in revenue throughout 2020 and grew even more during 2021. What
Read More

→
Access your FREE guide! "Can I Make More Money Using a Load Board?" You'll learn:

Why a load board is a must-have for today's carrier.
How a load board works.
How to choose the best load board.
How to make more money with a load board.

Get the Guide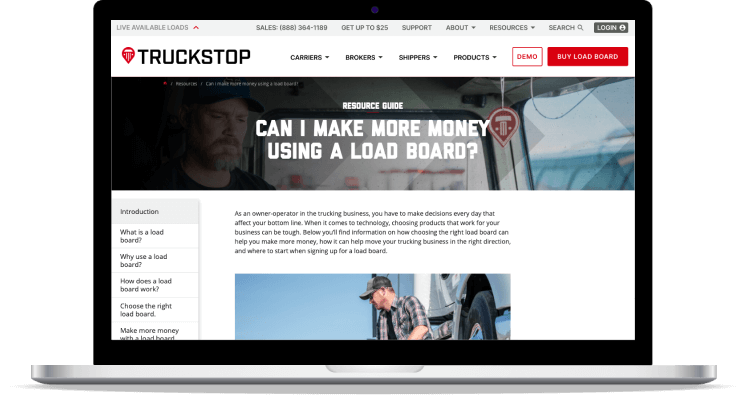 05/05/2022
Freight Forwarders vs. Freight Brokers: What You Need to Know
Freight brokers and freight forwarders are both part of the freight industry. Both coordinate the movement of freight for a third party, connect shippers and carriers, negotiate freight rates, and track and ensure delivery. But there is one key difference. A freight broker coordinates the connection between shippers and carriers but does not handle freight
Read More

→
05/04/2022
The Truck Driver Shortage and What It Means for Shippers
There has been a truck driver shortage for about a decade, and it's only getting worse. According to the American Trucking Association, the current shortage is around 80,000 drivers. By 2030, that number is projected to exceed 160,000. Truck driver demand is extremely high, as roughly 70% of all American freight is moved by truck.
Read More

→
05/03/2022
Refrigerated Trucking: Pros, Cons, and Best Practices
Refrigerated trucking companies provide a valuable service for our country. By transporting fresh produce, groceries, medical supplies, and other temperature-sensitive goods, refrigerated trucks allow stores to keep their shelves stocked for consumers. A significant percentage of the trucks you see on the highway are refrigerated trucks (AKA reefer trucks). What is refrigerated trucking? Refrigerated trucking
Read More

→