Blog
EXPLORE MORE.
Get inside the industry with expert advice, tips & tricks, and in-depth articles to help you navigate your business.
11/23/2022
10 Benefits of Using a LTL Freight Broker
Less than truckload freight (LTL) is a good way for carriers to fill trailers with multiple stops in a single area that make their loads more worthwhile and profitable. However, finding these loads takes a certain amount of work, and doing it quickly and efficiently is vital to a carrier's success. That's where an LTL
Read More

→
11/21/2022
How to Find the Highest Paying Truck Loads
Trucking is a tough job. The highways are crowded, fuel costs are climbing, overheads are high, and every mile under your wheels comes with a hefty bill both in time and money. All truckers work hard, but these days it's essential to work smarter, too. Want to find the highest paying truck loads? Read on.
Read More

→
11/18/2022
A Broker's Guide: How to Automate Carrier Onboarding and Monitoring
In the broker industry, carriers are more than the people who move products safely on a deadline. As part of your transportation team, they're also an extension of the services you, as the broker, provide to your customers. An honest, trustworthy, qualified carrier can help you maintain your reputation among shippers and grow your business.
Read More

→
Access your FREE guide! "Can I Make More Money Using a Load Board?" You'll learn:

Why a load board is a must-have for today's carrier.
How a load board works.
How to choose the best load board.
How to make more money with a load board.

Get the Guide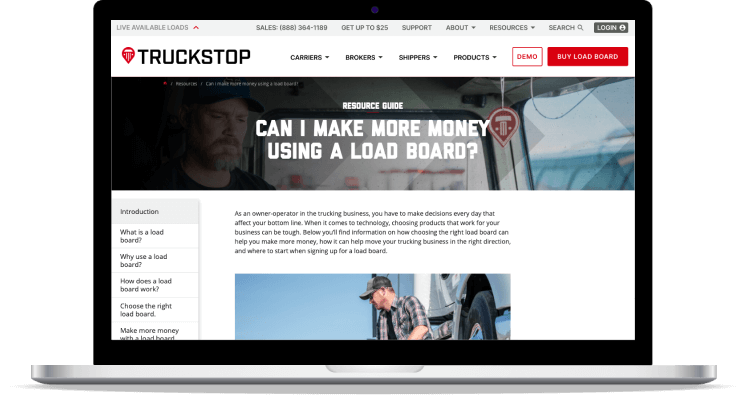 10/31/2022
Truckstop Partner Marketplace October Roundup
You no longer a need to scour the web for a business solution. Truckstop has built and will continue to build relationships with companies across the industry to help brokers, carriers, and shippers find solutions to run their business with a trusted and vetted partner. As a commitment to our customers in the freight community
Read More

→
10/26/2022
How to Calculate Cost per Mile
The cost to keep your truck operating is the single most important financial calculation you can do for your trucking business. But it's something that a lot of drivers and owner-operators don't track. If you've never tracked your cost per mile, you may be relieved to know you don't need accounting software to do it.
Read More

→
10/04/2022
What Is Backhaul Trucking?
Backhaul trucking is a great way for truckers and fleet owners to make money on return trips while providing shippers with another opportunity to move their products where they need to go. But what is backhaul trucking, and how can you find backhaul loads and improve your backhaul strategy? Here's what you need to know.
Read More

→