Blog
EXPLORE MORE.
Get inside the industry with expert advice, tips & tricks, and in-depth articles to help you navigate your business.
11/30/2021
6 Steps to Get a Freight Broker License
If you want to act as a freight broker, matching goods that need to be shipped with trucking companies that do the shipping, you will need a freight broker license, or a load broker license. Freight brokers are regulated by the Federal Motor Carrier Safety Administration (FMCSA), and the requirements can be confusing. We've put
Read More

→
11/30/2021
16 Practical Ways to Improve Trucking Fuel Economy
Take a look at some ways to increase fuel efficiencies when you're over the road.
Read More

→
11/29/2021
Common Freight-Shipping Terms You Should Know
Whatever industry you're in, you need to know the lingo. In the trucking business, this means becoming familiar with a variety of standard shipping terms. FCA? DAP? Shipping terms include a variety of acronyms, as well as common words used in a specific way. Learning basic shipping terminology helps you communicate with others in the
Read More

→
Access your FREE guide! "Can I Make More Money Using a Load Board?" You'll learn:

Why a load board is a must-have for today's carrier.
How a load board works.
How to choose the best load board.
How to make more money with a load board.

Get the Guide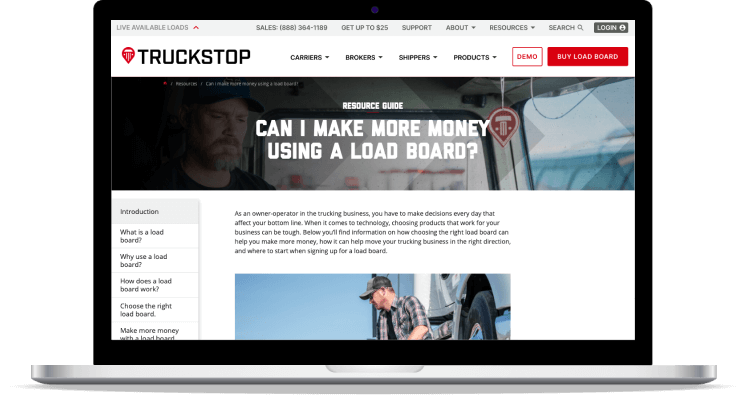 11/08/2021
Carriers Guide to IFTA Fuel Tax Requirements
If you're in the trucking business, you've probably heard of IFTA taxes, or are at least aware that there's a trucking fuel tax. But you might be wondering, "Exactly what is IFTA in trucking and how does it apply to me?" IFTA compliance is extremely important, but the whole concept can be somewhat confusing. Let's
Read More

→
11/08/2021
How to Start a Successful Trucking Business (14-Step Checklist)
If you want to know how to start a trucking business, chances are you want to work for yourself. Maybe you're a trucker now and you want to get off the road and have steady income coming in. With more people in the U.S. ordering products online, the shipping and delivery industries are booming. The
Read More

→
11/05/2021
12 Factors That Influence Freight Shipping Costs
In an industry so large, you might think there would be a freight shipping cost standard. But there isn't one. Because freight shipping costs depend on so many factors, getting an accurate freight shipping estimate is surprisingly complicated. Part of it is the regional nature of shipping. Some carriers serve specific regions or shipping lanes
Read More

→