Having a hard time figuring out the best smartphone apps to use when you're on the road? There are so many to choose from it's hard to know where to start. Some are specific to the trucking industry, while others are for general use but have highly useful features for truck drivers. Read on for some of the top apps for truckers.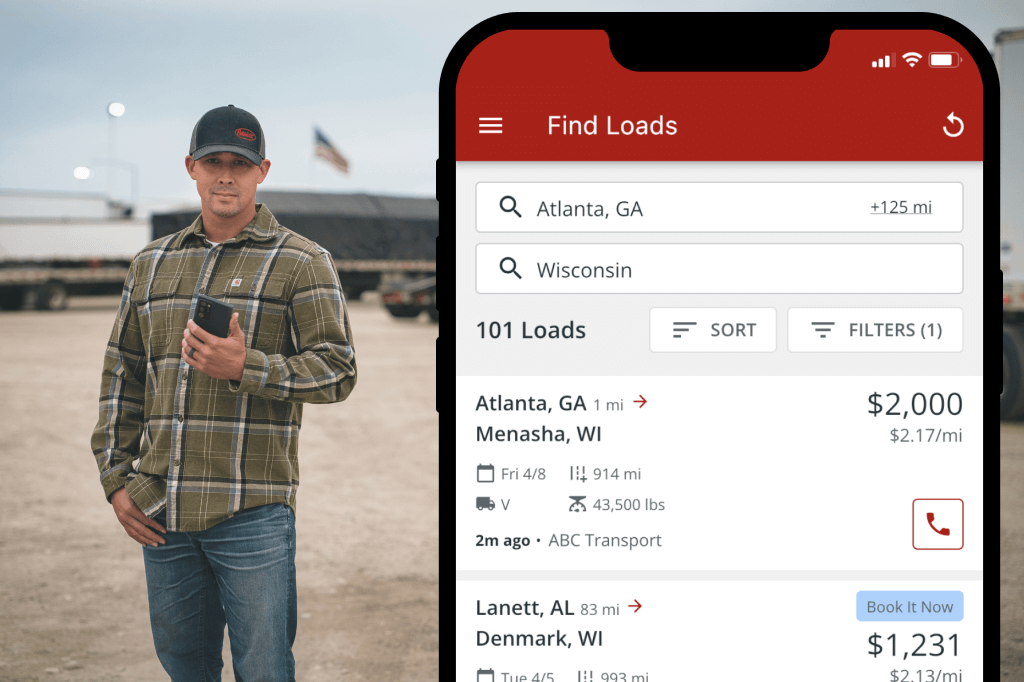 The newest app, Truckstop Go™ from Truckstop, is the fastest and most effective way to find loads, making it one of the best trucker apps around. Post your equipment to let fully vetted shippers and brokers find you, or choose from nearly one million loads posted daily. You can also instantly drr when new loads are posted, swipe to compare loads, block a broker you don't want to work with, and even get daily rate data that puts you in the driver's seat for negotiations.
Key features:
Filter by equipment type and lane
Swipe to compare similar loads
Decision tools to help you negotiate rates
Book It Now feature to book loads instantly, even outside business hours
In-depth broker info, including credit history and days to pay
Pricing: Free; App Store or Google Play
The user-friendly AllStays Truck & Travel app has over 35,000 data points, so all kinds of helpful information is at your fingertips. The app points you to whatever type of facility you need, wherever you are or where you're headed. Find truck stops, weigh stations, rest areas, truck ramps, Walmart stores, and even truck dealers.
You can also filter for truck stop details, so if you need laundry facilities, a shower, a dump station, road service, or more, you can find them. AllStays also lets you compare hotels when you're looking for a room at the last minute.
Key features:
Advanced filtering options
Turn by turn directions
Search by map or satellite view
One-touch calling for any listed business
Manual lookup by city and state
Pricing: $9.99 one-time fee; App Store
The Audiobooks.com app offers over 125,000 titles, and 8,000 of them are completely FREE. You can download titles to listen to at any time, regardless of whether you have a cell signal or WiFi.
Key features:
Thousands of titles
Entire books, not abridged versions
Podcasts also available
Download in advance to listen while driving through dead zones
Family sharing available
Pricing: Free, in-app purchases; App Store or Google Play
Diet and exercise are a huge concern for professional truck drivers since they're sitting behind the wheel most of the day (and night!). Calorie Counter is one of the best apps to keep track of the foods you're eating, and how much exercise you're getting, so you can do your best to stay healthy. This one has tons of nutritional information for pretty much any food you can think of (plus many restaurants and brands), and you can track everything in the food diary.
Key features:
Food and exercise diaries
Image recognition—snap a photo of the product to find nutritional data
Weight tracker
Reminders to weigh in, eat, and journal
Supportive community, including professionals
Pricing: Free, in-app purchases; App Store or Google Play
Designed to help keep your trucking business profitable, Young and Healthy Marketing's Trucking Cost Per Mile Calculator is one of the best apps for truckers who don't like doing math by hand, as it automatically calculates your expenses per mile. The app automatically adds the most common expense categories, so you just fill in your numbers. You can also add new categories and delete those that don't apply to you.
Key features:
Pre-populates with the most common expenses
Customizable—add and delete expense categories
Just plug in your numbers, and the app does the math
Automatically updated charts show your costs visually
Weekly, monthly, and annual calculations
Pricing: $2.99 one-time fee; App Store or Google Play
Want to know the details about your next stop? Are there restrooms? Are they dog-friendly? What's the wait time? Save time by letting Dock411 do the work for you! Find out what other drivers are saying about the places you're going in one convenient app. Listing more than 70 dock attributes, Dock411 will make your trip smoother.
Key features:
Truckers helping truckers (contribute information and learn from others)
Weekly prize drawings for contributing drivers
Helpful local driving directions from other truckers
Current weather delays or other emergencies
Learn the details about each dock before you arrive, from which doors to use to nearby overnight parking facilities
Pricing: Free; App Store or Google Play
One of the best trucking apps for making life more convenient, Drivewyze finds weigh stations and inspection sites and automatically alerts drivers when they're two miles away from one. You can spend less time waiting by automatically sending weigh station bypass requests in participating states. You'll get a notification to bypass or pull in, and then the app resets so you're ready for the next weigh station or inspection site.
Key features:
Weigh station and inspection site detection
Automated bypass requests
Easy to see notifications
Auto-reset
Available for U.S. only or U.S. plus Ontario
Pricing: Free for 30 days, then $17.99/month (the U.S. only) or $22.99/month (U.S. and Ontario); App Store or Google Play
iExit uses your location to help you find truck-friendly exits and businesses across the United States. You can see fuel prices, weigh stations, repair centers, truck parking, etc. Think of it as a sort of Google maps for truckers.
Key features:
Lets you know which exits are truck-friendly and which are not
Plan ahead with Find Me on Highway or Look Up Any Highway modes
When on a highway, automatically switches to On Highway mode to show upcoming exits
Groups businesses by highway exit
Click on an exit or an individual company for details
Pricing: Free; App Store
This easy-to-use app tells you how to set your trailer axles. Enter your current axle weights, and the app's algorithm will let you know which holes to use. It then estimates the new axle weights based on the new settings.
Key features:
Advises on how to set your axles
Calculates new axle weights
Tries to balance all axles
Prioritizes legality over balance
If legal limits are impossible to obtain with axle settings, places excess weight on drive axles, making it easy to become compliant by removing excess fuel
Pricing: Free, in-app purchases; App Store or Google Play
NOAA Weather Radar is an easy-to-use weather app that tracks real-time conditions on your phone to plan for severe storms. Get push notifications whenever an alert is issued, plus customized weather reports to quickly get the information you need.
Key features:
Official weather information from the National Oceanic and Atmospheric Association (NOAA)
Push alerts for severe weather
Plan your trip with detailed seven-day forecasts
Pull up current conditions wherever you are
Instructions during extreme weather events, such as Seek shelter immediately
Pricing: Free, in-app purchases; App Store or Google Play
A top navigation app that draws on contributions from more than 140 million drivers, Waze uses your location to tell you about traffic instantly, construction, hazards, and more. It will automatically recommend route changes to avoid any obstacles or traffic jams to get where you're going faster.
Key features:
Drivers helping drivers—click to report an obstacle or traffic slowdown
Get real-time, constantly updated information on the road ahead from other drivers
Enter your destination and desired arrival time, and Waze will tell you what time to leave
Find pit stops along the way, along with driving distance, real-time directions, and time added to your total drive
Automatic re-routing suggestions based on current conditions
Pricing: Free; App Store or Google Play
A full-service weather app from The Weather Channel provides forecasts up to two weeks in advance. You can also get severe weather alerts and see the conditions easily and quickly for your area. View weather radar, track storms and even get forecasts for pollen, sunset times, and more.
Key features:
15-day forecasts
Local weather alerts for wherever you happen to be
Rain and snow trackers
Radar updates, three-hour forecasts, and severe weather alerts on the home screen
Live coverage of severe weather events
Pricing: Free, or $4.99/month for ad-free version; App Store or Google Play
With millions of songs and podcasts, Spotify is a great way to fill those hours on the road. Listen to your favorites or discover new songs based on decade, genre, or location. Create and share your own playlists or listen to existing ones. Download music and podcasts ahead so you can listen even through dead zones.
Key features:
Listen to millions of songs or podcasts for free
Build playlists and share them with friends
Enjoy playlists developed by others with similar musical tastes
Get song suggestions based on what you like
Spotify Premium offers additional features, such as advance downloading and higher quality audio, as well as no ad breaks
Pricing: Free for basic, or $9.99/month for Premium; App Store or Google Play
Among the most popular trucking apps for those who hate the weighing process, Weigh My Truck lets you set up an account at WeighMyTruck.com, and then use the app when weighing your load. The app will automatically locate the CAT Scale you're on and sync it to your online account to maintain your history. You can weigh your truck, pay with your smartphone, and have your scale tickets sent by PDF to five different email addresses. If you need a hard copy, you can pick it up inside the station up to an hour after you weigh.
Key features:
Weigh, pay, and get your tickets from your smartphone without leaving your truck
Online account history
PDF scale tickets
Send copies of your tickets to five different email addresses
If your truck is overweight, just readjust and do a re-weigh right from your phone
Pricing: Free; App Store or Google Play
Final Thoughts
Mobile apps are an excellent way to increase efficiencies on the road, but they can also give you app fatigue if you have too many places to look for load information. To get all the load board information you need in the palm of your hands, download Truckstop Go to find high-paying loads, negotiate the best rates, and keep your truck moving, free to Truckstop subscribers. Download Truckstop Go to get started.