9 Benefits of Freight Factoring for Carriers
For most owner-operators in the trucking industry, collecting payment and record keeping can be the most challenging parts of the job. When running a business with tight margins, you can't afford to wait 30-60 days for funds to hit your account. 
Freight factoring is an alternative way to help keep your money flowing more consistently and get you paid faster. Once you've completed a haul, you can work with a factoring company, for a small fee, which will expedite your pay. Then they work to collect the unpaid invoice balance from your broker. 
With a freight factoring program, you can cut down on accounting work and chasing invoices so you can focus on driving more loads.
How freight factoring works
Freight factoring is when an owner-operator outsources the collection process for an invoice to a third-party freight factoring company. The factoring company buys the invoice at a small percentage rate, pays you the rest, and handles collecting the remaining outstanding invoice from the broker so the you don't have to. This put money in your pocket to cover expenses without having to use a credit card, take out a loan, or dip into your savings.
9 benefits of freight factoring
These are the most significant benefits you get by working with a freight factoring company.
1. Improve cash flow
The number one reason small businesses fail is a lack of cash flow. When your income isn't consistent, it's hard to pay your bills, fuel your trucks, and keep you truck maintenance up-to-date.
According to Dun & Bradstreet, more than a quarter of customers in the freight industry are not paying their bills on time. The industry average for paying invoices is around 40 days. Some companies take 90 days or more. That's a long time to wait for payment on work you've already done. In most cases, freight factoring provides expedited pay within 24 hours.
2. Access dynamic funding options
With a freight factoring company, your funding levels are flexible. As long as you're working with shippers or brokers with good credit, you can grow your business faster by leaving the invoicing to the freight factoring company. This significantly limits your time spent chasing payment and helps you operate more efficiently and effectively.
3. Avoid long-term contracts
When working with quality factoring companies, you can avoid long-term factoring contracts or minimums. This lets you use freight factoring and the benefits only when you need them. 
Before committing with a freight factoring company, be sure to pay close attention to the factoring agreement. 
Fees that may influence your decision include:
Origination fees

Monthly fees

Termination fees
These range by freight factoring company. The best factoring agreements let you operate on a month-to-month basis and terminate the agreement at any time with notice.
4. Haul more loads
When you have consistent cash flow, you can pay your bills and expenses quickly and focus on hauling more loads. You can take on more work without having to worry about whether you'll be able to cover the costs associated with moving freight. You could also expand your business to take on more jobs, hire more drivers, invest in new trucks, upgrade your equipment, or pay down debt.
5. Reduce accounting workload
Freight factoring can be a significant time-saver for your business. You can focus less on invoicing, making follow-up calls, checking on payments, or chasing collections. Freight factoring companies handle all of this for you, including resolving any disputes.
Rather than preparing and sending out multiple invoices to different shippers or brokers, you can send all of them to one place — your freight factoring company.
6. Get free customer credit checks.
When you acquire a new broker, there is always a risk involved regarding their payment reliability. However, by utilizing freight factoring services, you not only minimize this risk, but often gain access to complimentary credit checks. The factoring company conducts a credit assessment for your broker during the account setup process, allowing you to see their creditworthiness and their history of timely payment for freight bills.
7. Insulate your business from the risk of bad debt.
Bad debt happens when a debtor is unlikely to fulfill their payment obligations. Non-recourse factoring protects you if a broker closes up shop or declares bankruptcy. This ensures you get paid for your work, even if they don't.
With non-recourse factoring, the freight factoring company assumes the risk and guarantees you get paid. 
8. Reduce your stress level.
Freight factoring can make running a trucking business easier and less worrisome. When you use a factoring program, you'll know exactly when and how you'll get paid. This helps keep your money flowing smoothly, so you can pay your bills, drivers, and expenses without worrying about when you'll receive the money in your bank account.
9. Spend more time growing your business.
Freight factoring is different from a loan and won't count as debt on your financial records. This is beneficial if you plan to apply for a loan in the future. It allows you to demonstrate a steady flow of cash without adding any more debt.
Having a reliable cash flow and working capital helps you predict your income, expenses, and profit more accurately. When you know exactly how much money you'll receive each month, you can focus more on expanding your business or paying off any current debts.
Get paid when you need it.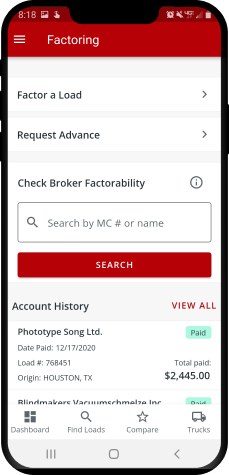 Freight factoring gets you paid faster with less risk. It help you avoid inconsistencies in your cash flow and reduce your stress so you can focus on hauling freight.
Truckstop Factoring makes it simple. Haul a load, submit your paperwork, and get paid within 24 hours of the invoice verification. Truckstop Factoring processes the invoices and sends them to the broker with no minimum volume requirements. You still get paid if the broker doesn't pay due to credit insolvency.
With freight factoring, you can stop worrying about collections, get immediate cash when jobs are done, and focus on booking more high-paying loads.
Schedule a demo.
Find out how our platform gives you the visibility you need to get more done.