Freight Invoicing: Pricing Factors and Best Practices
Having an efficient process for generating freight invoices will help you get paid faster. Getting paid faster means carriers can concentrate more on booking freight and delivering loads rather than racking up hours creating invoices and tracking down payments.
We'll explain some of the key elements that make up a freight invoice and the level of detail you need to provide. We'll also share some best practices to make things run more smoothly and explore how freight invoice factoring can get you paid faster.
First, what is a freight invoice?
What is a freight invoice?
Carriers produce a freight invoice, also called a freight bill, to summarize a transaction. It details the freight, shipper information, point of origin, and any applicable charges. Those receiving goods will sign the freight invoice to accept the delivery. Shippers may also choose to sign freight bills before loading.
Carriers should always double-check that the goods loaded and unloaded match the invoice to avoid discrepancies or claims. If there are questions raised during freight invoice processing, the freight invoice can be used to substantiate that the safe delivery of goods to their destination has been completed. This paperwork is especially important in the case of freight invoice auditing.
Key elements of a freight invoice
While freight invoice templates might vary for different carriers, there are key things a freight invoice must include according to the Department of Transportation's federal motor carrier safety regulations.
Names of consignor and consignee (sender and receiver)
Date of the shipment
Origin and destination points
The number of packages
Description of freight
Weight, volume, or measurement of freight
Exact rate(s) assessed
Total charges due, including any charges for special services and where they took place.
Route of movement and name of each carrier participating in the transportation
Any transfer point(s) through which shipment passed
Address where payment must be made or address of bill issuer's principal place of business
The freight bill should be given to the shipper or receiver, depending on who is responsible for paying the bill.  The carrier also needs to keep a copy.  If the bill is transmitted electronically, such as by email, a copy should be provided to the person paying the bill.
Main factors that impact freight invoice pricing
Freight invoice pricing can be complicated and variable depending on different factors that impact carrier operations.
Fuel costs
Fuel costs are always a variable with freight invoice pricing. Different shipments from the same origin to destination can have significantly different costs depending on fuel prices at the time of shipment. Fluctuations can make it difficult to predict future expenses accurately.
Most shippers and brokers base their fuel surcharges on the U.S. Energy Information Administration (EIA) gasoline and diesel fuel price updates that are released weekly.
Supply and demand
When demand is at its highest, carriers can command higher spot rates than when shippers commit to a freight contract. 
Freight class
Freight classification helps shippers, carriers, and brokers accurately price loads. The National Motor Freight Traffic Association publishes a list of freight classes that helps LTL carriers identify freight. Since LTL shipments can include a variety of products, they have different characteristics that determine classifications.  For example, a shipment's density, ease of handling, liability, and stowability all help determine freight class. The 18 classifications for LTL freight range from a low of 50 to a high of 500. Typically, the lower the density, the higher the freight class.
Freight invoice pricing will also vary depending on accessorial services required by the shipper. Some of the more common accessorial fees carriers can charge include:
Driver loading and unloading
Hazardous materials charge
Direct or residential delivery
Layover time for loading or unloading
Additional delivery attempts if the receiver is not available upon initial delivery
Storage in case a delivery is unable to be made
Reconsignment when a shipment destination is altered after pick up
Sort and segregate service if the driver has to move products from one pallet to another
Metro pickup or delivery
Carriers can also charge a Truck Order Not Used (TONU) fee. Assess TONU charges when a freight pickup is scheduled, and the shipment has been canceled or is unavailable when the carrier arrives.
Other fees might include additional stops required, diversion miles, after-hours deliveries, liftgate services, and limited access.
Reclassification or reweighing fees can also apply to LTL shipping since base rates are determined by weight, dimension, and classification. If information is incorrect or not provided when goods are loaded, the order must be reworked.
Freight invoicing best practices for carriers 
Use some of these tips to help you get paid faster.
Use freight invoice templates.
Creating your own invoices takes up time you could be using to find loads and make money. A transportation management system (TMS) will automatically generate invoices and track payments, cutting your workload by creating accurate, detailed invoices with just a few clicks.
If you're not ready to invest in a TMS, use a professional freight invoice template you can copy and modify with shipment details for each new job.
Include all invoice details.
If a freight invoice is wrong or doesn't have all the information required, customers might not pay it. They might send it back for additional information, which means more work for you and payment delays. 
Invoice clients on time.
Invoices should be sent as soon as a job is completed. Customers won't chase freight invoices, so your payment will be delayed if you aren't sending them immediately. For invoices that haven't been paid within 30 days, resend the invoice with a notice that the payment is overdue and immediate attention is required.
Rather than waiting the typical 30-60 days, you can get paid immediately with freight invoice factoring. Basically, you're selling your invoices to a factoring service that handles the collections. They'll charge a fee for their service but pay you immediately and then collect the bill from the shipper or broker.  Fees are minimal, typically in line with what you would pay a credit card company to process a payment.
You want to work with a factoring company that offers non-recourse factoring.  Non-recourse factoring means you will still get paid even if the broker or shipper goes into default.
Get paid faster with freight factoring.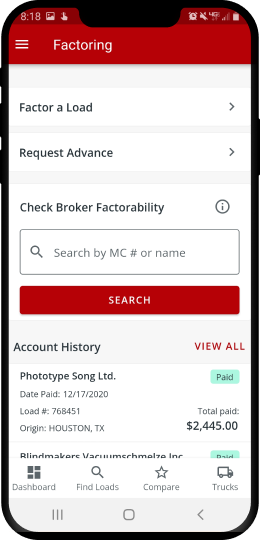 An accurate and professional freight invoice will help you get paid faster. When you include all the details and use standard practices, it makes freight invoicing processing more efficient, which typically leads to faster payment.
Even if you do everything correctly, however, you may still have to wait a month or more for an invoice to process. If there's a problem or an invoice gets lost, it can take several months to resolve. 
Freight invoice factoring pays you immediately. 
With Trucktop Factoring, the process is simple. Haul your load, submit your paperwork, and get paid within 24 hours. Truckstop Factoring handles invoicing the broker, which saves you time and hassle. And with non-recourse factoring, there's minimal risk to you.  
Contact Truckstop today to learn how Factoring makes getting paid easier.
Schedule a demo.
Find out how our platform gives you the visibility you need to get more done.