Spot Freight Rates
While traditionally, spot freight is used to find rates for a last-minute shipment, it's becoming a more common tactic that brokers, shippers, and freight carriers need to be aware of and understand.
Technology has disrupted many industries worldwide, but most people don't think about its impact on the freight and cargo industry. One of the chief impacts has been on spot freight rates, also called spot-buy freight.
There's a better way to find loads.
Demo the Truckstop Load Board and see how easy it is to find the right loads fast.
What is spot buy or spot market freight, and how is it changing the logistics industry long-term?
What is spot freight?
To fully explain spot freight, we need to define a couple of other terms: spot buy freight and spot rates.
Spot-buy freight
Spot-buy freight, also known as spot freight, is the process a shipper goes through to obtain multiple quotes from logistic service providers (LSPs) to transport their goods from point A to point B.
The term was originally coined for making "on the spot" decisions about urgent freight. But you can use it for a wide variety of freight solutions. In many cases, a shipper is looking for an "end to end" quote. For instance, some international shipping might be picked up by a trucking company first, transported to a port, shipped using intermodal transportation, picked up at the destination port, and trucked again to the final delivery location. Spot-buy freight combines these multiple services into a single quote.
Still, spot freight is most commonly used when a shipment needs to be expedited.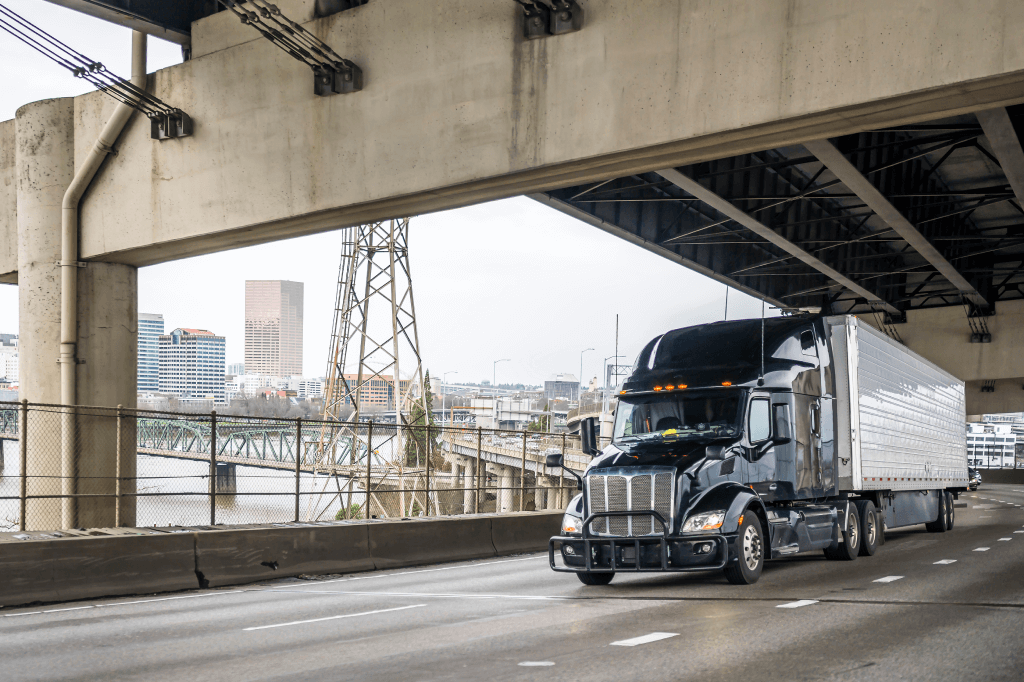 Spot rates
When a carrier offers a shipper an "on the spot" rate to move a load, that's a spot rate. Compared to contract rates, spot market rates are dynamic; they can vary a great deal, even within a single day.
Spot rates vary so much because they're based on supply and demand. If there is a big demand for expedited shipping and only a few trucks available, rates go up. If many trucks are looking for spot loads, but only a handful of shippers need spot freight carriers, prices drop dramatically.
Think of it as booking a vacation. A hotel in a high-demand area like Las Vegas might fill up quickly during a convention or spring break. But rates can be much lower if you travel in the off-season or at off-peak times.
For these reasons, spot freight rates offer opportunities and risks.
How does spot freight work?
Spot freight brokers make their money by matching loads with carriers, managing the logistics, and maximizing capacity. They will use several available options depending on the shipper's needs and freight volumes, including:
Less-then-truckload (LTL) shipping for freight that doesn't take up an entire trailer and can be combined with other LTL shipments.
Partial truckloads (PTLs) are similar to LTL in that they also don't take up an entire trailer or truckload. However, PTL shipments do not require a freight class. Rates are generally based on cost per mile, just like loads that fill an entire trailer.
Refrigerated carriers (reefers) handle full, LTL, or PTL shipments in climate-controlled trucks when cargo needs to be frozen, refrigerated, maintained, or heated.
Of course, you can also request spot freight rates for full truckload (FTL), flatbed trucks, dry vans, and other types of freight hauling.
Spot rates vs. contract rates
What is the difference between spot rates and contract rates, and why does it matter to you? Spot rates are offered on the spot to move a one-time shipment from place to place. Contract rates cover moving multiple freight loads for a customer within a particular lane under defined conditions for a set amount of time.
Spot rates
Spot rates are more volatile and change rapidly, even over short periods. There is no long-term commitment to a specific rate between a carrier and a shipper or broker when it comes to spot rates.
While spot rate data often help predict the pricing trends (up or down) for contract rates, the two are not always related. Again, spot rates are based on the basic economic principle of supply and demand.
Contract rates
Certain supply chain factors play into contract rates, including consistent shipping lanes, destination shipping and receiving requirements, and in some cases, the type of truck or trailer needed. Shippers and carriers then agree on rates within a given period, usually based on those factors.
The risk for carriers comes when demand rises and costs go up. In that scenario, the carrier could still be required to provide service at the agreed-upon rate. Of course, the converse is true as well: If demand drops and prices fall, the shipper risks still having to pay the pre-negotiated rate.
However, contract rates are generally more stable for both the shipper and the carrier. They make it easier for carriers to budget for expenses. Typically lasting one year, contract rates protect both the shipper and the carrier from fluctuating market conditions, which can vary over a year.
Why use spot freight?
Despite spot freight's volatility, there are some circumstances when it's a good solution for both shippers and carriers. For example:
Winning a new customer. A carrier or broker might offer a spot rate to determine if a potential customer is a good fit. This can make sense even if the spot rate is lower than typical contract rates, potentially winning a long-term customer.
Project freight. The Olympics or similar sporting events are a good example. Shipping is only needed for a limited time and for various freight types. But it's not ongoing shipping over a long period. This is a common way to use spot freight.
Shipment exceptions. Otherwise known as shipment delays, exceptions can be related to weather, natural disasters, or other events that cause a shipment to be stuck somewhere. This is especially true for perishable or time-sensitive cargo. Using spot freight to get a new carrier is often the best way to get goods moving again, even though it can be costly.
The most common reason for using spot freight is expedited freight to move cargo faster. In this case, the shipping cost is not as important as the delivery of the goods within a specific time frame. Speed and meeting the shipper's terms and conditions will override a lower bid.
Both spot freight and contract freight agreements have their pros and cons. Weigh both to determine the right solution for each given situation.
Pros and cons of spot freight
While contract freight can be a good solution for regular long-term shipping, there are some drawbacks. Spot freight has some distinct pros:
You can respond to spikes in volume without hitting contract limits.
If you have irregularly timed shipments, spot freight can meet those needs. This is because contract shipments often require a specific volume in a given period.
If you ship to different areas without using a consistent lane, spot freight can be advantageous. Contract rates are often based on shipping within a specific region or shipping lane.
Sometimes you can save money when spot freight rates are low.
There are some disadvantages, too:
It's harder for individual shippers to build relationships with contracted carriers. Brokers who work with multiple shippers can help.
It's harder to ship with a specific carrier when you have more volume.
A lack of stable rates makes it hard to plan for cash flow.
Negotiating rates takes a lot of time and effort, and working with different carriers can mean inconsistent quality of service. This is also where a broker can ensure the same quality of service even when using spot freight carriers.
How to get the most out of spot freight rates
Most businesses can take advantage of both contract and spot freight rates using a hybrid approach to shipping. To get the most out of spot freight rates, they can use them to:
Free up shipments that have become stuck for some reason.
Handle spikes in volume that standard contract agreements can't cover.
Ship outside of your regular lane of operations.
Take on special freight projects, and take advantage of low rates when available.
Help determine how well you and a broker might work together and establish a relationship for other potential shipping needs.
When shippers start out, spot freight can be a good solution until they have enough regular volume to set up yearly contract rates. Once they've established enough shipping volume, a hybrid approach can help solve overall shipping needs.
Frequently Asked Questions (FAQs)
A spot load is typically an urgent or expedited shipment that falls outside a contract. However, spot buys can happen whether a shipment needs to be moved today or months in the future. It might be due to a specific need, low-volume shipping, or shipping in inconsistent lanes. Spot load rates will reflect the current availability of trucks and are subject to more significant price fluctuations.
In a spot bid tender, shipments are offered to multiple carriers with a timeline. Bids are gathered and awarded immediately.
Truckstop.com
Rate Insights
helps you analyze current spot rates and trends in volume and pricing. This gives you negotiating power you might not otherwise have.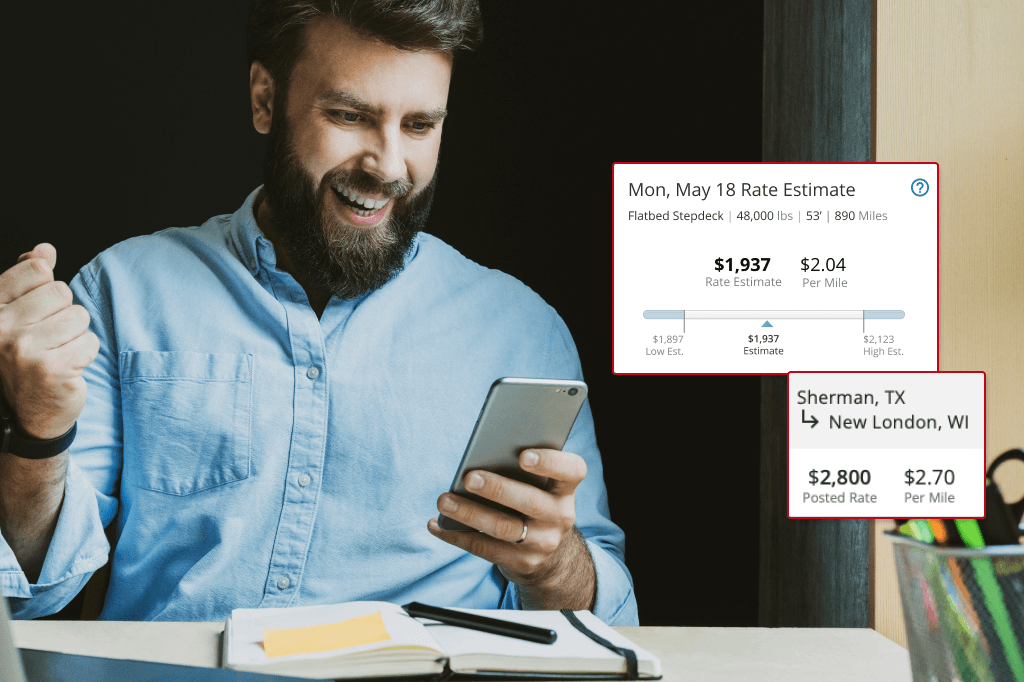 Secure better rates with a load board.
How do you put all of this together? Load boards can help you find the right shipping solution for your particular needs at any given time. Staying on top of spot freight rates and monitoring shipping trends will make your business more profitable no matter what you need to ship, where, and when.
Get better rates by using the Truckstop Load Board to reach reliable and high-quality freight brokers and find the highest-paying loads. Try the Truckstop Load Board today to get started.

Schedule a demo.
Find out how our platform gives you the visibility you need to get more done.