Flatbed Trucking: How it Works, Rates, Pros & Cons
Dry vans and refrigerated trucks are some of the most common haulers in the U.S. because they can carry a wide variety of cargo types. But when freight is large and/or heavy, dry vans and similar trucks can't always handle the job.
This is where flatbed trucks come in.
There's a better way to find loads.
Demo the Truckstop Load Board and see how easy it is to find the right loads fast.
Flatbed trucks are important to many businesses and industries. This means there's a lot of demand for folks who can drive these rigs. But is flatbed trucking right for you? And if it is, where can you find flatbed trucking jobs?
To answer these questions, read on to learn more about the benefits and challenges of this type of trucking.
What is flatbed trucking?
Flatbed trucks are, well, flat. With no walls or roofs, these trailers are open to the air and elements. The flatbed trailer consists of a wooden platform supported by a strong aluminum frame. While the decks are flat, some trailers carry drop decks, as well. Measuring anywhere from 48 feet to 53 feet long and spanning 8 feet, 6 inches wide, flatbed trailers have a deck height of 60 inches, and a weight capacity of up to 48,000 pounds.
Because they are open, flatbed trucking offers a lot of logistics options, especially when it comes to heavy cargo. And depending on what part of the country you're in, you could also see multiple flatbed trailers chained together, carrying large cargo.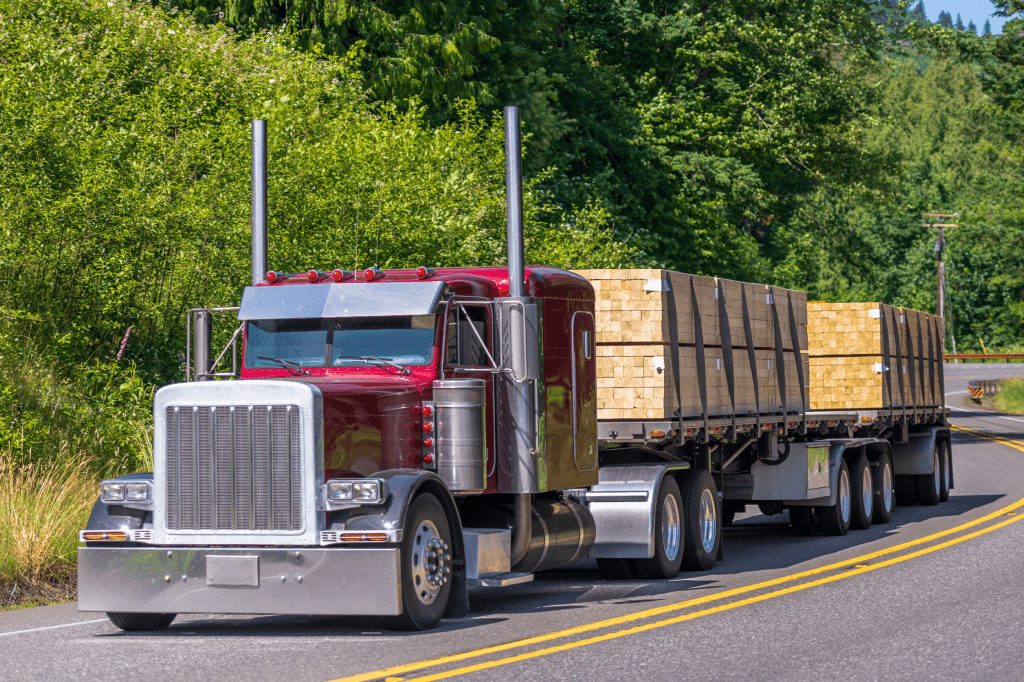 Common uses of flatbed trucking
Flatbed trucks are known for their versatility. They can haul different types of cargo with little effort. Because of how they are structured, flatbed truck trailers can transport taller and heavier items.
Specifically, flatbeds are ideal for oversized cargo and freight that can't be easily loaded into or carried by enclosed vans. You'll often see flatbed trucks hauling long pipes and highway barriers. Additional cargo that can be hauled by flatbed trucks includes:
Lumber
Steel coils
Mobile homes
Bailed tires
Machines
Military machinery
Scrap metal
Tow trucks
Flatbed transport is also highly useful for moving shipping containers. The trucks carry the containers from inland ports or factories to seaports, where they're loaded onto ships. Flatbed trailers can haul super sacks, too. These industrial fabric bags can hold up to 2,000 pounds of dry products, such as sand, fertilizer, or seeds.
Overall, flatbed trucks are ideal for carrying heavier, larger loads. These vital vehicles deliver machinery to factories, tractors to farmers, and lumber, bricks, and other supplies to real estate developers to build homes, stores, and office buildings.
Key facets of flatbed trucking
Although flatbeds are versatile, drivers need to understand four factors to ensure a successful and safe trip: loading, securing, tarping, and maneuvering.
Loading
As you know, flatbed trucks can move heavy, large materials. Most of the time, freight is loaded with help from forklifts or cranes. But it's the driver's responsibility to make sure those loads are balanced correctly over the axles. Unbalanced cargo can mean serious handling problems and potential accidents and injuries.
Securing
As a flatbed truck driver, you're also responsible for keeping the loads steady and secure throughout the trip. The U.S. Department of Transportation (DOT) has strict rules when it comes to securing. Most times, you'll secure cargo using webbed nylon straps tightened by a winch. If you're transporting heavier cargo, such as steel pipes or large machinery, use thick steel chains to keep the cargo stable.
Tarping
Because flatbed trailers don't have walls or a roof, they—and the cargo they carry—are exposed to the elements. Tarping protects your goods during transport. But there's more to this than simply throwing a covering over the cargo. Tarps are heavy, weighing 80 pounds. You need to place them with a forklift and anchor the sides. If the anchors come loose, you'll need to reattach to secure the tarp.
Maneuvering
Given what they carry and their length, flatbed trucks can be trickier to drive than dry vans. You need specific skills to maneuver an extra-wide or extra-long truck through traffic or inclement weather. Sharp curves can also cause cargo to shift, creating an unbalanced load that makes maneuvering even harder.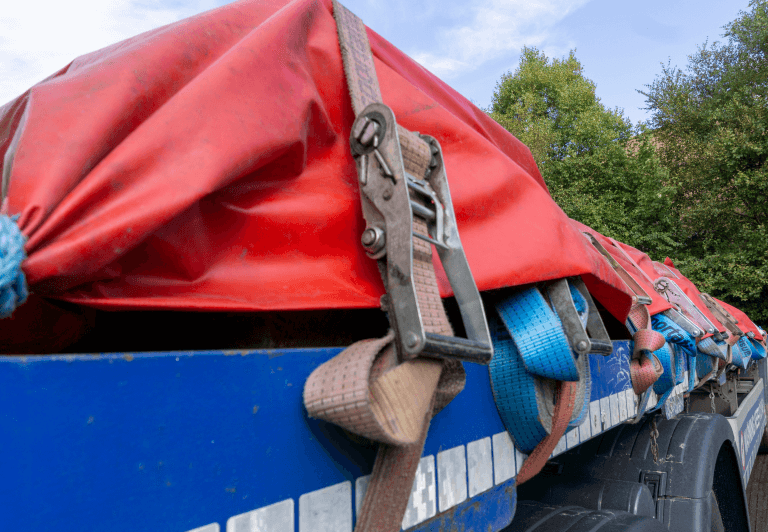 Shippers often pay higher rates to move cargo on flatbed trucks because of their size and skill requirements.
How much are typical rates? Depending on the region, type of freight, and market conditions, rates can range between $2.71 and $3.30 per mile. The national average is around $3.07 per mile. This is well above the $2.27 per mile rate generated by dry van and van load-hauling trips.
Higher per-mile rates mean higher salaries. As a flatbed truck driver, you could earn up to $15,000 more each year than with other equipment types.
Advantages of flatbed trucking
Higher pay is one clear advantage of driving a flatbed truck because of the extra skills you bring to the job. But there are some other perks, as well:
Greater demand
The trucking industry continues to suffer from a shortage of drivers, especially in flatbed trucking. Because there aren't enough flatbed truck drivers, customers want your abilities. This means long-term job security.
Less waiting time
With a flatbed truck, you don't have to back up to docks or wait for the driver in front of you to finish loading or unloading. You'll also probably only need to stop at one delivery location. Compare this to a dry van transport, which might require several stops to unload many pallets.
Easier maintenance
Dry vans or walled-in truck beds accumulate plenty of dirt and debris that can be tough to clean. But the open deck of a flatbed makes upkeep much easier. You also don't have to repaint or repair sidewalls or a roof in the event of dents or scratches.
Disadvantages of flatbed trucking
While there are plenty of advantages to being a flatbed trucker, there are also downsides you should know.
More danger
You are transporting larger, heavier freight, which must be properly secured per DOT guidelines. This requires expertise and professional knowledge. It's a matter of physics; poorly secured cargo can seriously compromise maneuverability. If things come undone, you'll have to climb on the tarp to secure it or rebalance the freight. These are risky tasks that can lead to serious injury.
Stricter regulations
Because of the above risks, the DOT and other agencies enforce more stringent laws and regulations with very little wiggle room. You have to follow specific requirements, such as using the correct tie-downs to secure cargo. You also have to observe specific trailer sizes and weight limits while on the road. Failure to do so can lead to large fines and potential license suspension.
Higher skill requirements
Driving a flatbed sometimes requires specialized driving and hauling skills. In addition to being able to operate your flatbed truck, you also need to be able to meet the physical demands of maneuvering and securing oversize loads.
Find, compare, and book high-paying flatbed loads.
Are you ready to get into business as a flatbed truck driver? You're in luck! You can find high-quality loads for your flatbed trailer on the Truckstop Load Board. This invaluable tool makes searching for loads and booking freight a breeze for flatbed truckers. The upshot? Save time, and get paid more.
Search.
The Truckstop Load Board lets you perform unlimited searches to find the right job for you from companies demanding your services. You can plan advance trips, find higher-value loads, and do multi-trip searches.
Compare.
Our advanced technology lets you compare multiple loads, all on one screen so you can zero in fast to find the job that's right for you.
Analyze rates.
The Truckstop Load Board offers same-day rate data and industry-leading metrics. Find the best equipment rates, fuel management, and truck supply and demand at origin and destination locations.
Book instantly.
Once you've found your ideal load, rate, and lanes, the Truckstop Book It Now feature lets you book loads instantly with trusted brokers. Saving precious time booking and scheduling gets you on the road faster.
Interested in learning more? Come visit us at Truckstop for your free demo.
Schedule a demo.
Find out how our platform gives you the visibility you need to get more done.