Be a part of something special.
Whether it's with our employees, our partners, or in our communities, at Truckstop.com, we believe that our individual differences make the whole of us great. That's why we welcome and celebrate the diversity that make each of us one-of-a-kind. We strive to create a culture of acceptance where your unique skills are respected, your talents are nurtured, and your contributions are appreciated. When you're free to bring your whole self, your best self can thrive, and together, we'll make big things happen!
As a premier SaaS provider creating innovative technology for the freight industry, we are always looking for fresh talent and great minds with new ideas. Join a workplace culture where individuality is celebrated and unique strengths are maximized.
View Openings

→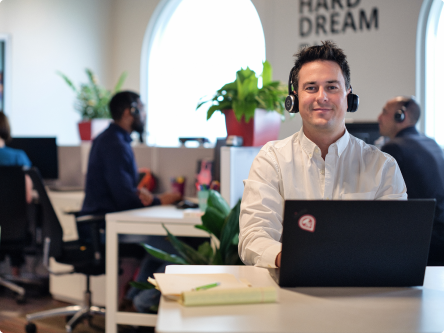 We're driven to serve.
Not only do we take tremendous pride in the work we do for our customers, but each and every one of us is challenged to bring the best of our capabilities and expertise to every interaction, every day. With over 500 team members, we're making an impact—in our industry and beyond!
Compensation
We offer competitive market salaries, opportunities for tuition reimbursement, unlimited paid time off, and a bonus plan for salaried positions. Truckstop.com is a great place to grow your career.
Retirement
Not to brag, but we think our retirement plans go the extra mile, with our U.S. 401k plan offering immediate entry and 100% vesting, an easy-to-use platform, and exceptional educational resources. And to top it off, we match 4% when partners contribute 5% or more. Our RSSP plan in Canada offers 100% vesting, immediate entry, and 3% matching.
Healthcare
We offer excellent benefit options for our partners and their dependents, including a virtual care platform in both the U.S. and Canada. We offer medical, dental, and vision coverage, and FSA/HSA plans, plus paid short- and long-term disability and life insurance. We even have pet insurance for our four-legged family members! We also offer robust supplemental options to meet your unique needs.
Wellness
We provide all the tools for awareness, education, support, and incentives to encourage and reward healthy living, including an exceptional employee assistance program to help manage life's day-to-day challenges and significant events, including estate planning, grief counseling, stress management, and more.
Locations
With offices in Boise, Phoenix, Chicago, Toronto, and Ontario, Canada, plus our headquarters in New Plymouth, Idaho, we support remote workers around the country. We have partners in the following locations: Alabama, Arizona, Arkansas, California, Colorado, Florida, Georgia, Idaho, Illinois, Iowa, Lousiana, Maryland, Massachusetts, Michigan, Missouri, New Jersey, New Hampshire, North Dakota, Nebraska, Oregon, Pennsylvania, Tennessee, Texas, Utah, Virginia, Washington, Washington DC, and Wisconsin.
Culture
We built Truckstop.com to be a family-focused workplace where service and respect run hand- in-hand with camaraderie, fun, and a work-life balance. Our model is to increase employee freedom as we grow, rather than limit it, to continue to attract and nourish top talent.
Our employees say it best.
Truckstop.com is a destination where talented human beings can build an epic career. It is a place where talent feels connected, fulfilled, and equipped to do what they do best while having fun doing it.
Since joining Truckstop.com in 2018 to support IT services as a desktop administrator I feel like I've found a truly rewarding career and I look forward going to work each day! It's is a company that goes the extra mile for its partners, and I am grateful to have found it.
The small company mindset is what keeps me at Truckstop.com. We share values, vision and goals, and work together to deliver quality services to our customers.
The energy of Truckstop.com is unrivaled and everyone here is enthusiastic and supportive while believing in the larger goal of improving the trucking industry. You can achieve anything you are interested in. I feel lucky to be part of this beautiful culture.