Make the Switch to Being Your Own Boss
Getting your trucking authority to start your own trucking business can be downright intimidating. With so much competing information available on the internet, it's hard to keep track of all the steps you need to follow. Getting your own authority requires start-up cash, attention to detail, and a "get it done" commitment.
If you're having trouble knowing where to start, we've assembled the most frequently asked questions for obtaining your own trucking authority to help. Expect the entire process to take upwards of two months.
What does it mean to have your own trucking authority?
Having your own operating authority means you have the government's permission to get paid for hauling freight as your own trucking company. Your operating authority is issued through the Federal Motor Carrier Safety Administration (FMCSA) in the form of a Motor Carrier (MC) number.
There are different types of motor carrier authority depending on what kind of cargo is being carried, and some carriers will need multiple authorities to cover multiple types of cargo. Some states require Intrastate Authority if you're moving loads within a given state. Make sure you apply for the operating authority or authorities relevant to your business.
What are the benefits of having my trucking authority?
Once you've been working as a trucker, company driver, or owner-operator for a while, it's natural to want to move on to having your own authority. It's a huge career growth opportunity, gives you complete independence, and can come with a pretty significant bump in pay if you're running your business correctly.
There is a lot more work and responsibility involved, but it means you can hire your own drivers for your trucking business. Over time, you could have multiple trucks and drivers. It also means you'll be responsible for finding and negotiating loads.
To help find freight as a new owner-operator, the Truckstop.com Load Board is a low-cost way to get started.
Which carriers don't need authority?
Several categories do not need an operating authority, including:
Private carriers that haul their own freight.
"For hire" carriers that exclusively haul cargo that is not federally regulated.
Carriers operating exclusively within federally-designated commercial zones that are exempt from interstate authority rules.
Where do I start?
Figure out what kind of authority you need. Authority is based on the cargo being carried, and some carriers need multiple authorities to cover multiple types of cargo. Learn more on the FMCSA website. Some states require Intrastate Authority if you're moving loads within a given state. Apply for the authority or authorities relevant to your business.

Decide on a name for your business. If required, file your business with your state. Typically, this is done through the Secretary of State, but check your state's official website to be sure. FYI: Some states require you to file your business under an assumed name or DBA (doing business as). Check your state's official website to be sure.
Decide on a business structure. Talk to an accountant to determine how you're going to organize your own trucking business to maximize your financial and operational success. Research Limited Liability Companies (LLCs), C Corporations, S Corporations, Partnerships, and Sole Proprietorships to make the right decision for your business.
Get an EIN. Visit the IRS website for an Employer Identification Number (EIN) which you'll need for tax purposes related to your business.
Get preapproved for primary liability and cargo insurance. If you wait until the end of the process to learn that you aren't approved for insurance to protect you in the event of an accident, you'll have spent a lot of time and resources unnecessarily—don't skip this step!
Get an MC number. Visit the FMCSA website to get your MC number.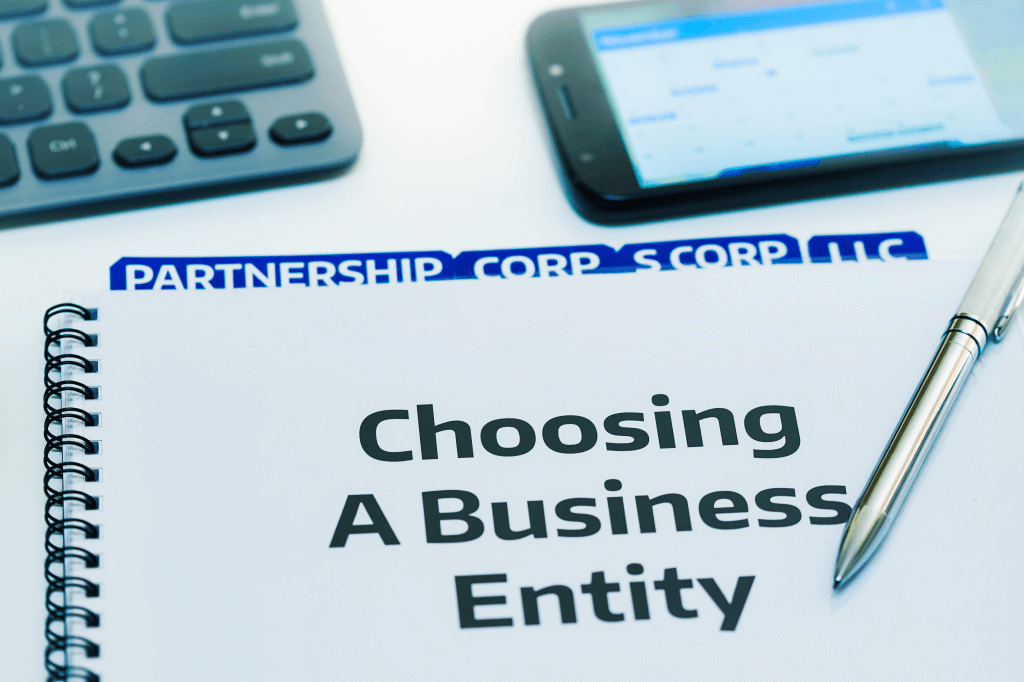 You need to know where your freight is coming from so you have something to move. Get familiar with load boards if you don't have customers lined up, and start building relationships with quality freight brokers that you can work with in the future. Learn about services offered through the Truckstop.com Load Board.
Owner-operators should have at least 60 days of extra cash set aside to cover operating costs (fuel, repairs, etc.). If you've been an owner-operator for a while, you know it can take 30-45 days for an invoice to get paid. Be prepared by having operating cash on hand while you build up your business.
What are the steps to getting my trucking authority?
If you've completed everything under the "Where do I start?" question above, then you can get started completing the list of items below. Fees can vary depending on the state you live in. Visit your state's Department of Transportation/motor carrier website for more information.
1. Apply for your authority.
Complete the OP-1 or OP-1(P) form, the BOC-3 form, and pay the application fee. You'll need the truck information (VIN, year, weight, etc.), a tax ID number, incorporation details, and license plate information (if you have it).
Once you complete the Motor Carrier Identification Report (MCS-150) and Safety Certification Application, you'll receive your USDOT Number which you need to have a vehicle used in interstate commerce to move freight.
There is a mandatory 10-business day dispute period that occurs after your application is posted to the Federal Register in which anyone can protest your authority. Once it ends, you'll need to post proof of insurance and your BOC-3 form, which assigns a process agent or business in any state in which you operate to receive and forward legal documents on your behalf.
Your authority will be reviewed by the FMCSA. You'll receive a letter from them when it's approved, at which point you'll start working on the remainder of this list.
2. Secure your UCR permit.
Use your USDOT and MC Number to apply for the Unified Carrier Registration (UCR) system. UCR verifies active insurance coverage in the states you operate in. Apply for your permit and learn more about the UCR system.
3. Pay your HVUT.
The Heavy Vehicle Use Tax is an annual tax assessed on all heavy vehicles operating on public highways. Research Form 2290, and when you're ready, download the OOIDA worksheet. This must be completed before you can agree to the IRP.
4. Register for an IRP.
The International Registration Plan (IRP) is an agreement between the 48 contiguous states (and Canada) that provides the payment of licensing fees dependent upon the distance operated across all jurisdictions and means you're licensed to participate in interstate transportation under federal law authority. The IRP website can help you complete this process.
You must have an IRP account before you can set up an IFTA account.
5. Set up an IFTA account.
The International Fuel Tax Agreement (IFTA) is an agreement between the 48 contiguous states (and Canada) that simplifies fuel tax collection. It means you can travel between jurisdictions and ensures each state has a share of revenue to support roads and transportation. With an IFTA license, you just have to submit one fuel tax return every quarter to your base jurisdiction. Learn about IFTA, including how to contact your base jurisdiction to set up your account. There are some circumstances that will require extra permits. Kentucky, New Mexico, and New York require weight distance permits to operate, and Oregon requires a permit and a bond. You'll need the Standard Carrier Alpha Code (SCAC) if you're moving military, government, international, or intermodal loads.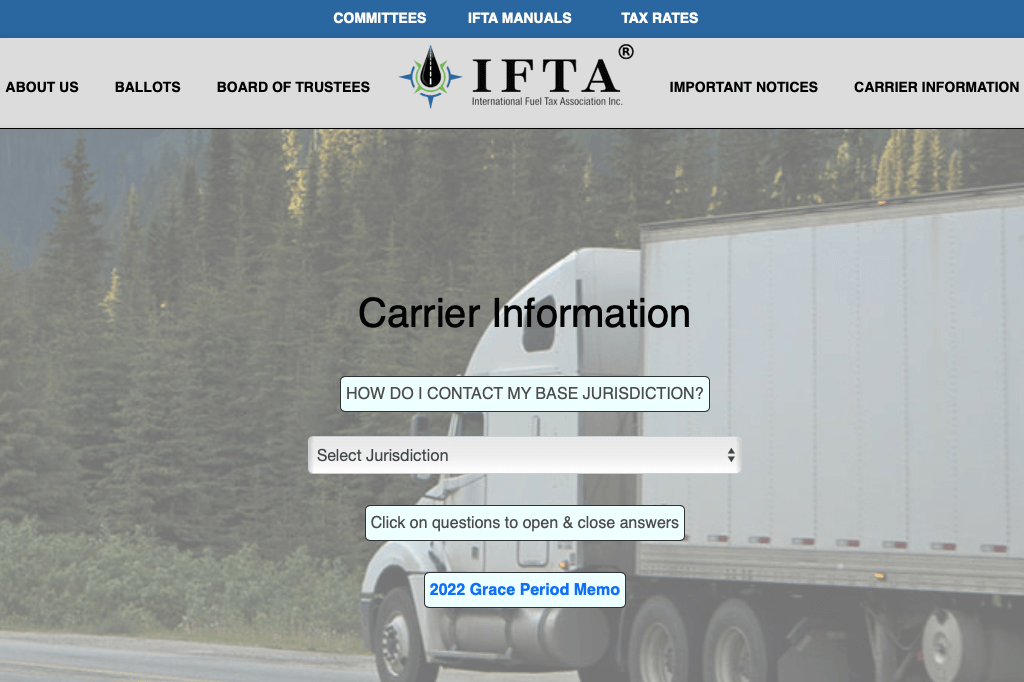 6. Enroll in a Drug and Alcohol Testing Program.
All motor carriers are required by the FMCSA and the DOT to have a negative drug test prior to hiring drivers or driving themselves. Learn more about the rules and regulations related to drug and alcohol testing on the FMCSA website.
All supervisors of commercial drivers are required to complete two hours of controlled-substance training, and a Designated Employee Representative (DER) must be named who is authorized to immediately remove employees from duty if they cannot pass a drug or alcohol test.
After the above is complete, you'll be enrolled in the New Entrant Safety Assurance Program.
Within your first 18 months of doing business, you will have a mandatory "New Entrant" audit to ensure you're compliant with federal regulations. To make sure you are, start keeping good records now.
Make sure you maintain:
Driver qualification files/employee records
Driver logs
Safety records
Hours of Service (HOS) records
Accident reporting
Maintenance records
All Drug and Alcohol Testing Program records and reports
How long does the process take?
First-time unified registration system applicants should expect the process to take a minimum of 23-25 business days. If the FMCA decides to conduct a further review, the registration process can take eight weeks or longer. Existing carriers should expect a 45 to 60-day review period.
Can I check my application status?
To check the status of your application and whether your operating authority has been issued, you need to go to the SAFER website. Under FMCSA searches, choose Licensing & Insurance, enter your USDOT or MC Number, and click search. When you scroll to the bottom and click on Authority History, you can see the date your operating authority was granted.
Learn about the New Entrant Safety Assurance Program on the FMCSA website.
Get your trucking authority.
Truckstop.com can help you get your operating authority, making the process so much easier than going it alone. Our authority packages include two months free of the Truckstop.com Load Board to help get you started. Contact us to learn more.
---