Common Freight-Shipping Terms You Should Know
Whatever industry you're in, you need to know the lingo. In the trucking business, this means becoming familiar with a variety of standard shipping terms. FCA? DAP? Shipping terms include a variety of acronyms, as well as common words used in a specific way. Learning basic shipping terminology helps you communicate with others in the industry.
Shipping terminology is a collection of words and acronyms that are standardized across the freight shipping business. When someone in the industry uses a shipping term, others can assume that the term is being used in an industry-standard way. This helps make communication and negotiation more clear, reducing the risk of misunderstandings.
There's a better way to find loads.
Demo the Truckstop Load Board and see how easy it is to find the right loads fast.
Why are shipping terms important?
Shipping terms create a common language for everyone involved in the freight-shipping business. This includes truckers, carriers, shippers, receivers, brokers, and freight-forwarders. Using these terms is a form of shorthand that captures complex ideas in just a few words. It helps make sure everyone is on the same page.
Common freight-shipping terms
So what are some of the most common freight-shipping terms? Let's take a look.
Accessorial charges. Sometimes shortened to "accessorials," these are additional fees charged for services outside the carrier's normal shipping procedures, such as residential service, inside pickup or delivery, or arrival notification.
Backhaul. A backhaul is a return trip of the same truck with new freight. The initial load goes from point A to point B, while a backhaul goes from point B back to point A. In some cases, the carrier might offer a discount on freight costs for a backhaul load.
Carrier. A carrier is a company or individual owner-operator that transports goods.
Carrier liability. This refers to the carrier's legal responsibility for damages to goods, with exceptions for acts of God, acts of a public authority, public enemy, shipper, or the inherent nature of the goods.
Consignee. This is the party that receives the goods, also known as the receiver.
Consignor. Also known as the shipper, this is the party that ships the goods.
Deadhead. Deadhead refers to driving equipment empty, without a paying load.
Dry freight. Dry freight is any cargo carried in an unrefrigerated trailer.
Drayage. Drayage is the short-haul local transport of goods, usually as part of a longer haul.
Freight lane. A freight lane, or simply a lane, is a route on which many goods are transported back and forth with an identified origin and destination.
Freight broker. A freight broker matches shippers with carriers, arranging freight transportation without taking direct responsibility for it.
Freight forwarder. A freight forwarder combines LTL (less than truckload) or LCL (less than container) shipments into full loads. Freight forwarders are considered carriers and may take direct responsibility for goods.
Factoring. Freight factoring is an option that allows carriers to sell their load invoices to a factoring company and get paid within a day or two in exchange for a fee. Truckstop Factoring offers a low, flat rate, along with non-recourse factoring that ensures payment even if the broker becomes unable to pay. Without factoring, payment could take 30 days or longer, depending on the broker's billing cycle.
Freight classification. There are 18 different freight classifications, based on a formula that includes such factors as size, value, and density. Freight classification is most relevant to LTL shippers and carriers.
Hundredweight/CWT. Hundredweight, abbreviated as CWT, is a unit of measure equal to 100 pounds. LTL shipping costs are sometimes priced by hundredweight.
Intermodal shipping. This refers to a system of shipping by truck, train, and ship that uses standard shipping containers. Goods do not need to be unloaded and reloaded every time the method of transit changes.
Load board. A load board is an online marketplace for carriers, truckers, shippers, and freight brokers to find and post loads. The Truckstop Carrier Load Board offers numerous features to help carriers and truckers find the right loads and negotiate the best rates.
Low boy. A low boy is an open flatbed trailer that sits low to the ground. Low boys are designed to haul heavy, bulky, or oversized loads, such as construction equipment.
Linehaul. The linehaul is the route or "line" of transport. It is used to calculate the rate based on mileage.
Out of route. Any mileage beyond the calculated linehaul mileage between cities is considered out of route. These miles are typically unpaid, though company drivers may be compensated under certain conditions.
Owner operator. An owner-operator is a truck driver who owns his or her equipment and operates independently rather than as a company driver.
Pay load. The pay load, or payload, is the weight of the goods being transported.
Peddle run. A peddle run is a route that requires frequent stops for deliveries.
Reefer. A reefer is a temperature-controlled refrigerated trailer. Reefer loads often pay a premium due to their specialized nature. It may also be easier to find loads since there are fewer total reefers on the road.
Spot market. Spot market rates are one-time quotes based on the market as it currently exists. They differ from contract rates, which are negotiated for future shipments based on speculation.
Common shipping acronyms
Shipping terms also include a variety of acronyms that you will need to know. But what about FCL, BOL, or LTL?
BOL. The bill of lading is a detailed invoice of the load's contents. It also includes the tracking number, contact information for the shipper and receiver, the freight class, and any accessorial information. The BOL also serves as a receipt when the load is delivered.
FCL. A full container load shipment means that the shipper has contracted an entire shipping container. Most intermodal freight loads are FCL.
LTL. A less-than-truckload shipment is a small load that does not fill an entire trailer, typically weighing between 150 and 15,000 pounds. LTL carriers combine these loads to fill their trucks.
TMS. A transportation management system is a software solution designed to help carriers and owner-operators streamline their operations. Truckstop ITS Dispatch is a full-service TMS offering everything from single-click invoices to detailed reports while allowing users to place their own logo on all documents.
3PL. Third party logistics companies provide outside assistance with shipping and receiving, warehousing, transportation, and/or distribution. Some companies focus on one or two of these services, while others offer all of them.
EXW. Ex works refers to shipments in which the buyer assumes all costs and liability for delivery. The seller makes the goods available at a designated location, and the buyer makes arrangements for the load to be picked up. In some cases, the seller will load goods onto a truck, but the contract specifies that the buyer bears all responsibility.
FCA. Free carrier is a sort of 50-50 arrangement between the buyer and seller. The seller takes responsibility for the goods until they are transferred to a carrier at a point designated by the buyer, such as an airport or shipping terminal. Once the carrier receives the goods, the buyer assumes responsibility.
DAP. Delivered at place means that the buyer takes ownership of, and responsibility for, the goods once they are delivered to the buyer's location, except that the buyer is responsible for clearing international customs.
DAP price. Delivered at place pricing includes all costs associated with delivering the goods to the buyer's location, except for the costs of clearing international customs.
DDP. Delivery duty paid is similar to DAP, except that the shipper assumes all costs and responsibilities until the goods reach the buyer, including import duties and clearing customs.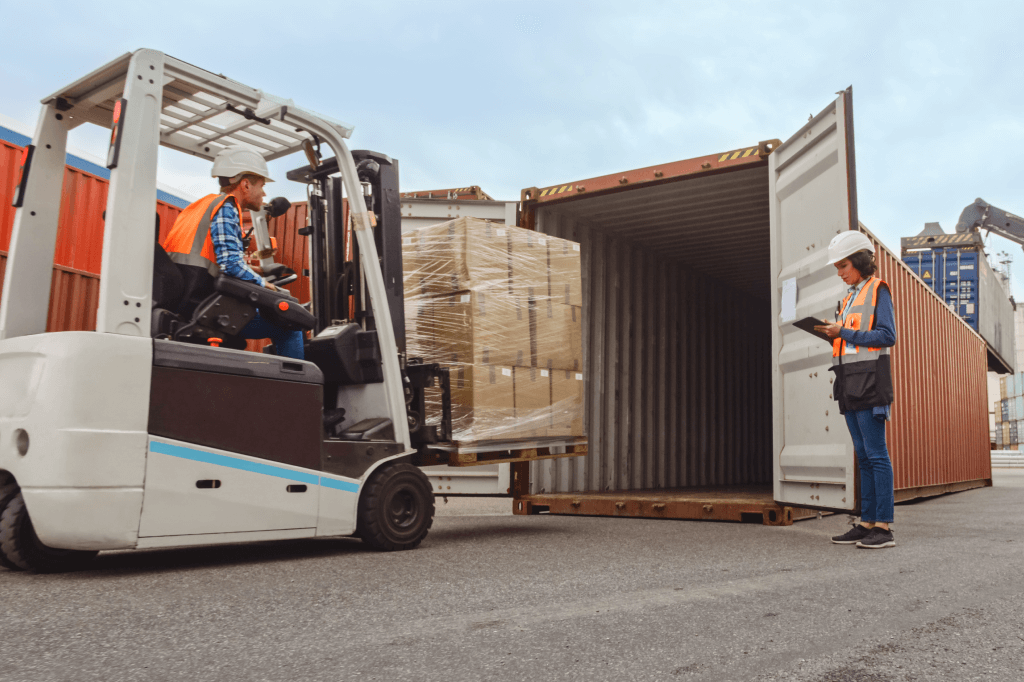 Common international shipping terms
If you are involved in international shipping, no matter what your role, you need to know some additional shipping terms.
Incoterms. International commercial terms are specifically defined terms issued by the International Chamber of Commerce. Below are some of the most common Incoterms.
COD. A change of destination request occurs when the shipper needs to change where goods are delivered after they are already on a container ship.
CYCY. Container yard to container yard shipping occurs between two port facilities. The carrier's responsibility only lasts from one container yard to the other, regardless of the goods' final destination.
DM. Demurrage is a fee charged by container lines for storing goods at a port. There is a grace period during which storage is free. But if the container isn't picked up by the end of the grace period, demurrage fees take effect. DM fees might also apply if there are customs problems or other issues that prevent a container from moving out after delivery to the port.
DT. Detention is a separate container line fee for containers that are picked up but not returned to the line on time. It's possible to face both DT and DM fees if the failure to return a loaded container prevents your shipment from going out as scheduled.
Port storage. Ports also provide a free storage period when containers are unloaded from a ship. But if they aren't picked up before the free period expires, port storage fees will take effect.
Stuffing & stripping. Stuffing is the process of loading a container, while stripping is the process of unloading it.
Schedule a demo.
Find out how our platform gives you the visibility you need to get more done.