Heavy Haul Trucking: What You Need to Know
The heavy-haul trucking industry has been on a roll in recent years. Demand for heavy-haul drivers fueled by the energy boom has generated a surge in revenue. Mordor Intelligence notes that the industry is bouncing back quickly despite a near-total shutdown due to the Covid-19 pandemic. Forecasters predict a 7.34% annual growth rate through 2026.
The economy as a whole has been growing rapidly since its post-COVID reopening, and pent-up demand has created supply chain bottlenecks. With a robust federal infrastructure bill that was passed in 2021, money for roads and bridges has started flowing into the states. This means more specialized and qualified carriers will be needed to meet the growth in demand.
There's a better way to find loads.
Demo the Truckstop Load Board and see how easy it is to find the right loads fast.
What is heavy-haul trucking?
Heavy-haul jobs include anything beyond conventional dimensions, including oversized freight, wide loads, and heavy equipment. As the name suggests, heavy-haul loads are often both overweight and oversized. Conventionally sized loads that are overweight also fall into this category.
The challenges of transporting oversized and overweight goods require experienced, qualified, and specially licensed operators and companies. The best heavy haul trucking drivers are aware of the legal limits of U.S. and Canadian highway networks. Shipping large cargo can mean special routing, escorts, lifting power lines, moving obstructions out of the way, or all of the above. Heavy hauling operators need to be skilled in operating the trucks and trailers that transport large loads and in dealing with the detailed planning and permit process involved in the specialized shipping industry.
What constitutes a heavy load?
Loads that are beyond the regulated legal limit on most roads are considered heavy loads. While numbers vary from state to state, anything past 8.6 feet in width, taller than 13.6 feet in height, longer than 53 feet, or that exceeds 80,000 pounds of gross weight is generally considered a heavy load.
Heavy-haul trucking operators can transport anything from heavy-duty mining or military equipment on a step-deck or drop deck to airplane parts or wind turbine blades. Heavy loads often require specialized trailers and vehicles for transport, and there are different kinds. Some look like a conventional tractor-trailer with a removable gooseneck (also known as an RGN trailer). Others come in multiple sections, with driven pusher wheels at the very rear, or in different sections of articulated trailers.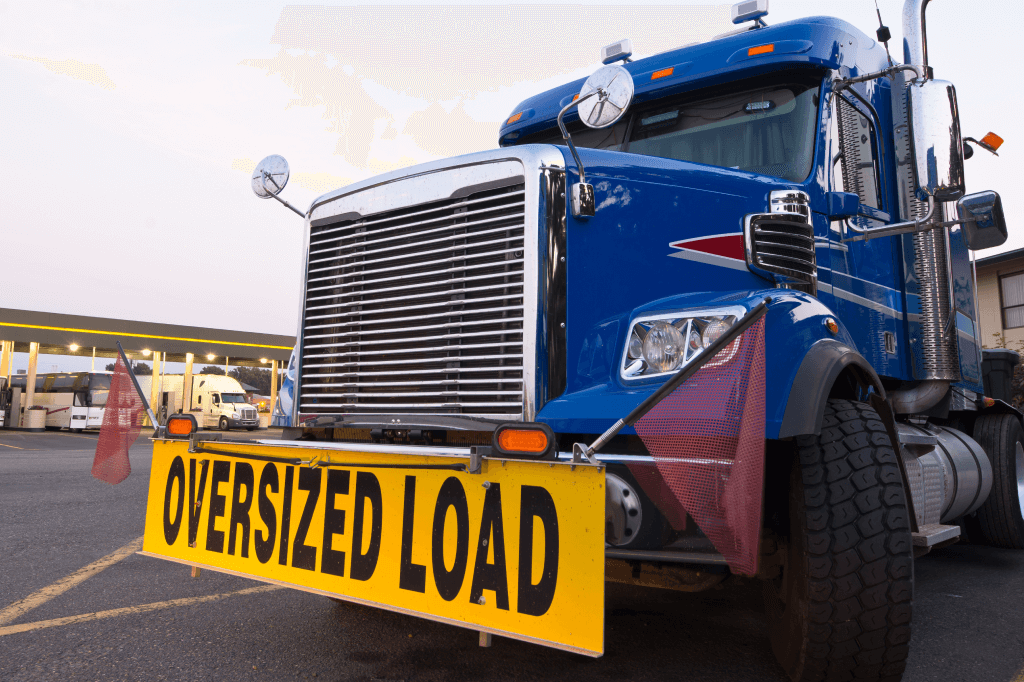 Axle restrictions
Whether your heavy haul trucking trailer is a flat deck, step-deck, or double-drop, the axles are what determine your legal load capacity. Both federal and state laws set weight limits for oversize loads based on the type and number of axles, as well as the type of road. Adding axles lets you haul more weight, which is why heavy-hauling equipment comes in 5, 6, 7, 9, 10, 13, and 20-axle options. Where an axle is located, how many of them are near each other, and their role all affects the weight they are legally allowed to support.
Per-axle weight limits may vary by state and road type, but here are some general guidelines based on overall federal restrictions:
Steer axles: Weight limit 12,000 pounds
Steer axles are the first axles on the truck and some articulated trailers. They cannot carry more than 12,000 lbs.
Single axles: Weight limit 20,000 pounds
Any time a trailer has a lone axle at the front or rear, that single axle can only support 20,000 lbs. under federal law. On trucks with multiple axles, if the axles are spread more than 10 feet apart, they are considered single axles and are legally rated for 20,000 lbs.
Drive axles: Weight limit 34,000 pounds
The drive axles, often on the tractor but occasionally fitted to the rear of heavy-duty trailer setups, can generally support 34,000 lbs., as long as they are in a tandem setup (two axles no more than five feet apart).
Tandem axles: Weight limit 34,000 pounds
Tandem axles are when two sets of wheels are positioned close together (within five feet of each other). When we talk about tandem axles, we are usually referring to the axles in the rear of the trailer, although on a step or a double-step, you might see tandem axles close to the lip of the step. They can support no more than 34,000 lbs. under federal law.
How to get heavy haul permits
One of the key skills to being a heavy-haul operator is understanding and working with different state, municipal, and county authorities to get the right movement permits. Every state requires a permit to move heavy loads. State permits generally reflect local terrain, population density, environmental concerns, and state laws. Permits are usually issued within three to five days after you apply and are generally issued on a one-off basis for a specific load and journey at a specific time.
They can include restrictions on movement times, routing, and supporting equipment. In some states, weekend or holiday movement is prohibited. Northern states may have limitations and regulations around winter travel. To get a permit, you need to submit a movement plan, the details of the cargo, and time estimates. Always keep all your permit documentation on hand and available to show to authorities on request.
Additional permit requirements
Most shipping permits for heavy jobs include one or more of these safety components: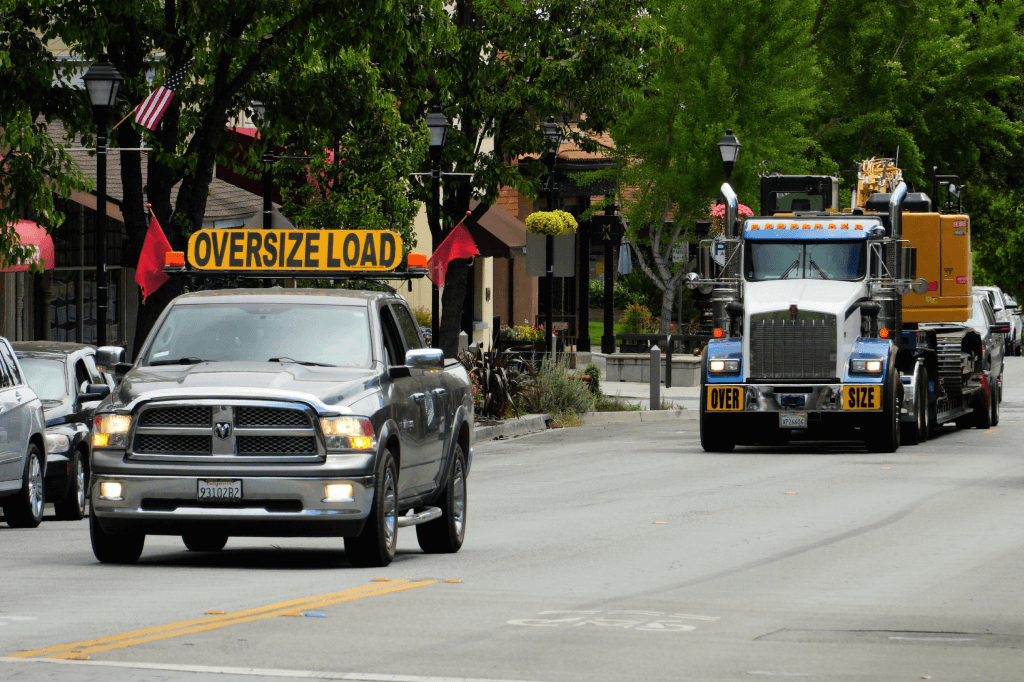 Guide cars: Wide loads, in particular, are usually accompanied by a pilot vehicle. These are also known as escorts or guide cars. These vehicles are clearly identified and help manage traffic surrounding wide loads, particularly in populated areas and highways.
Safety Flags: Vivid orange or red flags at the four corners of the loaded hauler are required for oversize loads to help mark the vehicle's extremities while moving.
Lights: Flashing yellow or rotating yellow lights signal to other drivers that a load is oversized or overweight and might be traveling at a slower pace than surrounding traffic.
Banners: Most states require conspicuous "Oversized Load" or "Wide Load" banners at the rig's front and rear to help identify a heavy load to other road users.
Finding quality heavy-haul loads
Not long after "how to become a heavy-haul truck driver" comes the question, "where do I find rewarding work?" For a growing number of heavy haul operators and drivers, online load boards like Truckstop.com are an invaluable resource. Freight brokers support shippers and carriers by acting as a bridge between the two. The best carriers get access to a wider range of quality jobs, while brokers and shippers get easy access to a large fleet of qualified drivers and specialized vehicles.
If you're looking for quality heavy-haul loads with vetted brokers and shippers, sign up for the Truckstop.com Carrier Load Board today.
Schedule a demo.
Find out how our platform gives you the visibility you need to get more done.