Long-Haul Trucking: Everything You Need to Know
If you're longing for a career that offers the freedom of the open road, long-haul trucking is probably what you think of first. As a long-haul truck driver, you'll be on the road for days or even weeks at a time, logging most of your miles on freeways or interstates. While this might sound ideal to some, long-haul truck driving isn't right for everyone. Let's take a deeper look at what you can expect as a long-haul driver.
There's a better way to find loads.
Demo the Truckstop Load Board and see how easy it is to find the right loads fast.
What is long-haul trucking?
Also known as over the road (OTR) or long-distance trucking, long-haul transport is generally defined as covering distances of more than 250 miles. But many drivers cover much more than that, logging 1,000 miles or more across several states and even into Canada or Mexico.
Beyond just distance traveled, what is long-haul trucking? It's a complicated operation that involves a lot of logistics and administrative tasks. It also requires a sense of adventure. Anything can happen on the open road, from vehicle breakdowns to gridlocked traffic. Drivers need to be comfortable with the challenges of being away from home, navigating unfamiliar roads, and working with new shippers and receivers. If you enjoy seeing new places and meeting new people, you will likely enjoy the job.
Long-haul vs. short-haul trucking
Short-haul truckers stick to familiar locations or lanes. They might drive locally or regionally, but they're home most nights and might even develop a set schedule. Most of their driving is on city streets, and they spend a good portion of their time at loading docks. Local drivers often make several cargo deliveries in a single day. This option might appeal to those with families, as it affords drivers the benefits of the job while allowing them to be with their families.
Long-distance hauling is different. Long-haul carriers cover hundreds of miles on each trip. They're often away from home for up to several weeks at a time. Most of their time is spent on freeways. Finally pulling up to the dock marks the end of a long journey. For those with families, long-haul trucking can mean missing a lot of events.
How does long-haul trucking work?
Long-haul trucking means that every day is a new adventure. You're responsible for safely loading and unloading your cargo, and each load might be very different from the one before. You'll need to learn how to assess a load and determine how best to protect it.
You'll also be on the road for long periods of time, often days or weeks, and primarily sleeping in your truck. You'll need to be an excellent driver and good at navigating different types of road conditions, from steep curves to rain or snow. You should be good at following directions and comfortable in new situations. You'll also need to maintain and clean your truck, which can be more complicated than you think when you don't know the area well.
What is the average long-haul truck driver salary?
So how much do long-haul truck drivers make? It depends on a lot of factors, from your base location to any special endorsements you have. But the national average long-haul truck driver salary is $53,000, and some company drivers or owner operators earn much more. As with virtually any career, you'll probably make less than average when you're first starting out, and then earn more as you gain experience. But what consistently holds true is that long-haul truckers almost always make more money than short-haul truckers.
What are the benefits of long-haul trucking?
Long-haul trucking is hard work, but it has a definite up side. Some of biggest benefits of this career include:
Stability. Goods have to move from one place to another, and modern commerce is built on complex supply chains that rely heavily on long-haul truck drivers. Good drivers can find long-term career stability, and the barrier to entry is low. You'll just need to complete driving school and pass a physical exam.
Financial security. Long-haul trucking pays well, and most carriers offer regular increases along with a variety of earned bonuses.
Flexibility. While it is true that long-haul routes require a significant time commitment, you'll have more flexibility over your schedule than you might imagine. Most carriers allow drivers to pick their schedules and choose their contracts, allowing you to develop a strong work-life balance.
Travel. For many long-haul drivers, the ability to travel is among the top benefits. As the miles roll by, you'll see the beauty and diversity of North America. And on your off time, there's always something new to explore.
Benefits. Most carriers offer a variety of employee benefits, including health and dental insurance. You might even get a 401K and paid vacation, depending on your carrier.
What are the challenges of long-haul trucking?
Of course, long-haul trucking also has its downsides. Before deciding on this career, make sure you understand the challenges
Market fragmentation
While some carriers are huge, the market is dominated by independent owner-operators and small fleets with fewer than six trucks. Shippers and freight brokers are equally fragmented. This creates a lot of inefficiency in the industry. Everyone involved has their own business concerns, which don't always align with each other.
Fuel costs
Fuel prices are constantly rising, and trucks aren't exactly known for their fuel efficiency. Whether the costs are covered by the driver or the carrier, these ongoing expenses cut into profits. The fuel market is also pretty volatile, which can make it difficult to budget for actual costs.
HOS compliance
Hours of service (HOS) regulations govern how long you can drive at a time. The rules are fairly straightforward, but it's extremely important that you understand them. In general, you must:
Take a 30-minute break after eight hours of driving.
Have 10 hours off duty (of which at least seven hours are spent in your sleeping berth) after no more than 11 hours of driving.
Drive no more than 60 hours in seven days or 70 hours in eight days.
After your 60/70 hours, you must be off for at least 34 hours in a row.
In addition to adhering to these regulations, you also have to log your duty status and hours in an electronic logging device (ELD). It isn't hard, but you'll need to make sure you do it each and every time.
Sourcing loads
One of the biggest challenges for carriers and owner-operators is sourcing loads. Although truckers are in high demand, finding just the right high-paying, top-quality loads isn't always easy. A dedicated carrier load board, like the one offered by Truckstop, can help.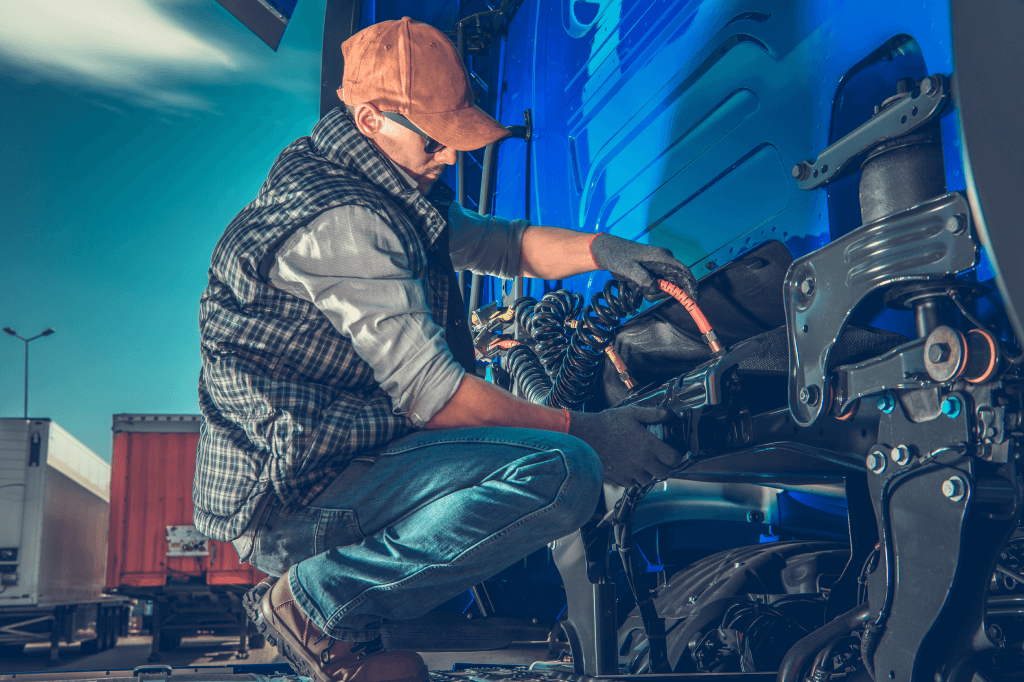 Vehicle maintenance
Vehicles require ongoing maintenance, and they tend to break down at the most inconvenient times. For long-haul truckers, keeping up with maintenance can be an ongoing challenge. You'll need to carve out time in your schedule to take care of it, and you'll need to find your way to the nearest shop along unfamiliar routes.
Rejected shipments
Rejected shipments are always a possibility, and the costs can be devastating for carriers and owner-operators. Rejected shipments typically fall into two categories: Items damaged in transit and temperature-controlled goods that are spoiled on arrival. It's absolutely essential for drivers to carefully load their freight and monitor it throughout the trip to reduce the chances of the shipment being rejected.
OTR time
Although the open road is a major lure for truck drivers, it isn't always what you expect. Long-haul trucking takes a great deal of both physical and mental stamina, and the ability to stay focused even when tired or sore. It also means being away from home for many days on end. Make sure you're truly ready to leave your family, friends, neighborhood hotspots, and even your bed behind for long periods of time. Some drivers find that a regional short-haul route is actually better for them, because it combines the excitement of the road with the ability to get home more frequently.
How do you become a successful long-haul trucker?
It's pretty easy to become a successful long-haul trucker. The first step is to enroll in driving school. Sometimes you can sign on with a carrier who will pay for your training if you commit to working for their company after you finish. You'll also need to meet the carrier's minimum age requirement (typically 21 or 25) and pass a physical exam.
Like most fields, trucking requires you to pay your dues. You'll start on the least desirable routes, and you might not get the loads you prefer. But once you prove that you're trustworthy, it's easy to move up. Your carrier might pair you with an experienced driver trainer for your first few runs, which allows you to learn all the company's requirements and expectations while making money.
Find high-paying long-haul loads today.
Long-haul trucking isn't right for everyone, requiring long hours on the road and days on end away from home. But for many people, the benefits far outweigh the drawbacks. Either way, finding quality loads can be an ongoing challenge. If you're ready to find high-paying long-haul loads, try the Truckstop Load Board for Carriers. We offer a full suite of tools to help you choose the right loads and negotiate the best rates. Contact us for a free demo.
Long-haul trucking is typically considered anything over 250 miles. But many long-haul truckers drive much longer routes, in some cases upwards of 1,000 miles. You'll generally have some control over the route lengths you drive.
Rates vary by location and are ultimately determined by what the shipper is willing to pay. But in general, flatbed loads pay the best due to the unique skills required. You'll also likely receive a premium for loads that require extra certifications, such as HAZMAT materials.
According to the United States Census Bureau,
more than half
of all trucking companies on the road are classified as long-haul. Long-haul truckers represent a vital part of the supply chain, delivering goods to distribution centers across the country.
Schedule a demo.
Find out how our platform gives you the visibility you need to get more done.