How to choose a freight broker
Many factors come into play when looking for broker partners to connect with to help you find good loads to haul. Like in any profession, there are good and bad players in the industry. Gone are the days of face-to-face interaction, when gut instinct and good chemistry helped guide decisions about who to work with. In today's online freight matching marketplace, the rule of thumb is to be cautious, aware, and do your due diligence, which means taking the time to dig deep to get the information you need to make the right choice.
Trustworthiness should be top-of-mind, but how do you know who to trust? Pay history is critical, but what if you're working with a broker for the first time? Not only do you need to get fair rates on every load, but you also need to know the broker you're working with is willing to give and take when it comes time to negotiate.
"I found several good people through Truckstop.com brokers. We became really good friends, and we keep in communication with one another frequently."
What to look for in a broker
Freight brokers negotiate transactions between you and the shipper. To get the best rate for every load and keep the loads coming, it's absolutely essential to build and nurture relationships with brokers you can count on. Rest assured, brokers are always looking for carriers they can trust, too, so if you want to build a network of brokers you can count on, it's important to sell yourself on your professionalism, reliability, driving record, timeliness, and any differentiators that might prompt the broker to choose you over the next guy or gal. In turn, look for those same qualities in a broker, with a few additions.
1. A large, established freight brokerage is usually a safe bet, but never rule out working with small or independent brokers if that's your preference and comfort level.
Once you establish contact and get a few loads under your belt to prove your value, you'll likely look to that broker time and again to find loads, and they'll return the favor by keeping you in good-paying loads.
2. Find a broker who offers good and fair pay.
The freight industry is constantly growing, and the need for fast delivery of goods is at an all-time high, with no signs of slowing down anytime soon. In times where there's a driver shortage in the industry, don't underestimate your worth, and don't settle for sub-par carrier rates. The best brokers know your value and won't try to low-ball you on rates. These are the brokers to partner with.
"On the ones that the rates aren't as decent as the other ones, I will give them a chance. I will call and talk to them. A lot of them don't know there's a road tax that's involved, etc. When you open up with broker and let them know, they raise the rate."
3. Find freight brokers who pay on time.
For many carriers, waiting 30 to 60 days to get paid can seriously cramp cash flow. While this might be the average norm, make sure the broker you choose to work with at least has a "norm," meaning a regularly scheduled payment system you can count on to keep you in cash. Of course, the broker with the shortest days to pay are always ideal because you get the money that's owed to you quickly.
4. Look for brokers who value loyalty.
Once you establish a mutually beneficial relationship with a few good brokers—or even one if you're just starting out—do what it takes to motivate them to keep you in loads on a regular basis. This is where you can distinguish yourself from other carriers out there. Go above and beyond to be responsive, easy to work with, responsible, and reliable. Expect no less from the broker. Loyalty is a two-way street, so if you find a broker you like and are comfortable with, work towards nurturing that relationship. Broker-carrier relationships that foster give-and-take, open communication, and mutual respect will serve you well down the road and ensure future success. If you do your part to ensure the broker thinks of you first, chances are, they'll keep good loads coming your way.
5. Look for brokers who specialize in moving freight that meets your specific needs.
You've got preferences. Preferred lanes, specialized equipment, and length of time you're willing to be away from home are just a few. Seek out brokers who might specialize similarly or run in your same lanes. This might require some upfront research on your part but will save you time in the long run when you start to narrow down to the brokers who are good matches for your requirements.
A good load board is the best ice-breaker.
If your heart sank a little when you read you need to take the time to dig deep to get the broker information you need to make the right choice—and you don't have a lot of time to spare—we've got good news: A good load board will do that for you, and fast!
There's no shortage of reasons why today's owner-operator should absolutely be using a load board, especially if you're planning to compete in this fast-paced, ever-changing industry and grow your business into the future. Finding and choosing good broker partners is just one of many reasons, and you owe it to yourself to use a good load board from the get-go. It'll work wonders when it comes time to find the right loads for you in record time—and, in trucking, time is money, (even if it is a tired old cliché).
The Truckstop Load Board serves up tens of thousands of legitimate loads posted by reliable brokers—vetted, verified, and approved, with proven track records of paying fair rates and paying on time. We employ an entire team dedicated to keeping fraudulent brokers and scammers off the board.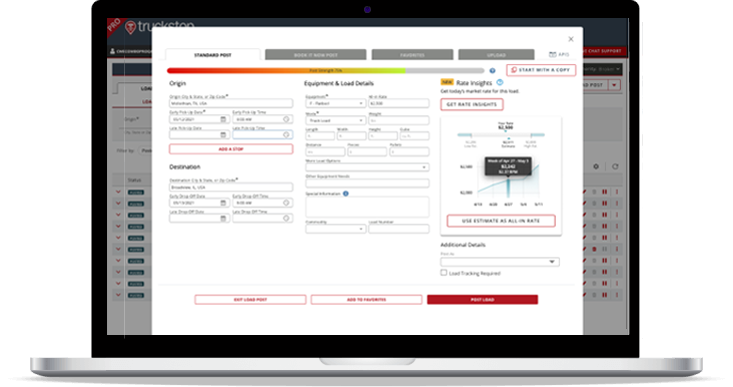 We even go the extra mile, equipping you with a fast and easy way to check into broker information and choose who you want to work with. You'll get access to current broker data and detailed broker information, like credit score, complaints and compliments from other carriers, days-to-pay, and experience levels.
"When I'm looking for brokers, I'm looking for whether they're an A rating, B rating, how quick they will pay, their days to pay, their rates. Just who they are in general."
Our broker information tools, like Credit Stop Broker available on the Truckstop Load Board Pro, give you a deeper dive into broker details and give you the freedom to choose your business partners. Because, at the end of the day, gut instinct and good chemistry still play a role. And no load board should take that away from you.
Schedule your free demo of the Truckstop Load Board to find out more.
Schedule a demo.
Find out how our platform gives you the visibility you need to get more done.