Case study:

Larrea Trucking Hay Company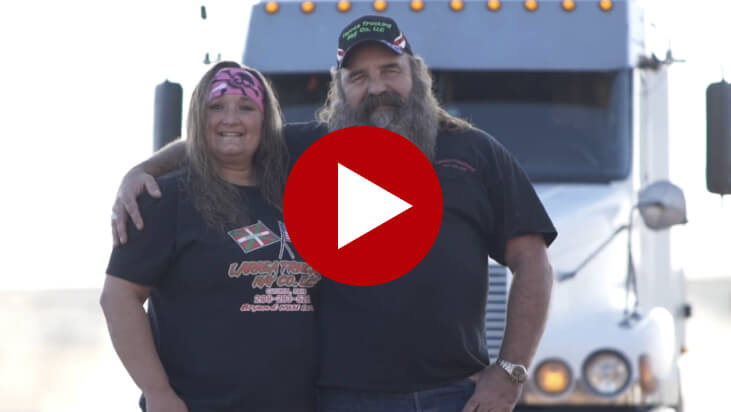 "We find higher quality on Truckstop."
Small owner-operator trucking business competes with the big guys with help from Truckstop Load Board Pro.
60 years ago, Bryan Larrea's dad and uncles started hauling hay as Larrea Trucking Hay Company.
In 2017, Bryan took over the family business with the help of his wife Nikki. Today, the duo hauls loads for a major retail corporation out of their hometown of Caldwell, Idaho, using Truckstop Load Board Pro.
The solution
Today, the Larreas rely on Load Board Pro to help them find suitable loads in their preferred lane, review rate information, and find the best broker partners to do business with.
Features like unlimited load searching, real-time updates, and instant load booking with Book It Now help Nikki find loads at all hours coming and going, quickly book loads with trusted brokers while on the road, and get the rates they need to get ahead.
"When I'm looking for brokers, I'm looking for whether they're an A rating, B rating, how quick they will pay, their days to pay, their rates. Just who they are in general."

I was very nervous and scared, not knowing where to even begin. At first I put Truckstop.com on the back burner, but when I finally signed up, things took off from there.
The results
Less stress—more loads
With Bryan at the wheel, Nikki has her hands full finding loads in addition to her role as the company bookkeeper and accountant. She relies on the Truckstop.com Load Board to keep the loads coming, thanks not only to the high volume of available loads, but also the high quality of the loads. And seeing new loads come on the board in real time assures her she'll always find what she's looking for, even in a crunch.
"What Truckstop.com does better is how well-organized you guys have it. The listing of the loads, who the broker is, the days to pay, the rates. As far as punching in Portland to Boise, I can find several options to choose from. It's very helpful."
The right loads fast
To get the best loads—the ones that meet the Larreas' needs—Nikki has to move fast to book the load before it's gone. If too many truckers are going after the same load, Nikki can't afford to waste time on phone calls and emails. And sometimes, the details of the load are wrong—therefore, so is the load, which puts her back to Square One.
"Book It Now is the best way to go about it, when you can see the rate per mile, the total rate, what kind of trailer they are looking for. When everything is there it's great because we don't have to spend hours on the phone. I can make a decision in three minutes."
The right rates
Nikki uses Load Board Pro to get the best rates she can. She can find specific rate data to see the going rate in a certain lane she wants to run. She can compare apples to apples by seeing paid and posted rates by similar equipment type and other details she can use if she likes a certain load, but needs a better rate.
"On the ones that the rates aren't as decent as the other ones, I will give them a chance. I will call and talk to them. A lot of them don't know there's a road tax that's involved, etc. When you open up with broker and let them know, they raise the rate."
Lasting relationships
If there's one thing the Larreas know, it's that trucking is all about making connections. Having good relationships with brokers is more than half the battle. Broker connections and partnerships formed early on can carry your business the distance. In fact, one of Nikki's favorite things about Truckstop is that it's helped the Larreas form lasting relationships with brokers they know they can trust.

I found several good people through Truckstop brokers. We became really good friends, and we keep in communication with one another frequently.
The load of a lifetime
From only hauling hay to hauling crushed cars to now hauling a major line haul for a large retailer, the Larreas are enjoying steady growth and success.
"I was just jumping for joy when I found that load on Truckstop. It's just changed our life tremendously. It's what gave us our business."
See how easy it can be to live life on your terms with Truckstop Load Board and Truckstop Go.
Please fill out this form to schedule a time to see how we can help make you more money.
Read more customer stories.