Case study:

OC Trans, LLC.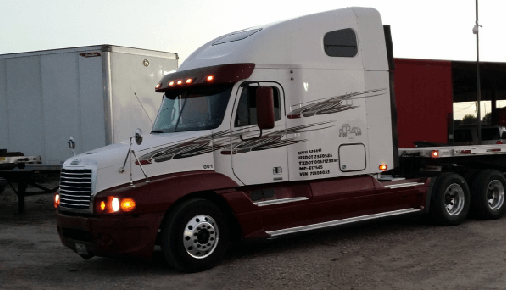 "Me and Truckstop, we're good friends."
– Martha Jones, OC Trans, LLC.
Small flatbed business runs strong and steady.
Inspired by her brother's 30 years in the trucking business, Martha Jones and her husband Oce set out to make a go of it themselves, forming OC Trans, LLC. in 2013. When reflecting on the past 8 years of business, Martha can't imagine finding high-quality, good-paying loads without the help of Truckstop Load Board Pro. Today, Martha looks to Load Board Pro to find 100% of the loads the company hauls.

The challenge
Like many small trucking companies, OC Trans has unique needs and specific requirements when it comes to what they're willing and able to haul with their one flatbed truck. They prefer local loads, shorter distances, and oversized loads with higher pay, but occasionally will venture out on a longer haul if it means they can visit family.
Martha has an additional requirement for booking a load, summed up in her own personal motto, "Say no to low." Martha's goal for OC Trans is to always get the highest rates possible and work with brokers who consistently offer fair pay.

"I love the new features. In terms of our experience as truck owners, Truckstop has done a phenomenal job making our job better."
The solution
One reason the Joneses got into the trucking business in the first place was the personal freedom and flexible lifestyle it allows them. Load Board Pro helps them run their business on their own terms and quickly zero in to find the right loads that work for them.
When we chatted with Martha, she was especially excited about some enhancements to the Load Board Pro Load Search, which was revamped to help carriers cut to the chase to find the right loads fast and book them with less hassle.
The load search results are now customizable by the user, meaning Martha can click and drag to organize her load board to her liking and to accommodate the way she likes to work. She arranges her board with the most important columns listed first, left to right. When she's rushing to get a good load, it's important to Martha to visually spot the information she cares about most, so she can make a fast, informed decision. She can even hide columns she doesn't use so they don't clutter up her load board and distract her from the task at hand.

The results
For the past eight years or so, Martha begins and ends most every weekday on the load board. She knows it well. While she's been a fan since day one, Martha finds today's Load Board Pro with its advanced features and capabilities to be a welcome change when it comes to the things she cares about most:
Ease-of-use: "It's 100% easier, definitely."
Customizable load search: "You're able to design it to your liking and put the categories where you want them."
Real-time refresh: "I'm about finding the best load the fastest. A good load can disappear in a split second."
Pre-vetted brokers she can trust: "I tell anyone that's trying to get into trucking, 'If you don't have a client base, Truckstop is the place to go.'"
Accurate rate estimates: "Using Truckstop, it's easy to 'Say no to low,' and pass on certain loads or hold out for a fair rate."

"If you don't have a client base, Truckstop is the place to go."
Keeping up with the Joneses
Known and trusted in the industry for helping owner-operators of all sizes keep up with the fast-paced, ever-changing world of freight, Truckstop continues to be the one source OC Trans relies on to stay ahead—and grow. Martha's nephew is in the process of purchasing a truck, and her son also plans to join the family business, which means adding another truck to the operation in the near-term. Her advice to both: "You can't survive without Truckstop."
As for Truckstop, we'll continue to work hard to develop, refine, and improve our technology to be the best it can be to "keep up with the Joneses" as they grow and build their business into the future.
Get a demo.
We would love to hear about you and discuss how we can help your business. Please fill out this form to schedule a time to see how we can help make you more money.