No doubt you've heard the phrase "digital freight matching" or the "Uber-ization of freight." Or maybe you've heard the term "on-demand" trucking.
Whatever people are calling it, it's basically an easy button for the movement of freight in a world that demands products faster than ever.
In today's world of same day, next day, and two-day delivery, the need for a quick, efficient way to connect carriers with shippers and brokers is becoming more urgent. Every player in the transportation industry is currently staking a claim on what it is, what it means to them, and how they stand out from the competition.
What is digital freight matching?
Digital freight matching is the idea that a carrier can just tap and go, meaning the carrier taps to accept a load at a posted rate, and then they hit the road.
Behind what the driver sees, there is a shipper or broker posting the freight they need moved. In order for this idea of a digital freight matching easy button to work, load details must be included. Without knowing details like weight, rate, distance, and pick-up and delivery locations, a carrier can't confidently commit to moving the load.
There's a lot more that goes into making freight matching as simple as swiping left or right on a load.
The ideal digital freight matching experience predictively and proactively pushes matches to users, prioritizing users' preferred business partners so they can work with people they prefer and trust.
What are the benefits of digital freight matching?
Digital freight matching addresses some of the biggest pain points both carriers and brokers face during the negotiation process.
No more "post and pray" approach to load and truck posting.
Speeds up the time it takes to get a load covered.
Reduces or eliminates time-consuming phone calls.
Automates the entire process of finding qualified partners. Both carriers and brokers can be assured they're working with reputable professionals.
Eliminates manual process of faxing documents back and forth.
To solve for even more pain points, the ideal digital freight matching solution should:
Provide digital messaging and paperwork, like invoices and contracts.
Seamlessly connect partners.
Provide insights that help carriers and brokers grow and profit.
Provide a quick-pay option.
Provide predictive matching to keep carriers loaded.
Auto-match capacity to load for brokers.
Integrate into the users' TMS (transportation management system) or on any mobile device.
Truckstop.com is on the forefront of digital freight matching.
Digital freight matching is being talked about in the transportation industry as a new concept when the Truckstop.com Load Board has always provided the ability to connect brokers and carriers digitally. As with any other equivalent software or app, Truckstop.com users must input a certain amount of information to connect to the right broker or carrier. It's the tap and go part of digital freight matching that's relatively new (and a slight oversimplification).
Truckstop.com is entering this new era of freight matching by focusing on the opportunity to provide a single, seamless solution for freight matching.
Truckstop.com Load Board users already have access to a wide variety of features like rate tools, heat maps, payment options, and load tracking (just to name a few), and we're devoted to building and improving upon our suite of products with the end goal of providing a full-circle transportation software system for brokers and carriers. Toward that, the following solutions are part of our current offering:
SaferWatch®
SaferWatch makes it fast and easy for brokers to find, verify, and monitor carriers throughout the lifecycle of their freight. Features and benefits include:
Carrier sourcing. Search with automated selection rules and set risk assessment guidelines.
Fast certificate of insurance acquisition. Access the largest database of carrier insurance certificates and request certificates in real time.
See CSA-e percentile scores. Evaluate inspection and violation data to mitigate risk.
Get TIA Watchdog reports. Identify fraud with validated carrier reviews.
Ongoing compliance monitoring. Keep track of safety, insurance, and compliance for all your carriers.
Truckstop.com Factoring
Carriers can say good-bye to invoicing and cash flow worries by turning over time-consuming back-office paperwork to Truckstop.com Factoring. Carriers can focus on hauling freight—we'll take care of the rest.
Factor loads on the go with the mobile app.
Easily apply for advances.
Get instant broker credit checks.
View your paid and unpaid load history.
Scan your paperwork anytime, from anywhere.
Truckstop.com Pay
Our pay solution simplifies the pay process for brokers and carriers alike, plus provides a quick-pay option.
"Truckstop.com Pay actually makes our relationships with our carriers so much better. They can see all the loads they have money on, and they can choose when they get paid. It makes life much simpler for all parties involved."
Truckstop.com Book It Now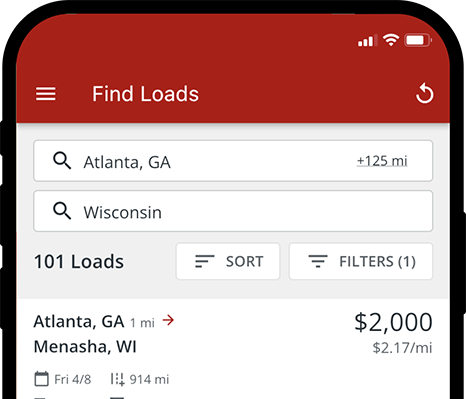 Our instant booking feature transforms the booking process from time-consuming phone calls and emails to a few simple clicks, to deliver speed, simplicity, and convenience. Brokers post rates up front, so carriers can see the rate before they book the load. This time-saving feature even allows carriers to book loads outside broker business hours, making the process more efficient for everyone. Brokers can cover more loads faster, carriers can book loads with trusted brokers from anywhere, anytime.
Stay tuned!
As one of first and most trusted load boards, Truckstop.com is leading the DFM revolution. Do business and stay connected in the palm of your hand via our app, Truckstop Go™. Because when it comes to helping all players in the freight industry keep pace and keep ahead of the curve, we won't stop!