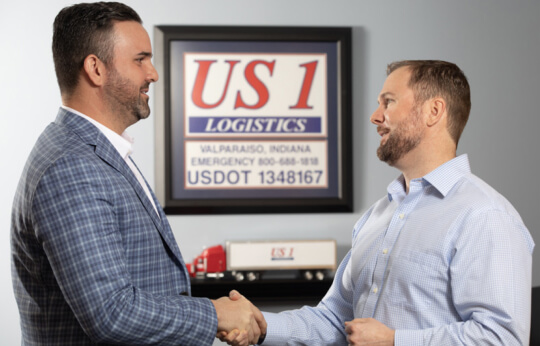 "Since our partnership with Truckstop, US 1 has doubled our brokerage revenue."
How US 1 Network went paperless and edges out the competition by using Truckstop's full suite of software solutions.
"Our agents have been using Truckstop for a long time to match their business needs. They constantly refer to the product as a vital tool in their daily operations."
US 1 Network (US 1 Industries subsidiary; Valparaiso, Indiana) was launched in 2005 in St. Augustine, Florida. They provide back-office functionality and management consulting to a wide range of transportation and logistics companies nationwide. Their services include insurance, working capital, tech support, and more. Their agent base historically focused on intermodal transportation, but now includes brokerage, flatbed, van, reefer, and shuttle. Today, US 1 Network has more than 30 employees.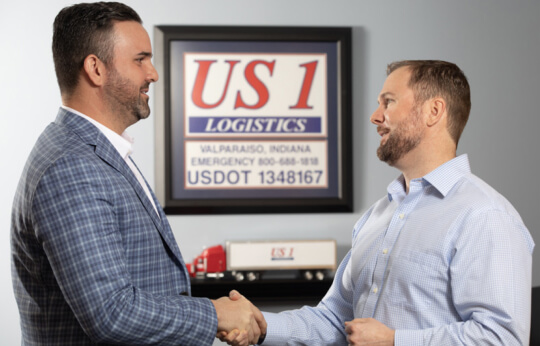 The challenge
Mark Chandler, VP of Business Development for US 1 Network, is responsible for recruiting and developing new agents, as well as enhancing business operations. Old-fashioned office processes make retaining new agents and customers expensive and time-consuming. Finding products that allow for strategic and procedural efficiencies in tasks like freight matching is not easy. Companies often settle on several products to complete a job instead of an all-inclusive, single-software solution that connects information and cycles its users from one step to another.
The solution
US 1 Network's agents have been using Truckstop.com since the beginning, but VP of Business Development Mark Chandler became more involved in 2015 after attending Connected, Truckstop's user conference, which helps leaders increase efficiencies using best practices.
US 1 Network leveraged their expanded product knowledge and increased networking base from Connected to develop better office efficiencies throughout the entire freight management lifecycle. In fact, they now manage the entire freight cycle with Truckstop.com — from onboarding all the way to payment. By taking advantage of more products offered by Truckstop.com, US 1 Network was able to considerably improve their bottom line. Their revenue surpassed $150 million in 2018.
The results
Advanced Features = A Marketplace Edge
With Truckstop's advanced features and all-in-one solution, US 1 Network agents are able to stay ahead in a fast-paced industry. They can respond quickly and adeptly to help their clients (intermodal agents, owner-operators, and transportation agents) increase efficiencies and boost profits. A lot of work goes into keeping America moving, and US 1 Network needs to be able to trust the software it's using to maintain their part in the process. By taking advantage of Truckstop.com's tools, US 1 Network can maintain their standing in the marketplace.
"In this market, we are all striving to offer a competitive product that includes ease of use and transparency. Truckstop helps us with tools and products that are leading the marketplace."
"Our agents have been using Truckstop for a long time to match their business needs. They have constantly referred to the product as a vital tool in their daily operations."
"Truckstop has floored me with their customer focus. Their products are engineered to help those on the frontlines. Additionally, they have been swift to address ideas and concerns."
"Truckstop.com has been by my side for multiple implementations and integrations with sharp and friendly individuals."
Full Service Software Solution = Simplified Processes
US 1 Network agents need an efficient end-to-end experience to simplify the standard operating procedures in transportation. The features Truckstop offers help make that happen. The tools work together which results in users saving time — that translates to more money.
"Truckstop has helped us create a more efficient end-to-end experience. US 1 Network is now paperless throughout the entire freight matching process: Carrier qualification, load planning, and carrier payment. The Onboarding product allows the agent to qualify carriers over the internet and e-sign the contract. With the load booked, Pro allows the agent to track the carrier. Once the load is finished, the agent can upload the proof of delivery. The carrier gets paid electronically via Pay which provides near real-time information to the carrier on the status of their payment and allows them the flexibility of receiving their money for free or earlier than expected"
"The term freight matching versus load board is apt, but it still doesn't encapsulate your offerings that address many industry aspects."
The Conclusion
US 1 Network believes brokerages continue to be an avenue for growth. They're planning to continue enhancing their agents experience by using Truckstop's all-in-one, paperless solutions.

"Truckstop continues to develop and provide solutions which I expect we can roll out as well to offer a robust package to our agents. We may also use Truckstop as a marketing vehicle to promote the US 1 Network and recruit more agents."
See how easy it can be to live life on your terms with Truckstop Load Board and Truckstop Go.
Please fill out this form to schedule a time to see how we can help make you more money.
Read more customer stories.