You make 2% on every quick pay load.
You pay on the load the business day after the carrier selects quick pay.
Carriers pay 2.99%. 2% goes to you and 0.99% to Truckstop.com Pay.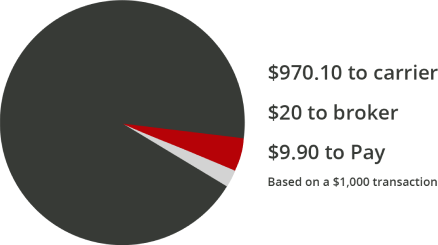 Get immediate money in the bank.
Truckstop.com Pay pulls 98% of the payment amount. Your 2% revenue share stays in your bank account.
Create customizable payment terms.
Select up to 45 days or as few as 14 days based on your needs.
Offer automatic carrier quick pay.
Carriers can select automatic quick pay on all their loads, which means you'll get an automatic 2%.
You trust the Truckstop.com Load Board to help you find capacity, now trust us to get your carriers paid.
Get started with Truckstop.com Pay today.
All Truckstop Pay services are provided through LoadPay, LLC, a division of Truckstop.com.