11 Best Freight Broker Software Tools for 2023
Brokers need freight brokerage software that makes each step of the process more efficient. With the freight broker market only expected to grow, software can help make your job easier and give you a solid understanding of your business's needs.
Automating your processes allows you to spend your valuable time booking freight instead of doing administrative work. To manage the fast-paced business of matching carriers and shippers, choosing the right freight broker software is essential for your success as a broker. 
Especially if you're just starting, you might think an off-the-shelf accounting package or generic transportation management software will do the job. But freight brokers need specialized software solutions that help manage carrier relationships and perform freight matching needs, invoicing, payments, and financial tasks.
Software functions you should consider to improve you business include:
Transportation management software (TMS)

 

Freight load boards

Customer relationship management (CRM) 

Accounting software 
You can use an all-in-one suite or cherry-pick the best option in each category but finding the right combination is essential to helping you maintain and grow your freight brokerage business. 
Best types of software to improve your business
What's best for you will vary based on the size and growth projections of your business and where you can benefit from creating efficiencies. However, there are a few key aspect to consider for each.
A freight broker TMS uses data to analyze, automate, and improve processes to help your business run more efficiently. 
When researching a TMS, you should consider: 
How it finds and analyzes rates and  what sources it pulls from

How it tracks shipments from pickup to delivery

Ways it can generate and ensure compliance documentation

What reports are available and if they can be pulled with ease
A freight load board can help you grow you business by giving you less downtime and keeping trucks on the road. It helps you find drivers and check market freight rates quickly and with accuracy.
There are both free and paid load boards available on the market. However, paying for access will increase you visibility in the market, help keep your personal data secure, and give you more options to find carriers and rates that are best for you. 
Customer relationship management (CRM) 
CRM tools help you track and cultivate relationships with your business partners, shippers, and carriers. It also helps you track your communication, best contact information, and rate and lane preferences to help you make meaningful connections.
CRM tools range widely in capabilities and price. It's important to find the software that will help you scale and grow your business while providing excellent customer service. Your business is buit on relationships and taking the time to manage them properly will pay off. 
Accounting software
Tracking and managing your financial transactions is non-negotiable. But accounting software can do much more. It can automate processes like creating and tracking invoices, and keeps historical records to show revenue, expenses, accounts payable and receivable, and trends over time.
Key features to look for in freight broker software
Here's a review of the features your freight brokerage software should include. If you select a solution without these capabilities, you could be spending too much time completing the essential tasks for running a freight broker business. Before you choose software for your business, check to see if it includes:
Load search and posting
One of the most critical tools for freight brokers is load searching and posting to match loads with carriers. It's your bread and butter to match vetted carriers and shippers with freight and book the loads immediately. This function is provided by a load board service and may be integrated into a freight broker TMS.
Carrier vetting
Brokers must vet or research carriers to ensure their credentials, safety ratings, and compliance records, including CSA scores, meet standards before booking loads. Carriers that don't meet your criteria should be excluded. Carriers without the proper insurance coverage or acceptable CSA scores could lead to higher liability in case of an accident or product loss.  A thorough vetting process provides brokers and shippers with protection against risk.
Carrier onboarding
After vetting a carrier, brokers must onboard them into the freight broker software system. You'll need to input carrier records, payments, and other information into the system to set up the carrier to accept loads. Look for a system that automates this step as much as possible so carriers are ready to book loads faster. Speed up your onboarding by as much as 80% with tools that help you automate your compliance process. Explore your options for a streamlined, time-saving carrier onboarding and monitoring solution.
Carrier monitoring
Once carriers are vetted and onboarded, continuous monitoring is necessary to ensure the carriers continue to meet safety and performance standards, even after you've onboarded them. Ideally, your solution will provide alerts whenever there's a change in a carrier's status.
Invoicing
Every shipment requires an invoice, so your software should make invoicing easy to help keep your cash flow coming in. Ideally, you should be able to create and send an invoice with just a few clicks.
Payment processing
After you invoice, payments will start to flow in from your customers and out to your carriers. Your payment solution should be able to handle all types of payments and connect with your accounting software to simplify the process for everyone.
Document management
Paperwork is a fact of life, so look for a solution that manages documents, such as broker agreements with carriers and shippers, load tenders, rate confirmations, bills of lading, insurance certificates, and other critical pieces of information. Handling these documents in a digital form saves time and errors and provides a higher level of security and backup. It's easier to share documents internally and externally.
Electronic data interchange (EDI)
To eliminate or reduce paper processing, exchange load information using standard formats among shippers, brokers, and carriers. Eliminate manual data entry for seamless communication that speeds up shipments and payments.
Routing and dispatch
Your freight broker software should support selecting the most efficient routes and dispatching carriers. Select routing that avoids delays and optimizes fuel use, and takes traffic information, speed limits, and fuel prices into account. Pick a solution that eliminates the need for phone calls and faxes to get the freight moving in the right direction quickly.
Load tracking
Shippers want freight visibility, so load tracking is a critical function. Brokers can save time by not having to call carriers for updates, and geofencing provides alerts for selected events. Carriers appreciate working with a broker that can help prevent fines.
Third-party Integrations
Your freight brokerage software solution should connect with other critical tools without additional programming or costs. If you have a TMS in place, your favorite load board should be accessible through it for a seamless experience and connect with your accounting software.
11 best freight broker software tools for 2023 (by use case)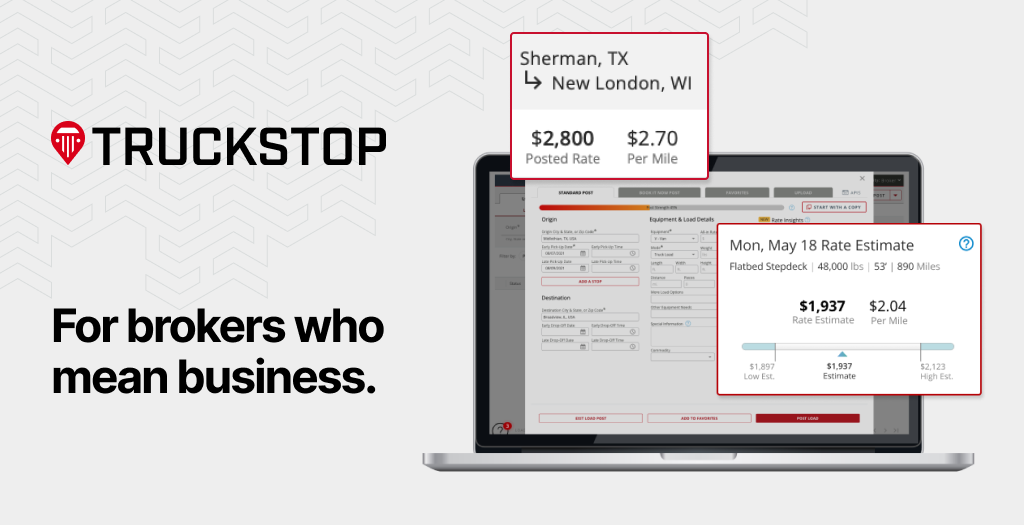 Used for: Integrated portfolio of freight broker solutions
Truckstop offers a full-featured portfolio of solutions for brokers integrated with the industry-leading load board that pairs carriers and shippers. The easy-to-use automated tools accelerate daily workflow, helping brokers close more deals faster, and improve customer service. It integrates with a variety of TMS's, accounting, and CRM software solutions. Financial management features include creating invoices, setting credit limits, and managing accounting tasks. You can also integrate carrier management functions, including sourcing, vetting, onboarding, and monitoring.
Key features
Truck/lane searching
Predictive carrier sourcing
Load management
Carrier vetting
Carrier onboarding
Carrier compliance monitoring
Real-time updates
Payment processing
Supports dual authority brokers
Pricing: $99 – $349/mo.

Used for: Accounting software
Aimed at small and medium-sized companies, QuickBooks handles the financial basics of running a business, from invoicing to payments and taxes. There's a range of pricing options to fit your budget. While QuickBooks has its place as a bookkeeping solution, it is not specialized freight broker software. If you want load management or routing/dispatching functions, you'll need to purchase add-ons or integrate with other freight broker tools.
Key features
Track income and expenses
Invoice and accept payments
Track miles
Manage 1099 contractors
Manage and pay bills
Track time
Manage employee expenses
Batch invoices and expenses
Customize access by role
Automate processes and tasks
(Advanced version)
Pricing: $15-$100/mo
Used for: Accounting software
Created for small but growing businesses, Xero is easy-to-use accounting software designed to help you keep all your business financials running smoothly—in one place. 
Xero offers industry specific information that helps you use the program with the most efficiency. The mobile app also connects to over 1000+ other apps to run your business seamlessly. It even allows you to import data from other accounting software, making it even easier to get started.
Plans are  affordable and can be upgraded or downgraded at any time. You can also cancel with just one month's notice if it's not a fit.
Key features
Track and pay bills with a clear view of accounts payable and cash flow

Manage spending and submit expenses with management tools

Secure bank connections

Track invoices, costs, and profitability

Reconcile bank transactions daily

Manage contacts

Automatically store documents and key data

Reporting to show accurate accounting and trends

Automates invoices
Pricing: $13 – $70

Used for: Small  to medium sized business accounting software
Also targeted at small to medium enterprises, FreshBooks is a cloud-based option that you can access via mobile app. FreshBooks will send invoices, track time, manage receipts and expenses, and accept credit cards. While useful for small-business bookkeeping, FreshBooks is not a specialized freight broker solution.
Key features
Customizable invoices
Automatic late fees
Received invoices
Receipt attachments
Automatic payment recording
Automatic expense recording
Automated bank reconciliation
Generate P&L reports
Time tracking
Pricing: $17-$55/mo.

Used for: Customer relationship management
One of the best-known CRM tools, HubSpot offers a free version. It's a flexible tool that integrates marketing with sales and follow-up but doesn't offer much in the way of broker-specific functionality. You can sign up for higher levels of contacts and more functions as your business grows.
Key features
Build customer database
Track leads
Contact deal and task management
Email tracking and engagement notifications
Email templates and scheduling
Document sharing
Meeting scheduling
Live chat
Sales quotes
Pricing: $0-$3,600/mo.

Used for: Customer relationship management
Salesforce is a comprehensive CRM tool that provides a 360-degree view of shippers and consignees for brokers and manages carrier relationships. The integrated systems provide real-time visibility throughout the entire shipping experience. It's scalable as your company grows and steps up its marketing and operations footprint.
Key features
Manage quotes and pricing
Manage carriers and routing
Integrates systems and data onto a single platform
Automate processes
Streamline workflows
Integrate data from any system
Proactive tracking updates
Targeted marketing functions
Pricing: N/A
Used for: Customer relationship management
Zoho is a robust CRM software that has the unique ability to integrate with a variety of other business tools, making managing customer relationships easier. It also offers solutions based on your industry and company size for the most ideal business use. 
With Zoho, brokers get a comprehensive suite of features to manage carrier and shipper relationships, track shipments, and improve daily business operations. The automated processes save you time and help you get more done, faster.
Key features
Store and manage contact information including notes and activities

Automate workflow for communication 

Sales automation tools to manage forecasting

Generate and track invoices

Track communication across sources like email and phone calls

Automatically capture new leads from social media

Create dashboards to analyze business trends

Customizable to your needs and preferences
Pricing: $14 – $52

Used for: Freight broker software
Axon is an integrated transportation management software that manages all aspects of operations for brokers and trucking companies. Brokers can increase staff efficiency and load visibility by automating most processes. It does not include load board functions.
Key features
Manage carriers, shippers, consignees
Accounting, payroll, and web application integration
Broker accounting applications
Accounts receivable, billing & collecting integration
Customizable order history
Visual dispatching
Fleet management
Load tracking
Real-time updates
Pricing: N/A

Used for: Freight broker transportation management software
An integrated TMS for freight brokers automates many functions and supports custom reporting for dynamic management and planning. It automates billing and carrier settlement and manages fuel taxes, driver tracking, pickup, delivery details, and payments. It is customizable for specific broker requirements.
Key features
Trucking dispatch software
Automated rating
Electronic document management
Live load tracking
Customer relationship management
Customizable management dashboards
Billing and auditing
Carrier settlement
Configurable EDI
QuickBooks integration
Pricing: N/A
Used for: Transportation management
Tailwind is a cloud-based transportation management solution geared toward small and medium sized freight brokerages. 
Tailwind manages your cash flow, pays suppliers, and tracks your account receivable. It also offers a host of features from a carrier portal to dispatch management that help reduce human error. 
It is easy to use and customizable to your brokerage business allowing you to store information about trucks, drivers, and all of your expense data.
Key features
Accounts receivable and payable management

Business document customization

Tracks claims, incidents, and accidents

Dispatch and shipment tracking

Tracks equipment maintenance

GPS confirmed shipment and event tracking (25 loads/month)

Integrate with QuickBooks

Offers SaferWatch FMCSA data feed
Pricing: $99 – $199 per month
Used for: Transportation management
AcendTMS is growing in popularity for freight brokers due to its ability to show you live load sources on a single screen. You can track delivery schedules, movement of goods, and carriers in a central location. It also shows the load consignment financials of your  for the most profitable options for a more complete logistics solution. 
It's free to get started and launches right away with easy-to-use online tutorials. 
Key features
Carrier portal

Real-time truckload rate index

Load and dispatch management

Document management 

Finance and accounting management

Carrier tracking

Customizable payroll management

Real-time reporting

Integrates with load boards seamlessly
Pricing: $0 – $99
Which freight broker software is right for your business?
Selecting the right freight broker software is a big step. You need a freight broker transportation management system that sets up your business for success. With ITS Dispatch from Truckstop, eliminate time-consuming paperwork and spend time where it pays off–with your customers and growing your business. With the range of tools at your fingertips, you can integrate workflows to increase efficiency, automate processes, and accelerate growth for your company. Don't settle for off-the-shelf software that only does part of the job. Invest in an integrated solution with a toolbox of solutions specifically designed for freight brokers.
Sign up today, or book time for a demo with one of our freight broker experts.
Schedule a demo.
Find out how our platform gives you the visibility you need to get more done.