Dry Van Freight Rates: What Truck Drivers Need to Know
Good for a variety of shipping needs, dry vans are one of the most common trailers on the road today. While not climate controlled, dry vans are easily secured and protect goods from the elements. Shippers choose different types of dry vans depending on the cargo. Sometimes shippers need more than one truckload for shipping, but often they have less than a truckload (LTL). The rates for each type of load vary a great deal due to several factors.
In this article, we look at the advantages of dry van freight shipping, the national average dry van rates, the factors impacting contract rates, and how to find dry van rates.
Advantages of dry van freight shipping
Dry van freight shipping is often the best choice for shipments that don't need cold storage. Dry vans come in different sizes, from 24′ box trucks to 53′ general dry vans. For shippers, there are three key advantages to this type of equipment:
Pricing. Dry van shipments don't require any special equipment or operations. The average flatbed rate or reefer (refrigerated truck) rate is typically higher since these types of shipping are more complex. If your shipment can travel safely in a dry van, you'll almost always save money shipping it that way.
Protection.Unlike flatbed loads, dry van loads are extremely well protected from the elements, since they are fully enclosed. In addition, when truck drivers make a stop for fuel or food, they have to leave their equipment unattended. With a dry van, it's easy for the driver to simply lock up the trailer for extra protection.
Versatility. Dry van loads can encompass virtually anything that is shipped, provided it isn't oversized or perishable. Household goods, clothing, and electronics are just a few categories of goods that can be easily shipped by dry van.
National average dry van rates
While dry van rates vary a great deal by carrier and location, there are some national averages you should be aware of. These rates are usually represented in cost per mile.
As of January 2022, the average national van rate stands at $3.13 per mile. This represents a 14-cent per mile increase from December.
On average, the West and Midwest have the highest rates per mile, while the Northeast has the lowest. This average rate is largely determined by supply and demand (how much freight there is to haul compared to the amount of truck space available) along with factors like fuel costs and truck capacity.
The dry van rate is typically well below the average flatbed rate. At the moment, however, rates are similar. The national average flatbed rate was at $3.13 per mile in January 2022, an increase of five cents since December.
Of course, there are also more specific factors that can affect dry van rates in your area.
Factors that impact dry van freight rates
Most of the factors influencing dry van shipping rates fall into six primary categories. For any trucking or shipping business that handles or has inventory, freight rates are one of your most common and often variable expenses.
All of these factors impact your rates whether you are hauling freight in a dry van or hauling flatbed loads.
1. Delivery distance
The farther you need to ship your freight, the higher the cost. But mileage alone isn't the only factor in the delivery distance. Where you're shipping to and from also makes a difference.
In general, it's less expensive to ship in established shipping lanes between major cities and hubs. Carrying shipments to or from more rural, out-of-the-way areas costs more.
2. Supply and demand
There is a basic shipping formula for supply and demand: Divide the number of incoming containers to a given area by the truck capacity and the number of trucks available. The fewer truck drivers and trucks available, the higher your freight shipping costs will be.
These costs can be seasonal as well. For example, in the Midwest and other agricultural areas, shipping fresh produce, especially in the summer, eats up a lot of trucking capacity quickly. While some industries can plan ahead to work around seasonal challenges, it's not always possible.
The key is to know and understand the trucking seasons and plan accordingly. One good way for both shippers and carriers to plan is to contract rates and dry van loads ahead of time. This ensures that even when things are busy, your freight is already integrated into a schedule.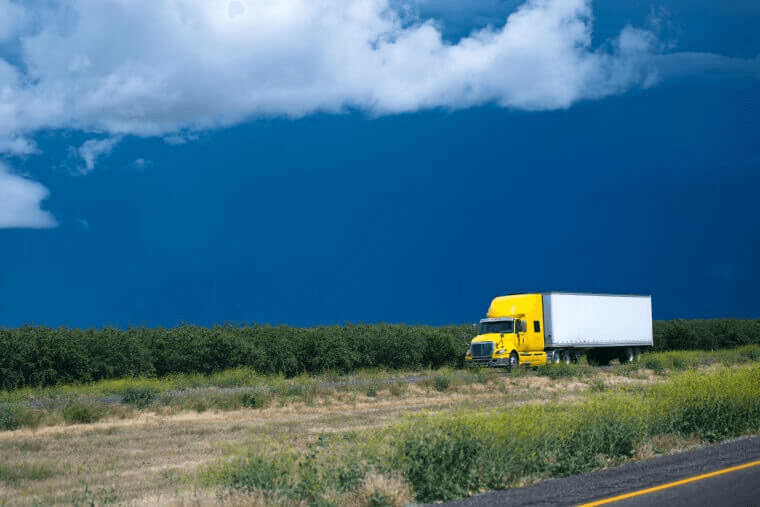 3. Freight type
Speaking of seasonal freight, one of the other factors impacting cost for dry van loads is the type of freight you're shipping with trucking companies.
For example, freight that requires special handling or comes with special delivery instructions will cost more to ship. Those special circumstances might also be related to the destination. The more difficult your freight is to handle and the more time it will take the driver, the more the carrier has to charge you. Everything from cargo fragility to how it's packaged (whether it fits on a standard pallet or not) affects freight contract rates.
What we're really talking about here is freight class. There are currently 18 different freight classes numbered from 50 to 500. The higher the class, the more expensive the freight is to ship. You can determine shipping class by learning more about National Motor Freight Classification (NMFC) codes. But your freight broker can also help you choose the proper classification.
4. Weight, density, and freight rates
It's pretty easy to understand why the transportation of freight that weighs more costs more to ship. Heavier freight causes truck drivers to use more fuel, so carriers pass that cost on to shippers.
But density is different. Calculate density by factoring in both the weight of your shipment and how much space it takes up in a trailer. The more compact your shipment, the less your freight charges will be. For example, 400 pounds on one pallet will be less expensive to ship than 400 pounds on two pallets.
When it comes to reducing shipping charges, it's just as vital to package your shipment efficiently as it is to stay within weight limits.
5. Fuel costs
Shipping rates also vary with fuel prices. The more fuel costs, the higher the freight rate. However, there is more to it than the price you see for diesel at the pump. Fuel surcharges and taxes change by region and state.
Fuel cost is another reason that your destination matters. If your goods cross state lines or travel inside certain shipping lanes, the cost of fuel and the associated taxes and fees will make a big difference in how much you are charged. It's one of the key factors in dry van freight rates, and it changes all the time.
Accessorials are charges related to any special condition that goes beyond shipping freight from dock to dock. They can include needing liftgates, unloading and loading with a forklift, and appointment or specific time-window deliveries.
The level of inconvenience for the driver and how much extra time they have to spend at the destination affect the dry van freight rate.
When you schedule shipping, you will need to specify if you're shipping to non-commercial areas such as construction sites, convention centers, and residences, or limited-access areas like strip malls, military bases, or other specialized destinations. Factors like these will almost always result in higher freight charges because it might delay drivers from getting back on the road quickly. A typical point-to-point line haul will likely avoid these charges.
Use a load board to find the best dry van rates.
How do you find the best dry van rates? The Truckstop Dry Van Load Board can help you find the best dry van freight rates. Load boards help you ship your freight faster and move your business further ahead.
Schedule a demo.
Find out how our platform gives you the visibility you need to get more done.