Resource Guide
Can I make more money using a load board?
As an owner-operator in the trucking business, you have to make decisions every day that affect your bottom line. When it comes to technology, choosing products that work for your business can be tough. Below you'll find information on how choosing the right load board can help you make more money, how it can help move your trucking business in the right direction, and where to start when signing up for a load board.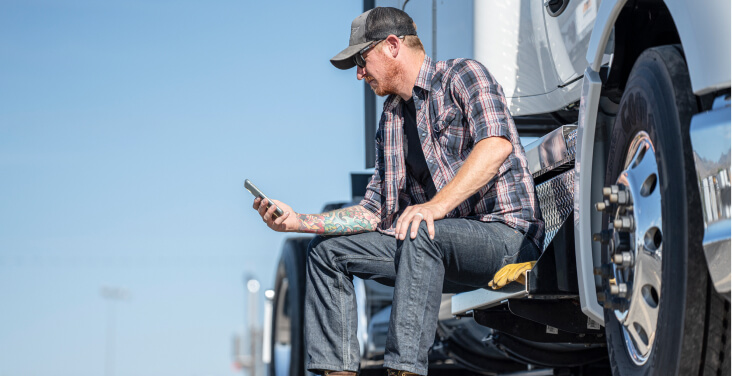 A load board is an online freight-matching marketplace where trucking owner-operators and freight brokers connect in order to negotiate and book loads to move freight across the country.
What can owner-operators use a load board for?
There are many reasons to use a load board. As a carrier or owner-operator trying to increase your paycheck, here are a few ways you can use a load board:
Find and book loads that work for your business, your equipment type, and your capabilities.
Understand current market rates with accurate rates data that helps you negotiate fair rates.
Build and maintain relationships with trusted brokers.
Maximize the money you make on each load, including backhauls and LTL.
Want to learn more about how a load board can help your trucking business? Read the full article: What is a load board?
A load board is an essential technology for owner-operators or carriers who are looking to run lanes in the spot market. Why? Because when you find the right load board, you can book a great-paying load to almost anywhere. You won't be stuck with an empty truck, and you can stay loaded with freight that pays well.
Find and book loads that work for your business.
When choosing a load board, make sure you're looking for both quantity and quality of loads. You'll want an established load board with a large and comprehensive load volume that provides a wide variety of loads to everywhere in the country. The Truckstop Load Board is home to up to 350,000 loads daily, with loads for every equipment type. When you're working with such a high number of loads to select from you are guaranteed to find a load to wherever you need to go.
Understand current market rates with accurate data.
One of the benefits of working with an established load board is that market data is gathered and presented to you in real time. For example, on the Truckstop Load Board, you will see near real-time rate data for booked and posted rates, specific to the load. This helps you strengthen negotiations with brokers. Knowing what the market rate is currently running at gives you a solid leg to stand on when it's time to talk to brokers.
Build and maintain relationships with trusted brokers.
You've heard it before: This business is built on relationships. In a marketplace where every broker is vetted and thoroughly checked out, you can begin to build long-term relationships from the get-go. If you have solid relationships with brokers, the inevitable ups and downs of the market will affect your business less and less. Instead of relying on outside forces that are out of your control, you can lean on established relationships to keep you on the road and consistently working.
Some brokers tend to overlook the carrier relationship and only focus on moving shipments. Tucker and Truckstop consider what the carriers want and know that they're what makes the industry move.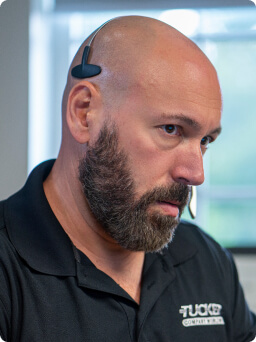 Maximize the money you make on each load—even backhauls and LTL.
The key to making more money as an owner-operator is being strategic about which loads you take and what rates you accept. A load board offers you options that give you the best rates, most variety, and the flexibility to maximize every load, coming and going.
How does a load board work?
The basics
Think of a load board as a meeting place where brokers and owner-operators connect in order to find the best match for their loads and trucks.
Owner-operators post their trucks and brokers find them.
Brokers post their loads and carriers search for loads.
All parties are able to use current data—real facts—to protect their business interests and make informed decisions beneficial to both.
What's included in a load board?
Basic features every load board should have:
A mechanism for searching for loads and posting your truck(s).
Accurate rates data to help you make smart decisions about your business.
Fuel tools to help you plan your trips and keep expenses down.
Information and ratings on brokers to help you choose your relationships wisely.
Filters and search tools to help you easily find the load that's right for you.
The Truckstop Load Board offers all these features and more.
Choose the right load board.
Making more money with a load board depends on which load board you choose (and how you choose to use it). At the end of the day, you have to choose the best load board for your business. You should also be committed to learning everything you can about the load board in question and take advantage of all the features available to you. Once you get the hang of it, it's easy!
When choosing a load board for your trucking business, you will want to consider several factors. Use this guide below to ask the right questions about the load boards you are considering.
Look at number of loads daily.
Number of loads matters. When you're running the spot market, you want—and need—options. Along with options, you want a "clean" board. Clean can be defined as new and active loads still waiting to be booked. Are the loads that are showing up active? You don't want to call on old loads that have already been covered and waste your precious time just to start over again with the risk of the same thing happening repeatedly.
Questions to ask: How many loads are posted daily? Is my specific equipment type included in those posted loads? Is the board wiped daily so I know I am calling on active loads?
Look at number and quality of brokers.
Building strong relationships in the industry as an owner-operator starts with a strong foundation of trustworthy brokers. (Beware of fraudulent brokers and scammers.) You want to work with a load board that vets their brokers before they ever have access to post on the load board you will be using. This helps ensure that you get paid—and paid on time.
Questions to ask: Are all brokers vetted before getting access to the board? Will I be able to rate brokers after working with them?
Look for features that will help you grow your business.
With a good load board, you will have access to more than just phone numbers of brokers. You want tools—such as rates tools—that help you make better business decisions. When you do have to make a phone call, you'll be armed with true and accurate information that will give you the confidence you need to negotiate rates.
Questions to ask: What additional features will I get with this load board that can help me make more money?
Consider the cost.
Cost is certainly a factor when choosing a load board. Most load boards have tiered pricing and different plans. Also, keep in mind that a load board is like anything else: You get what you pay for. There are plenty of free loads boards out there, but are they really free? Or will they end up costing you valuable time you could be spending driving and making real money?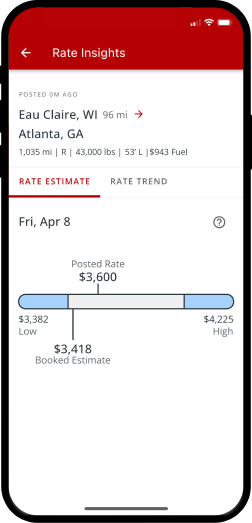 Questions to ask: How much does this load board cost? What are my different options for plans, features, and add-ons? Do you offer a trial of the load board?
At the end of the day, you will get what you pay for. If you are considering going with a free load board, check out our article on the pros and cons of free load boards.
Look at ease-of-use.
You want a load board that is easy to learn and even easier to use. (This will ensure that you actually use it!) If you are bogged down with a complicated feature set, you likely won't be using it often or getting the most bang for your hard-earned buck.
Questions to ask: How long does it usually take someone with no load board experience to get up and running with this load board?
Want more information on choosing the right load board for your business so you can make more money? Check out our article: Choosing the Right Load Board for your Business.
Make more money with a load board.
Making more money in this industry can be tough, but with a tool like a reputable, high-volume load board, you will be maximizing your profit on loads to increase your paycheck and make more money long-term.
How?
Find better loads.
More loads = more money. Better loads = even more money. While the quantity of loads is most important, it's also important to consider which load is right for your business. If you have to deadhead for several hundred miles, you are probably losing money. Make sure you are choosing the loads that work best for your wallet, and keep cash flow coming. Not sure where to start?.
Here are some tips for finding great paying loads that work for your business.
Build better broker relationships.
Vetted brokers = trustworthy partners = your long-term success.
Run a better business.
With accurate industry data, you'll make better business decisions that keep you in the green.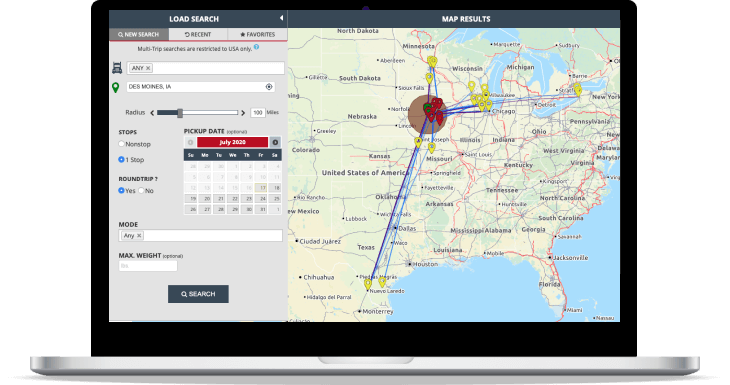 Truckstop wants to help you make more money.
As an owner-operator and business owner, you are constantly trying to figure out ways to make more money on each load and increase your take-home pay. You are the women and men that keep the country running, and we think you deserve a raise. We've committed 25 years of hard work to building the best load board out there for carriers and owner-operators.
Go Pro for the best results.
If you are really committed to making more money with a load board, take a good hard look at Truckstop Load Board Pro. With more powerful features, all the rates data you need to make more money, and faster access to the best loads (including instant access), you'll be making more money in no time.
Are you using Book It Now?
Imagine being able to book a load at a fair rate without ever having to pick up the phone. With Truckstop Book It Now, you can do exactly that—right from the load board. No need for time-consuming emails and phone calls. No need to wait around for paperwork. You end up saving tons of time, so you can spend time increasing your pay and profits.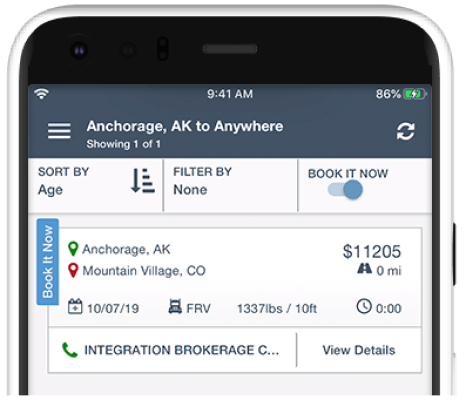 Get started today and make more money.
Getting started with Truckstop takes minutes. Today, if you sign up for Load Board Pro, you will have immediate access to:
350,000 loads daily.
Trustworthy brokers.
Rates data that helps you earn more.
Book It Now loads.
Decision tools.
And much more!
What are you waiting for? Sign up today to start making more money with Truckstop Load Board Pro.