Owner-operators keep our country moving. Long days and nights on the road. Hundreds of thousands of miles per year. It's hard, important work. That's why we think you deserve a pay raise. With a good load board in your owner-operator toolkit, there are specific things you can do to maximize profits on each load.
As owner-operator Brian Morrill of Waterway Trucking says, "In order for my company to be profitable, I need to make as much money as possible on every load."
What are ways you can maximize the profit you make on each load?
Below are five specific ways you can use a load board to maximize your profits.
Filter by rate.
With a quality load board, you should be able to filter the loads by the highest rate. For example, let's say you are running a lane from Horse Cave, Kentucky, to Burlington, New Jersey. The average rate in August 2020 is around $2.60 per mile. However, there will be rates that are higher and lower than that, based on factors such as the broker, the pickup location, etc.
You will likely find several loads for each lane and load boards should make it easy to filter by the best rate. If no rate by a broker is included, you can call—but leave those for last.
From the highest rate, you can negotiate with the broker to get the rate you deserve, based on market averages.
(With Book It Now, brokers are required to post a rate).
When you run similar lanes, you know what rate to accept. Knowing average rates helps you negotiate from a position of strength. (Check out our negotiation tips here!)
On the other hand, sometimes branching out can also have a positive effect on your wallet, so do some simple calculations, like cost per mile and profit per mile to figure out whether or not you're maximizing your time. If you have flexibility, running different lanes that are hot in the current market can increase your pay.
Access your FREE guide! "Can I Make More Money Using a Load Board?" You'll learn:

Why a load board is a must-have for today's carrier.
How a load board works.
How to choose the best load board.
How to make more money with a load board.

Get the Guide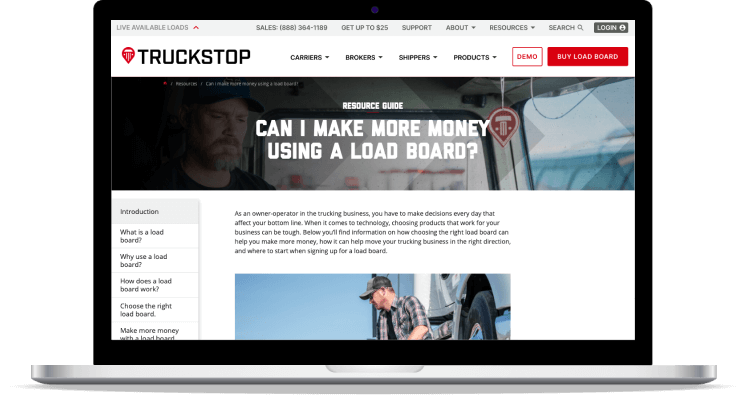 Want a better understanding of averages of lanes? Check out Rate Mate, a feature of Truckstop.com Load Board Pro.
Build relationships with trusted brokers.
Strong relationships with brokers you trust can have a positive, long-term effect on your annual pay.
For example, Truckstop.com customer H&B Transport utilizes the load board to build relationships, which is where they get most of their loads after a few years in the business. With those strong relationships, they are always paid a fair rate for their work.
All brokers are vetted on the Truckstop.com Load Board.
If you have an LTL (less-than-truckload) load, you can search loads that will fill that empty space. One extra drop or pickup is often a negligible cost when you fill your truck with product that increases the pay of the load.
For example, Brian Morrill always looks for LTL loads to fill his truck on his backhauls.
"If I can fill my truck, I always will. Making the most money possible is always the goal."
Low rates on backhauls can break your business. It's important to maximize every load, even the ones coming home.
The trick to getting great backhauls is planning your loads in advance. Truckstop.com offers several tools that help you do this, like Book It Now and Multi Trip. When you plan your backhauls, you have more control of where you go and what rate you accept.
Review the five tips to maximize profit with a load board.
Filter loads by the best rate.
Run similar lanes (and try branching out every once in a while!).
Build strong relationships with trusted brokers.
Fill your truck; look for LTL loads if necessary.
Maximize your backhaul profits by planning in advance.
The Truckstop.com Load Board can help.
With a quality load board, maximizing your profits is easy if you know the correct tools to use. Ready to sign up for the load board? Learn more about our plans here.