Motor Freight Trucking 101: What It Is and How it Works
Motor freight trucking is the backbone of the U.S. economy. It is how virtually all the goods and commodities we use in our homes and businesses get from their point of origin to their final destination. The industry raked in more than $732 billion in revenue throughout 2020 and grew even more during 2021.
What is motor freight?
Motor freight is any load shipped by truck. All the 18-wheelers you see on the highway are motor freight carriers hauling commercial-scale quantities of goods, including commercial and residential goods, manufacturing commodities, and agricultural products. Motor freight includes all manner of cargo shipped in reefer trucks, flat-deck, or dry 53-foot trailers. It also covers auto carriers and tankers.
Almost every truck load on the road is an example of motor freight. We say "almost" because this category does not include smaller cargo shipped directly to consumers via services like USPS, UPS, FedEx, or Amazon. But while your delivery person's box van isn't an example of motor freight, the parcels in the delivery van were likely brought to the distribution center by a motor carrier before they were shipped to your home.
Almost everything in your home was at one point or another transported by road. That's motor freight.
Motor freight trucking
Motor freight trucking is how more than 72% of cargo makes its way across the country. The American Trucking Associations says freight companies and carriers move more than 10 billion tons of freight across the USA annually, and tonnage continues to increase.
Tonnage is now just 1.5% below pre-pandemic levels and has shown six straight months of year-over-year increases through January 2022.
There are three types of load volume: full trailer loads (FTL), partial trailer loads (PTL), or less-than-trailer-load (LTL) lots.
Full trailer loads are exactly what they sound like. Partial loads include cargo that doesn't quite fill a full trailer. It is billed in the same way as a full trailer load.
Less-than-trailer-load cargo is slightly different. LTL cargo comes in smaller lots. Carriers calculate these rates based on weight class and volume. Examples of LTL cargo include totes of chemicals or materials for manufacturing or totes filled with grain from farming.
Motor freight brokers
Motor freight brokers facilitate the transportation of loads by linking shipping clients to motor carriers. Among other services, brokers negotiate the rates for shipments and then organize owner-operator truckers to haul those loads through shipping lanes.
Examples of motor freight trucking companies
Motor freight trucking is one of the biggest industries in the U.S. Freight companies range from single-unit owner-operators and small fleets of fewer than five trucks, all the way to massive, multi-billion-dollar companies with hundreds of trucks.
The vast majority of motor freight truckers are small fleets and independent owner-operators. You might know some of the largest companies by the logos you see emblazoned on the trailers that crisscross the country year-round.
How to find motor freight carriers
Are you a broker or shipper looking for a motor freight carrier to haul your load?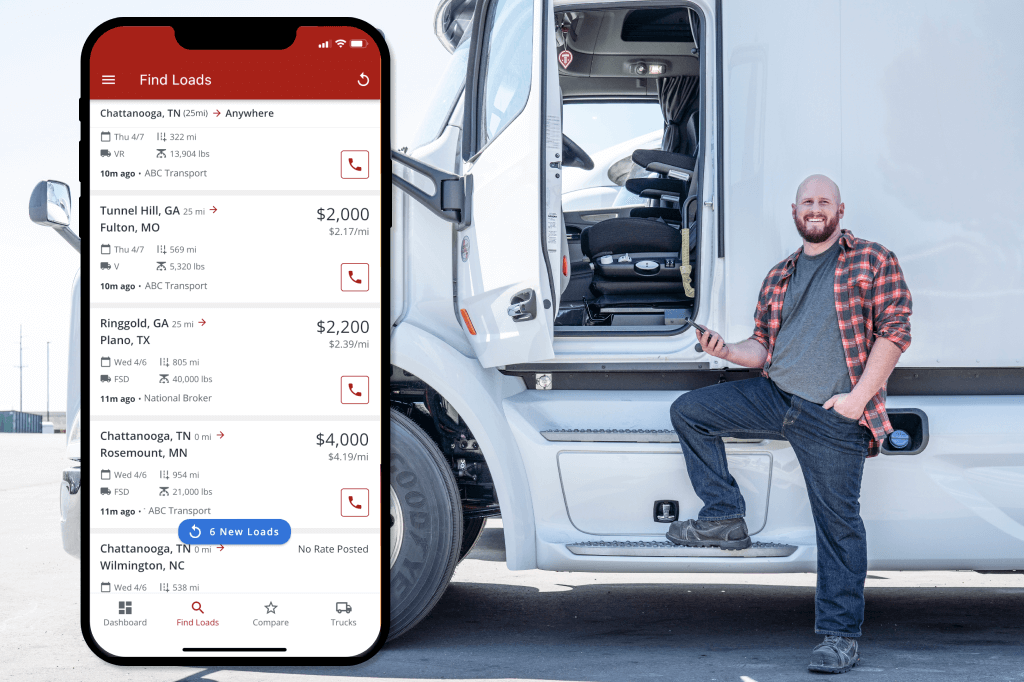 Truckstop connects tens of thousands of carriers, shippers, and brokers through a complete technological solution that includes:
Planning tools
Transportation management systems (TMS)
Real-time Rate Insights
The Truckstop Load Board can also vet carriers using the rating system. That way, you can ship your load with confidence that the trucker hauling your cargo will get the job done.
Truckstop is the internet's first and most trusted load board. Our agents can guide you through the platform and show you how to find carriers to transport your shipments quickly and easily. Get started with our powerful freight-matching tools today with Truckstop.
Schedule a demo.
Find out how our platform gives you the visibility you need to get more done.