DOT Compliance: A Need-to-Know Checklist for Brokers
As a broker, you understand the importance of building relationships with reliable carriers and moving quickly to book loads. Finding carriers that are serious about following safety regulations, including Department of Transportation (DOT) compliance, is essential to the health of your business.
Part of being a dependable carrier is understanding DOT compliance and committing to remaining in compliance with DOT regulations. Commercial drivers have numerous responsibilities beyond moving freight. There are essential compliance regulations that drivers must meet each day.
What is DOT compliance?
The Department of Transportation creates regulations to keep the public and the country's transportation system safe. When a company or carrier meets or exceeds DOT safety standards, they've achieved DOT compliance. Carriers are responsible for following many safety regulations, including:
Meeting all general safety requirements
Meeting driver qualifications
Driving drug and alcohol-free
Keeping up with maintenance and inspection requirements
Understanding and meeting hazardous material carriage rules
Why is DOT compliance important for trucking companies?
The DOT makes rules to govern commercial vehicles within the transportation industry. Trucking companies and owner-operators face steep fines if they don't remain compliant with the USDOT's regulations.
DOT regulations exist to keep drivers and civilians safe on the road. Without these guidelines, devastating accidents involving hazardous materials could happen much more frequently.
When trucking companies set up systems and processes to help them remain in compliance with DOT regulations, they contribute to the overall safety of the transportation industry. They also avoid heavy DOT fines for non-compliance.
Who must comply with DOT rules and regulations?
Trucking companies and commercial motor vehicle (CMV) operators in the United States must comply with DOT rules and regulations. According to the Federal Motor Carrier Safety Administration (FMCSA), any vehicle required to have a DOT number must comply with DOT regulations. The DOT number helps the FMCSA identify vehicles required to follow DOT rules. The organization uses the DOT number to help monitor safety data from compliance reviews, inspections, crash investigations, and audits.
Two main components of DOT compliance
DOT compliance involves understanding and implementing a lengthy list of regulations. Trucking companies must fully understand each DOT rule. DOT compliance has two main categories: fleet compliance and driver compliance.
Fleet compliance
Fleet compliance applies to each vehicle in a DOT-registered fleet. Here are a few of the general rules:
Keep a detailed written record of incidents that occur while driving.
Inspect each vehicle before and after a trip and keep detailed records of your findings.
Keep up with a routine vehicle maintenance program and document each activity.
Keep a current copy of DOT and FMCSA rules.
Confirm that each vehicle is marked with the DOT registration number.
Driver compliance
Each driver of a DOT-registered vehicle must remain in compliance with DOT regulations. Keep the following rules in mind when considering driver compliance:
Drivers should have a copy of the FMCSA rules.
Trucking companies must conduct pre-employment drug testing for each driver and keep records of results.
Trucking companies may conduct random drug testing of all drivers.
According to DOT regulations, trainers and supervisors must also go through drug and alcohol testing.
Trucking companies must keep accurate and up-to-date records of each driver's hours of service (HOS).
Drivers must sign an agreement stating that they've read and understand FMCSA rules.
These are examples of basic DOT compliance rules but are not comprehensive. Each trucking company may benefit from creating checklists that apply to their specific operations.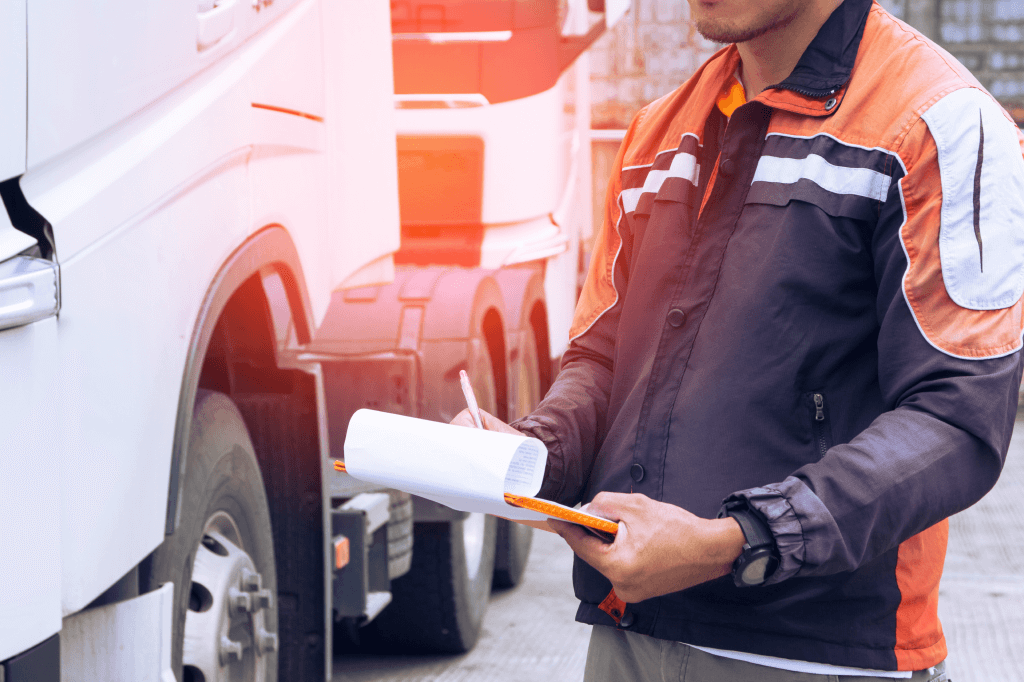 Which types of vehicles must be DOT-compliant?
Any vehicle that must register with the DOT to get a DOT number is subject to the DOT's rules.
A CMV is defined as the following:
A vehicle with a gross combination weight or gross vehicle weight rating of 10,001 pounds or more
Transporting hazardous materials and requiring a hazardous material placard. Specific rules are outlined in the Regulations section of the Federal Motor Carrier Safety Administration website.
Transporting eight or more passengers (including the driver) in exchange for compensation
Transporting 15 or more passengers (including the driver) without compensation. Vehicles meeting one or more of the above definitions must comply with DOT regulations.
DOT compliance rules apply to vehicles that travel between states, but some have additional intrastate rules. There are currently no exemptions for the DOT's rules and regulations.
Key DOT regulations
To avoid DOT penalties, including license suspension or revocation, carriers should become familiar with DOT regulations and plan to follow them to the letter.
Pre-employment checks
When a trucking company hires a new CDL driver, they must conduct a pre-employment background check to satisfy the FMCSA's requirements. The company must:
Investigate accident records and safety history.
Conduct a drug and alcohol test.
Verify any account of substance abuse, including drug or alcohol violations.
Obtain motor vehicle records for the applicant for the past three years.
The FMCSA maintains the Drug and Alcohol Clearinghouse. This online database collects information to help motor carriers and the federal government know if drivers are prohibited from certain driving-related jobs due to previous drug or alcohol-related incidents or issues.
Hours of Service (HOS)
HOS is one of the most important regulations from the DOT. The FMCSA regulates CMV driver hours via the HOS rule. Driver fatigue is a major problem. Limiting HOS is intended to provide drivers with adequate time to rest. The ruling states the maximum number of consecutive hours a driver or CMV operator can work or drive before they must take a break. CMV drivers must use ELDs to track their HOS. ELDs collect information automatically and are connected to the truck's engine. They provide a reliable means of data collection and replace paper logs, which the trucking industry used to track working hours for 80 years.
License and permits
Several rules outline federal and state taxes on fuel and other essential items included with licenses and permits. This category includes:
International Fuel Tax Agreement (IFTA) for fuel tax payment
Single-trip permit applications
Straight plates for intrastate driving
International Registration Plan (IRP) for payment of license fees
Vehicle inspections
Drivers and officials regularly inspect commercial vehicles. The DOT requires pre-and post-trip inspections and a vehicle inspection form when a safety issue or equipment problem occurs. The form requires a statement about the nature of the problem, followed by another statement confirming the completion of repairs.
Load securing
The DOT has specific guidelines for securing and distributing a load. These help prevent accidental spilling or dumping and vehicle overturning or load shifting.
Hazardous materials regulations
A set of rules defines which materials are considered hazardous by the DOT. These regulations also cover what types of vehicles can legally carry hazardous materials and which placards must be displayed while the loaded vehicle is in transit. DOT rules ban the transport of hazardous materials on certain roads and designated areas.
Record keeping
Electronic logging devices (ELDs) have replaced paper logs, which means that record keeping can now be easier for drivers. It's also important to maintain careful records of the following to remain in compliance with DOT regulations:
Dispatch and trip records
Fleet management communications
Expense receipts such as tool charges
Bills of lading and manifests
Settlement sheets and payroll records
Common types of DOT violations
The FMCSA conducts roadside inspections of commercial motor vehicles and drivers to verify that they follow the Hazardous Materials Regulations and Federal Motor Carrier Safety Regulations. After a serious violation, a driver may be issued an out-of-service (OOS) order, which means they can no longer drive the truck. You must correct the offense before the truck goes back into service.
Here are some of the most common types of DOT violations resulting in OOS orders during 2020, as reported by the FMCSA:
Operating without a commercial driver's license (CDL)
No record of duty status within the electronic logging device
False report of driver's record of duty service
Driver fails to keep previous seven days' worth of record of duty status
Driver doesn't have a valid operator's license for the truck they are driving
Driver not physically qualified to carry out duties related to the job
A driver operating a truck in violation of restrictions or without proper endorsements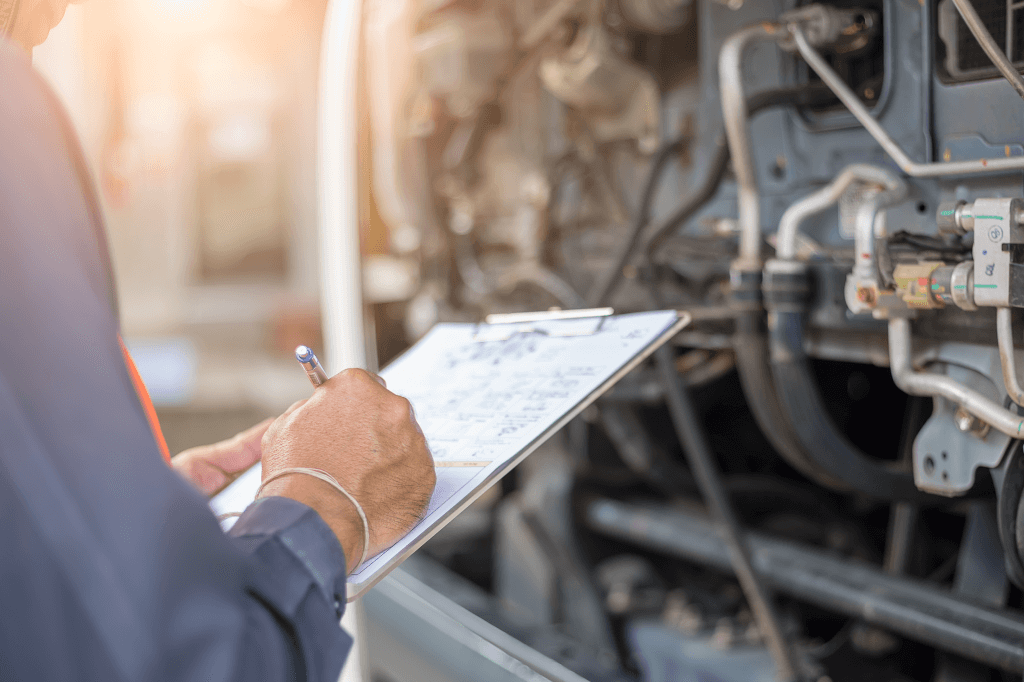 What if trucking companies don't comply with DOT regulations?
Trucking companies that don't take DOT compliance seriously face a number of consequences. Hefty fines, the death of civilians and employees, and the eventual revocation of the company's operating authority can result in the demise of a company and lawsuits.
Financial penalties
Companies that don't comply with DOT rules may pay hefty fines. Severe violations of regulations about carrying hazardous materials can be $175,000 or more. Here are some of the most common financial penalties companies face when they are non-compliant with DOT regulations:
Alcohol prohibition offense (first time): $2,985
Alcohol prohibition offense (second time): $5,970
Non-recordkeeping violation (by the driver): $3,626
Non-recordkeeping violations (by company): $14,502
Out-of-service order violation: $22,587
Falsification of records: $12,135
Violation of safety permitting or hazardous materials regulations: $78,376
Violation of regulations resulting in serious injury, death, or destruction of property: $182,877
Revocation of operating authority
The FMCSA can amend, suspend, or revoke operating authority registration if they find that a broker, freight forwarder, or motor carrier is engaged in activity that the organization deems as willful disregard for requirements. Occasionally, accidental or unintentional violations will not trigger such severe action from the FMCSA.
Potential for injury or death
When a trucking company or individual driver is in non-compliance with DOT regulations, they open themselves up to accidents and incidents that could result in the death or injury of the driver or a third party. According to the FMCSA, a motor carrier's disregard for regulations may be considered a serious non-compliance if the driver or company's actions could result in serious injury or death.
How to comply with DOT regulations
DOT compliance means meeting or exceeding the standards set forth by each area of DOT oversight. Violating DOT standards can result in severe consequences. Drivers, trucking companies, and other trucking industry workers may be subject to criminal and civil penalties if they violate these rules.
Safety and registrations
Register vehicles with a gross vehicle weight rating or gross combination weight rating of 10,001 pounds or more with the DOT.
Confirm correct registration for any vehicle that may carry hazardous materials.
Keep safety histories and qualification records for each driver on file.
Maintain an up-to-date DOT security plan.
Keep insurance documentation on file.
Maintain current motor vehicle records (MVRs) on new and rehired drivers.
Drugs and alcohol checklist
Drivers must receive copies of the company's alcohol and drug testing policies.
Companies must keep drug and alcohol test results for each driver on file.
Submit queries to FMCSA's Drug and Alcohol Clearinghouse to learn about previous workplace alcohol or drug problems records.
Keep records related to any drug and alcohol testing or queries on file.
Confirm that drivers aren't performing safety-sensitive tasks unless they are qualified to do so.
Conduct random drug testing of at least 50% of the company's drivers at least once each year
Place all drivers into a random drug and alcohol testing pool
Randomly test a minimum of 10% of all company drivers for alcohol abuse each year.
Ensure that all records related to drug and alcohol testing and regulations are on file and easily retrievable.
Remove drivers from safety-sensitive duties who violate DOT regulations.
CDL and driver checklist
Keep copies of the current FMCSA rules in the office and confirm that each driver receives a copy of those rules. Ask your drivers to sign a receipt and agreement showing that they intend to comply with the rules.
Complete pre-and post-trip inspections of vehicles and document the inspections in writing.
Confirm that drivers understand how to follow hours of service regulations.
Keep current qualification records and safety performance histories on file for each driver.
Document hours of service for each driver. CDL drivers who don't drive further than 150 miles aren't required to complete a log, but their company must record their hours.
Verify that you have electronic logging devices (ELDs) when required.
Regularly audit drivers' hours of service compliance.
Create and stick to a regular vehicle maintenance program.
Keep careful records of each incident in a register.
Confirm that each vehicle is properly marked with DOT numbers.
Comply with entry-level driver training requirements for commercial motor vehicles.
Preparing for a DOT audit
As a driver, you may be subject to a DOT compliance audit. The DOT has specific triggers set up to know when to conduct an audit. Companies and individuals going through a DOT audit have the legal right to ask why they are being audited.
If you face a DOT compliance audit, it's important to prepare ahead of time. You'll receive a letter notifying you of the audit at least a week ahead of your appointment.
If possible, respond immediately when you receive the letter. Look through the letter carefully to identify any areas the compliance officer will focus on. You may be required to provide information about your vehicle list, revenue, corporate offices, driver list, drug and alcohol testing records, or any other topics.
Having organized records will help make your DOT audit go smoothly. Even if you aren't concerned about being audited in the future, it's wise to keep careful records, so you are prepared.
Use tools to help automate onboarding and monitoring
Trucking companies must stay DOT compliant to avoid fines and shutdowns. For brokers, it's important to build relationships with DOT-compliant carriers to avoid the hassle of sourcing new carriers that can't transport freight due to DOT violations. As a broker, your reputation is essential, and working with non-compliant carriers puts your business at risk.
With Truckstop RMIS Carrier Onboarding, brokers can access current carrier data with insurance information without spending time looking up individual information on the FCSMA and DOT databases.
Request a free demo to learn more and avoid risk.
Schedule a demo.
Find out how our platform gives you the visibility you need to get more done.