SaferWatch
Keep track of carrier safety and compliance status all in one place.
SaferWatch makes it fast and easy to find, verify, and monitor carriers.
Find, verify, and monitor carriers with SaferWatch
®

.
Keep track of safety and compliance for all your carriers in one intelligent platform.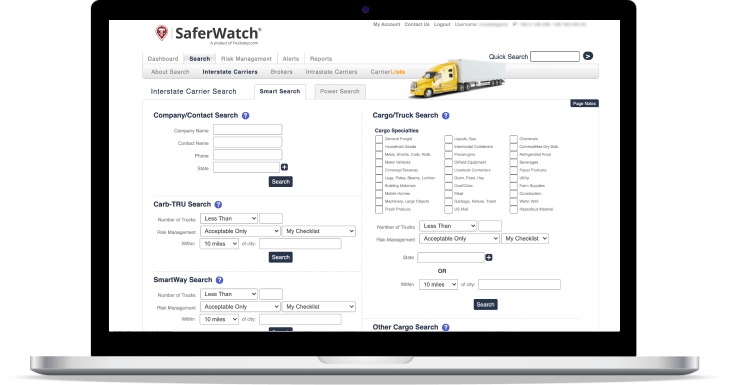 check_circle
Carrier sourcing
Search with automated selection rules and set risk assessment guidelines.
check_circle
Fast certificate of insurance acquisition
Access the largest database of carrier insurance certificates and request new certificates in real time.
check_circle
CSA-e percentile scores
Evaluate inspection and violation data to mitigate risk.
check_circle
TIA Watchdog reports
Identify fraud with validated carrier reviews.
check_circle
Compliance monitoring
Keep track of safety, insurance, and compliance for all your carriers.
Get a
Demo.
Discover a better way. See how SaferWatch helps you find qualified coverage while keeping risk at bay.
Want to talk right now?
Need help?
Talk to one of our SaferWatch experts.
Frequently Asked Questions
Carrier data is updated both periodically and dynamically. The bulk of our updates are generated early in the morning from our daily FMCSA and third party data feeds. SaferWatch also updates according to FMCSA's period of scheduled CSA BASIC releases, ensuring you of uninterrupted access to our industry-only CSA-e percentile scores. In addition to these periodic updates, our technology and processes are constantly monitoring and updating carrier data throughout the day.
CertData is the motor carrier Certificate of Insurance module in SaferWatch. CertData provides quick access to carrier insurance certificates allowing customers to view carrier Certificate of Insurance data for Cargo and Auto policies, make real-time requests for Certificates not yet on file in the CertData database, and download the actual Certificate image. The module automatically monitors all Certificates for changes and updates. Motor carrier selection criteria, called Risk Management, may be configured to include data points from CertData, including policy limits and AM Best ratings on the insurer. CertData is available with a SaferWatch Assure level of subscription.
80% of "Load Waiting" certificate requests that come in during insurance agent office hours are completed and ready to view on the SaferWatch website within an hour. Of course, when the certificate is on file, you receive the information instantly. When the request button is clicked in SaferWatch, that request comes into our system instantly. Load Waiting requests are worked immediately, with follow up every 15 minutes until the certificate is received. Once the certificate comes in, it is entered immediately, and the client notification and update to CertData is instant.
Carrier Selection Checklist Settings in SaferWatch are customer defined selection criteria used to find and evaluate motor carriers automatically. The SaferWatch triggering system covers the full range of cyclical and reportable motor carrier data, both on and off-road, allowing customers to quickly and comprehensively determine whether a carrier is an "ACCEPTABLE," "MODERATELY ACCEPTABLE," or "UNACCEPTABLE" hiring decision according to their unique guidelines. SaferWatch gives customers the ability to set up multiple shipper-specific Carrier Selection Checklists.
SaferWatch is an integration partner with many Transportation Management System (TMS) software providers. SaferWatch also offers a web service API for integration with private, proprietary systems. Contact
TSI@truckstop.com
for integration inquiries.
"One of the frustrations was to make sure everyone was following the same procedures, making sure we are working with a good carrier. Now, the whole office has become more efficient."