Refrigerated Trucking: Pros, Cons, and Best Practices
Refrigerated trucking companies provide a valuable service for our country. By transporting fresh produce, groceries, medical supplies, and other temperature-sensitive goods, refrigerated trucks allow stores to keep their shelves stocked for consumers. A significant percentage of the trucks you see on the highway are refrigerated trucks (AKA reefer trucks).
There's a better way to find loads.
Demo the Truckstop Load Board and see how easy it is to find the right loads fast.
What is refrigerated trucking?
Refrigerated trucking companies haul freight that requires temperature-controlled transportation. Trailers have a built-in cooling system to maintain temperatures throughout the journey to ensure cargo safety. A refrigerated trailer can typically handle any temperature setting, including keeping things frozen, regardless of outside conditions. This protection is critical in warm-weather climates when shipping produce, frozen goods, or non-perishable items.
Driver responsibilities
Reefer drivers have additional responsibilities beyond normal truck driving. They have to check the internal thermometer frequently as most goods transported in refrigerated trucks have require temperature control. When temperatures fall outside those parameters, drivers must adjust the thermostat. They're also responsible for inspecting the thermometers and other cooling equipment and sometimes loading and unloading.
Pros of refrigerated trucking
In the refrigerated trucking business, goods must be handled, stored, loaded, and unloaded properly to minimize damage and spoilage. Distribution centers, food processing facilities, and grocery chains typically handle thousands of pounds of cargo every day, so they tend to be well-organized and efficient. This makes loading and unloading much easier. Refrigerated trucking is also in high demand, commands better rates, and reduces deadhead miles.
High demand and job security
Reefers are almost always in high demand. There's always a demand for fresh food and moving products to market quickly, even during economic downturns. Refrigerated trucking was one of the cargo types that rebounded fastest from pandemic declines. The demand for reefers means that no matter the climate, job security is excellent and drivers are consistently in moderate to high demand.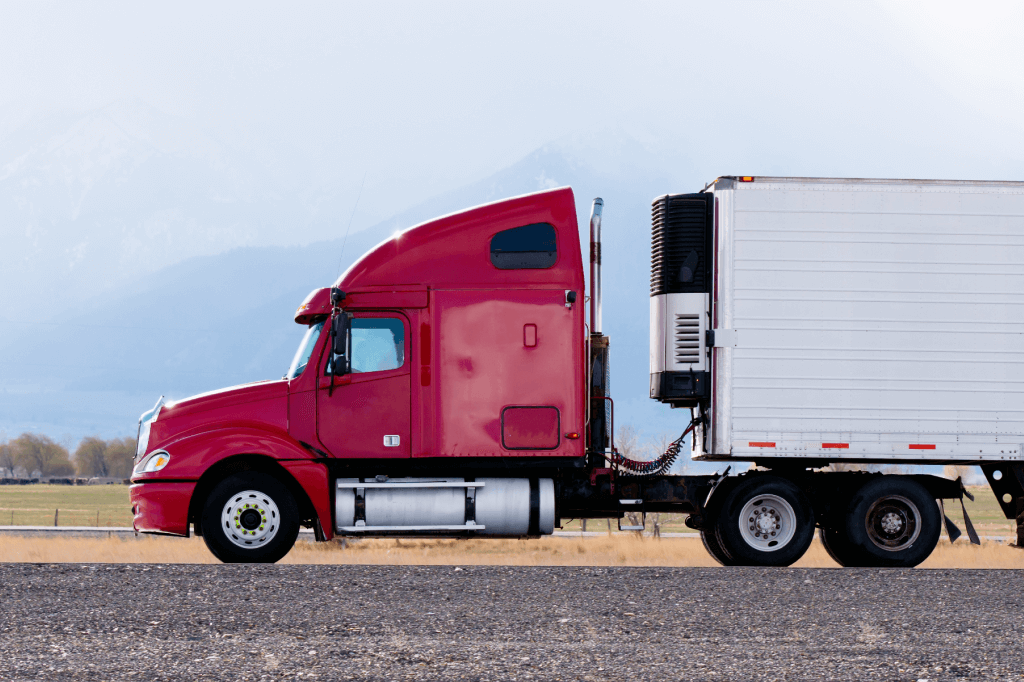 Better rates
Refrigerated truck rates are typically higher than dry van freight rates. National average reefer freight rates are currently around $2.97 per mile. Although rates vary by region and season, refrigerated trucking consistently offers top dollar. Reefer load rates tend to be lowest in the Southeast and highest in the Midwest. They also vary depending on regional growing seasons. Demand goes up when there's more fresh produce, so prices increase.
Fewer deadhead miles
One of the biggest benefits of reefers is flexibility. You can also haul dry products. Combine that with the high demand for refrigerated trucking, and you can greatly reduce deadhead miles. If a refrigerated load isn't available when you need to move, just shut off the generator and run the trailer dry. This flexibility can help you expand your business, reduce deadhead miles, and generate more revenue.
Highly protected freight
Even though refrigerated trucking requires more monitoring to maintain a stable temperature, drivers benefit from the extra protection reefers provide. Designed to haul much more sensitive cargo like perishable goods, they're better equipped to protect the products from spoilage and damage.
Be your own boss.
Many reefers are owner-operated. Luckily, they're also in high demand. If you don't want to be your own boss, you can also work as a driver for a large carrier company. However, these positions fill quickly and have a low turnover. As your own boss, you get to choose your jobs for your refrigerated trucking company based on the hauls you're comfortable handling and the hours you prefer to work. On the downside, you need to know how to navigate contracts. Misunderstanding terms can jeopardize your whole business if anything bad happens.
Cons of refrigerated trucking
While reefer loads generate more revenue, they also come with some challenges.
More requirements
Picking up temperature-controlled freight can take longer than dry loads because you need to meet more stringent requirements. For example, you need to ensure your trailer is at the required temperature before loading any cargo. Dock managers will check the temperature before loading. If you have a short trip to the pickup spot and you don't pre-cool your equipment, you can be in for a long wait. Loading can also take longer. Some produce and groceries need more careful handling and ship on smaller skids or crates.
Extra vehicle maintenance
One breakdown can cost you time and money. You'll need to make sure your trailer is always in good operating condition. This means checking oil, Freon, and other fluids regularly and getting regular check-ups to make sure everything is working correctly. Reefer cargo is also typically messier than dry cargo such as wrapped palettes, so reefers need more frequent cleaning.
Additional insurance needs
Losing a load is expensive, especially when it's due to equipment malfunction or poor maintenance. You can buy breakdown insurance to help minimize out-of-pocket expenses. Breakdown insurance can be expensive, but it is critical for the refrigerated trucking business.
Odd hours
Trucker's hours aren't for everyone. You can find yourself on the road long before sunrise or deep into the night. On the positive side, if you work locally, you'll likely be home for dinner more often. But regional or OTR drivers spend plenty of nights away from home.
Refrigerated trucking best practices
By following a few refrigerated trucking industry best practices, reefer drivers and carriers can reduce transportation downtime, increase profit margins, and build a great reputation.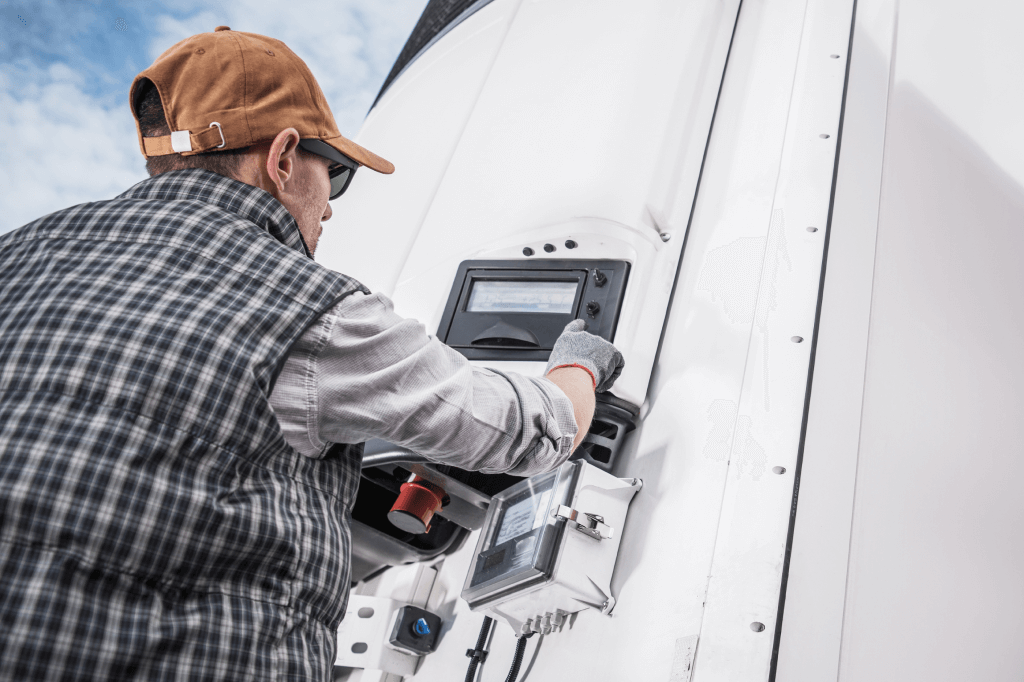 Identify temperature requirements.
Always remember to confirm temperature requirements for all reefer loads. Ask these questions:
Is it frozen, or does it just require refrigeration?
Do you need to limit or maintain heat?
What is the acceptable temperature range?
If your cargo is perishable, you also want to check the expiration date and time frame for delivery listed in the lading instructions. Cargo recipients might refuse to accept a shipment if the dates have passed. Make sure you can deliver within the time frame before taking a load.
Pre-cool your trailer.
Leave enough lead time to pre-chill your reefer and make sure it reaches the right temperature before arriving at the pickup destination. This helps avoid long wait times in the refrigerated trucking industry.
Load reefer freight quickly.
While you have to load cargo carefully to avoid damage, you also have to load it quickly and efficiently. The longer your trailer doors are open, the harder it is to maintain temperatures inside. Check with the dock manager that your cargo is available and ready to load before you back up to the dock and open your doors.
Monitor shipments closely.
Units should be fitted with temperature gauges and monitoring systems, so you always know your trailer's internal temp. Use climate monitoring tools before pickup and during shipments to keep your trailer in the right zone at all times during transport. Redundant monitoring helps avoid spoilage and adds another layer of safety and security.
Follow unloading procedures.
The same strategy applies to unloading cargo. You want to unload freight quickly and efficiently, using best practices to reduce any possibility of damage. You will have the same temperature concerns when it is time to unload, so make sure the recipients are ready for the freight before opening the doors.
Keep jumper cables nearby.
Since the reefer is separate from your tractor, it draws power from its own set of batteries. If reefer batteries fail, your load is in danger. Running a set of quality jumper cables from your tractor to your reefer can help keep loads safe until you can get help.
Here are a few answers to the most commonly asked questions about refrigerated trucking.
Frequently Asked Questions
Typically, reefer loads pay more money. Since fresh food and medicine is always in demand, there's a consistent need for refrigerated trucking services. Many require long-haul transport, which also usually means more money.
Refrigerated trailers can easily accommodate non-temperature-controlled freight. This is also a common practice to maximize profits, especially for
backhauls
.
Use a load board to find the best reefer rates.
Truckstop makes it quick and easy for carriers and owner-operators to find refrigerated loads, whether you're an independent driver, have more than a couple of trucks, or one of the top 10 refrigerated trucking companies. Our load board lists tens of thousands of well-paying reefer loads every day, served up in real-time and ready to book.
With Truckstop, you can easily find trusted brokers and shipping partners specializing in perishable freight. You also get detailed information on routes, rates, and requirements. We give you the tools and technology you need to keep your reefer earning money.
Learn more about how the Truckstop Load Board can help grow your business. Sign up today.
Schedule a demo.
Find out how our platform gives you the visibility you need to get more done.