Freight Management: The Complete Shippers Guide
It's no secret that the past two years have been rough for the transportation industry. If you're a shipper, supply chain and logistics snarls can throw off your operations by making it tough to get your goods where they need to go. Even if you can get things moving, you might be paying higher costs than before the pandemic.
Fortunately, intelligent freight management can help manage your expenses and keep your products moving. Here is everything you need to know about freight management logistics.
What is freight management?
Freight management encompasses the entire process of moving goods from Point A to B at the right time for the right price. A robust freight management system coordinates all aspects of the shipping process, from order management to packing to transportation planning and execution.
Freight management also includes claims management for lost or damaged items, data collection and analysis for future planning, and compliance with all governmental regulations. In short, if a process happens after an order is placed, it's part of freight management.
Why is freight management important?
Getting the right products to the correct recipients on time and within budget has always been a core component of doing business. But today's logistics chains are more complex than ever before, with dozens of micro-transactions occurring along the way. Throw in the immense pressures on the transportation industry today, from bottlenecks to soaring fuel prices, and it's easy to see why streamlining your freight management system is crucial to your success.
A freight management system takes control of the entire chain of events after an order is placed. Coordinating all the involved parties, from trucking companies to freight forwarders to warehouses and distribution centers, helps ensure that cargo keeps moving efficiently without running up extensive costs.
Core components of freight management
If you're not a logistics specialist, you might wonder whether freight management is just another term for supply chain logistics. However, there are some key differences. In particular, freight management is a subset of logistics. While logistics covers the entire supply chain, freight management focuses solely on all the processes involved in moving goods from the shipper to the receiver. Here are the core components of any freight management system.
Carrier sourcing
It all starts with carrier sourcing, which is a fancy way of saying that you need to find trucks to haul your goods (and possibly rail lines, ships, or planes, as part of an intermodal transportation plan). As a shipper, you can do this directly or through a freight broker. Either way, carrier sourcing should be ongoing since you never want to be caught with a load of goods and nobody to move them for you. The Truckstop Load Board is an excellent place to find carriers. Whether you're looking for heavy haul experts or need to ship a less than truckload (LTL) order, you can find truckers ready to meet your needs.
Carrier onboarding and management
Of course, it's not enough to find trustworthy carriers. You also need to bring them on board and manage your relationships with them. Carrier onboarding takes a lot of time and paperwork, so it's typically best to automate the process. At Truckstop, our onboarding tool gives you automated access to 98% of carriers in the United States, allowing you to onboard them an average of 80% faster than going through the process manually. Once they're on board, you'll be able to monitor them regularly.
Rate negotiation
How do you know where to set your rates? What should you do if a carrier wants to negotiate? With the Truckstop Rate Insights tool, you'll have access to near real-time rate estimates based on such criteria as load type and weight, equipment type, lane, and more. You can also track up to 36 months of historical data to better understand seasonal shifts and improve your future planning.
Compliance monitoring
Onboarding your carriers is just the beginning. You'll also need to ensure they comply with all rules and regulations. Truckstop SaferWatch® gives you all the insights you need to monitor carriers, from TIA Watchdog reports to daily updates of any status changes.
Route optimization
This part of freight management includes choosing the best route to deliver freight and the proper mode(s) of transportation, assigning trucks and drivers, and even balancing the load. Route optimization often relies heavily on technology and data analytics to predict the best options.
Invoicing and payments
Once a load is delivered, it's time to make payments. An automated invoicing and freight payment solution is a vital part of any good freight management system. You don't want to risk a blemish on your credit report or losing a valued carrier because an invoice was overlooked or forgotten.
Accounting and auditing
The best way to be sure you are making the best choices about your freight management is to keep up with the numbers. A robust freight management system includes regular accounting, auditing, and data analytics to keep you up-to-date with your exact costs and delivery times.
Insurance and claims management
If goods are lost or damaged during shipping, you, the carrier, or both, could be held liable. In most cases, insurance will cover the costs. But the often-tedious claims management process is a vital part of freight management.
Warehouse distribution
Warehouses and distribution centers are an essential part of freight management logistics. An excellent freight management system takes charge of managing goods throughout the warehousing and distribution processes, coordinating with the entire network of involved parties to minimize delays or disruptions.
Freight tracking
Increasingly, customers want to track the progress of the items they buy. Freight tracking also helps you make the right decisions by providing transparency throughout the entire shipping process. Data collected from freight tracking can be analyzed and optimized for future planning and provide a better customer experience.
Benefits of effective freight management
Strong freight management has several critical benefits for shippers. These include the following.
Greater efficiency
As we emerge from the pandemic, efficiency is more important than ever. You'll want to ensure that your processes are as lean and streamlined as possible to reduce bottlenecks and improve shipping times. A streamlined freight management system will help boost your shipping efficiency.
Lower costs
Even minor inefficiencies could increase your expenses at every stage of the shipping process, ballooning into a serious cost hit as goods move through each step. Leaner and more efficient freight management reduces your costs by avoiding these issues.
Happier customers
Ultimately, customers want to get their goods promptly without paying a fortune for shipping. Streamlining your delivery processes allows you to offer the best possible shipping rates while improving delivery times. Happy customers are more likely to become loyal, further improving your bottom line by reducing the amount you need to spend on new customer acquisitions.
Increased profits
Boosting your sales is a great way to increase revenue, but it's not always the easiest option. Smart freight management lets you earn more profit on every sale by reducing your overall costs. If you're scaling your business, you can realize a significant profit increase simply by fixing the inefficiencies in your delivery chain.
Common freight management methods
Most companies manage their freight in one of three main ways.
Private carrier fleets
This option is the simplest, but it typically works well only for large companies with strong cash flows. In this case, the company owns its trucks (and possibly airplanes and ships) and manages its own drivers. If you have a big company with plenty of cash and a strong in-house freight management team, a private carrier fleet could be right for you.
For-hire carriers
Third-party carriers are another option for shippers. In this case, you contract with carriers such as trucking companies as needed to deliver your goods. You can use a load board like Truckstop to tap into thousands of fully vetted carriers ready to move freight. This can be an excellent option for small and medium-sized businesses, especially if the quantity of goods you need to move varies throughout the year.
Freight brokers
Your third option is to work with a freight broker or 3PL. These middlemen connect shippers and carriers. They also take charge of much of the delivery process, from tracking regulatory changes to monitoring shipments to suggesting route changes for increased efficiencies. They also help communicate between shippers and carriers, ensuring everyone remains informed.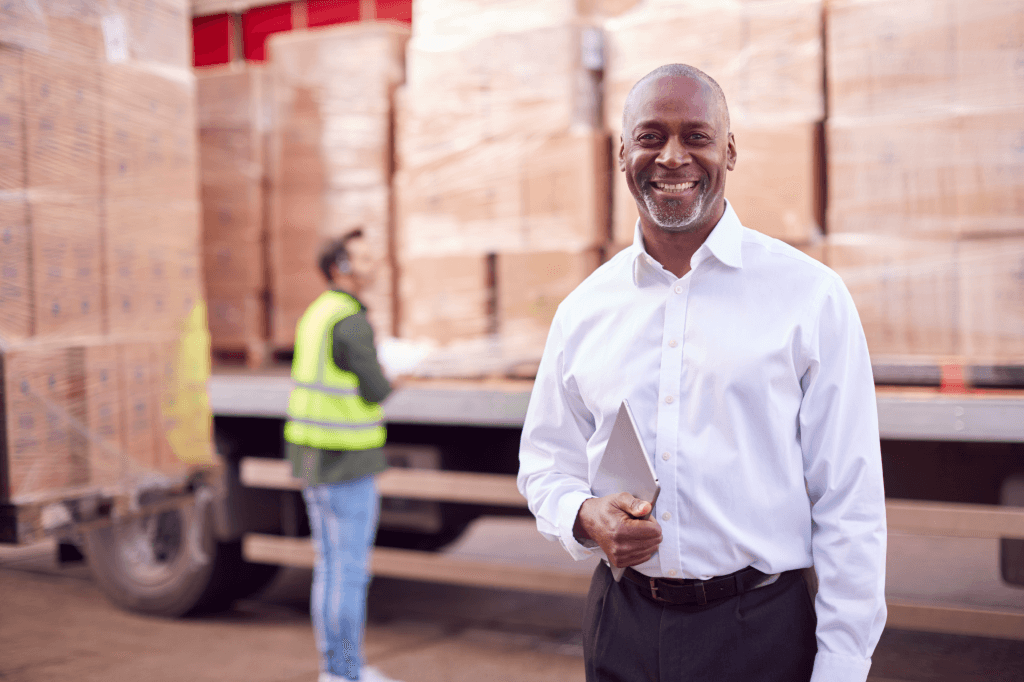 How technology can improve freight management
Technology plays an essential role in modern freight management systems. It allows you to quickly source, onboard, and monitor carriers. It also helps you plan and execute each trip. Some of the fundamental types of technology in use today include:
Transportation Management Systems (TMS)
A transportation management system, or TMS, is a system of tools designed to give you more insight and control over your shipping process. It serves as a sort of control tower, capturing data from every part of the delivery chain and using that data to communicate with other members of the chain. A good TMS automates many of the tasks involved in the delivery process, from auto-filling documents to assigning vehicles and drivers. It also provides data analytics, giving you unprecedented visibility into what happens after you take an order.
Load board software
A load board is essential to modern shippers, allowing you to swiftly find and connect with carriers ready to move your goods. However, not all load boards are the same. An ideal load board also provides you with the tools to negotiate the best rates based on everything from the type of shipment to the origin and destination cities. It should also be user-friendly, work well as a mobile app, and give you insight into each carrier.
Carrier onboarding software
Carrier onboarding is a tedious and time-consuming task. Software can speed up the process, offering an average of 80% time savings over manual onboarding. At a glance, you'll be able to see everything from insurance certificates to risk assessments.
Carrier monitoring software
The transportation industry is packed with governmental regulations, and you will need to ensure that your carriers remain in compliance. Rather than going back and forth with each carrier regularly, requesting and receiving documents, carrier monitoring software automatically notifies you when something changes.
Find quality carriers and move your business further.
Freight management is a complex process in the modern era. While some very small companies can keep up with it on spreadsheets and a few enterprises can handle everything in-house, most businesses need external help. Truckstop offers a range of features designed to help you streamline your freight management system, making your customers happier and ultimately boosting your bottom line. Our freight management features include:
Load Board: With the Truckstop Load Board, you can instantly connect with thousands of carriers ready to move your freight. You can search by load type, truck type, lane, and more and post your loads for carriers to find. We also offer the tools you need to negotiate the best rates and deep insights into each carrier.
SaferWatch®: You need to know who you're working with and ensure that your selected carriers are in full compliance at all times. Our SaferWatch® feature gives you access to insurance certificates, inspection information, and TIA Watchdog reports. If anything changes, you'll receive an automatic notification.
RMIS: Onboarding carriers is generally tedious, and it can take a long time to get all the necessary documentation. With Truckstop RMIS, you can onboard new carriers an average of 80% faster than manual onboarding. It's simple, easy, and largely automated.
Freight management has many challenges, especially in today's market. If you're ready to start streamlining your processes, increasing customer satisfaction, and boosting your profits, sign up for a free Truckstop demo today or visit our marketplace of trusted partners to learn more!
Schedule a demo.
Find out how our platform gives you the visibility you need to get more done.