Infographic: How to understand—and limit—the impact of rising costs on U.S. truckers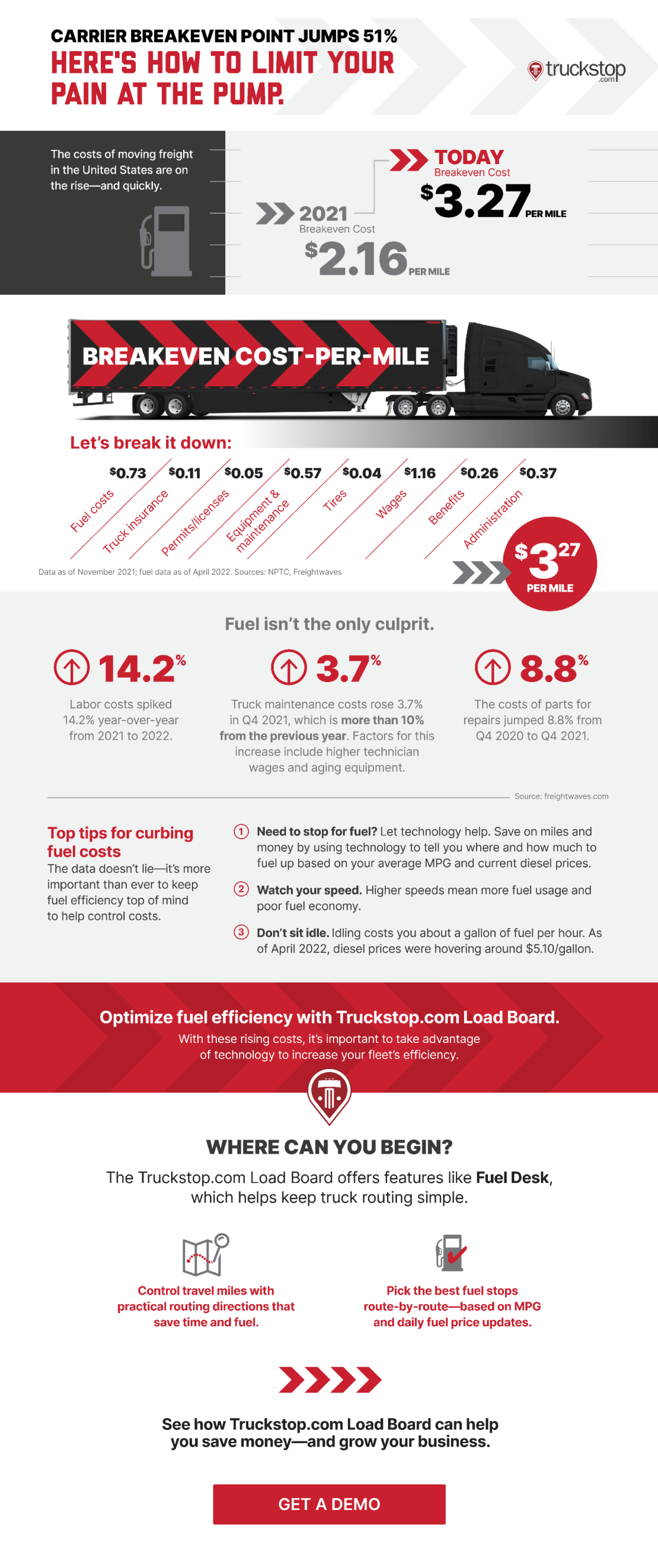 The costs of hauling freight in America today are rapidly skyrocketing, and U.S. truckers are seeking solutions that help them reduce expenses and protect tight profit margins. With overall costs up by more than half in a year's time, it's more critical than ever to know your operating cost-per-mile, the amount you need to earn to break even, and what it takes to make a profit and put more money in your pocket.
There's a better way to find loads.
Demo the Truckstop Load Board and see how easy it is to find the right loads fast.
No one feels the pain of today's high fuel prices quite like the freight carrier who fuels up several times a week. But carrier costs are spiking across the board. Labor costs are up 14.2% from 2021 to 2022, and truck maintenance costs for both labor and parts continue to rise.
Freight carriers who know their every cost—large and small—are the freight carriers who can combat costs head-on and seek out ways to curb expenses. To break even today, a carrier needs to earn $1.11 per mile more than they did a year ago, as break-even cost-per-mile has gone from $2.16 in 2021 to $3.27 now.
Technology helps truckers lower costs.
Equipped with the right technology tools and armed with relevant data, carriers can take control and fight the good fight, no matter what's happening in the market—and the world, for that matter. For example, the Truckstop Load Board is much more than just a freight-matching tool. It includes features that help you keep your wheels turning even when times are tough, including rates tools that help you get higher rates and simple tools to help cut fuel costs.
Available as an advanced feature of Load Board Advanced and Load Board Pro, Fuel Desk equips carriers with fuel-efficient truck routing, access to posted and paid rates by geography, and fuel stop recommendations based on daily price updates.
Fuel Desk helps you control travel miles and keep fuel costs manageable by showing you the best routes to take on any given haul. You can plan your routes using practical routing directions that save you mileage, and, of course, money. It also helps you pick the top fuel stops route by route, according to miles per gallon and daily pricing. Fuel Desk gives you a bird's-eye view into rates and loads vs. truck densities at origin and destination. Using this data, you can see average posted and paid rates in any lanes you're interested in and negotiate accordingly. And for the icing on the cake, Fuel Desk automatically calculates your IFTA taxes on the go, alleviating the stress and reducing the paperwork that comes every time tax season rolls around.
Explore more ways to cut fuel costs.
You've likely heard of the tried-and-true cost-cutting measures to help conserve fuel, but, but maybe you haven't taken them seriously. Now would be a good time to pull out all the stops and test these recommendations for yourself. You've got nothing to lose, and the gains might be enough to noticeably move the needle and save you some serious cash.
One is to keep your speed down. Traveling at higher speeds requires more fuel usage and results in low fuel efficiency, so you have to fuel up more often. Another is sitting idle, which burns up around one gallon of fuel every hour. With diesel prices as high as $5.10 a gallon, can you really afford to let your rig idle, even for short periods of time?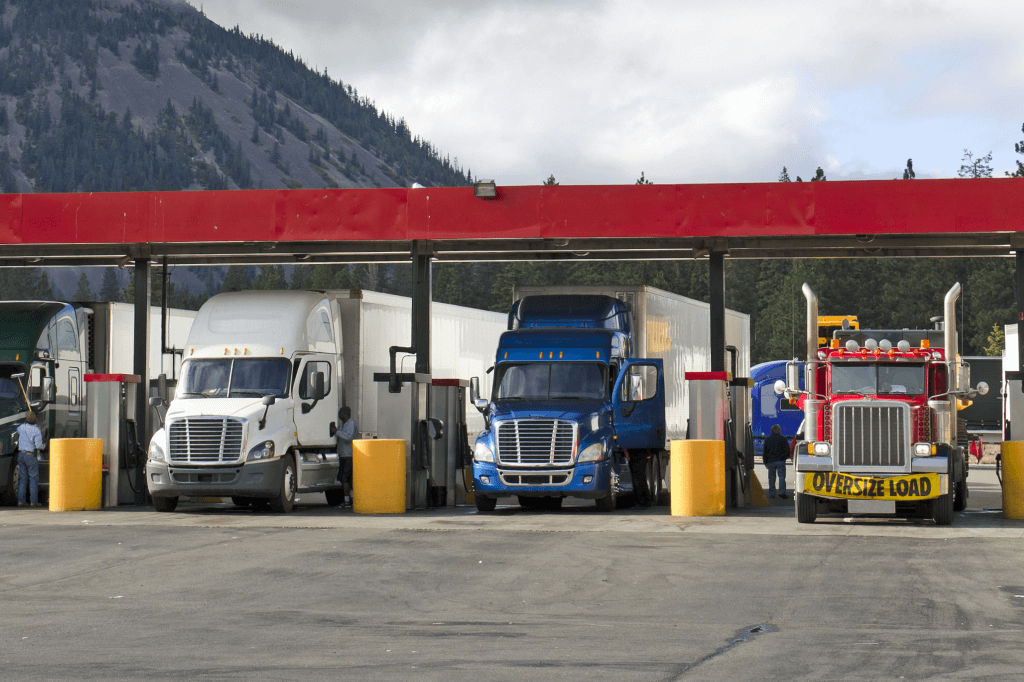 Other tips include strategic gear shifting (technique matters!), finding your engine's RPM sweet spot, improving your aerodynamics, and choosing the right kind of tires. Using all of these methods in conjunction and keeping careful records of your fuel costs will go a long way toward reducing your cost-per-mile and maximizing every dime you spend.
Bottom line? With help from Truckstop, you can keep your wheels turning no matter what you're up against—and increase your bottom line. Put us to the test, starting today. Get a demo!
Find out how our platform gives you the visibility you need to get more done.
Get helpful content delivered to your inbox.
You did it!
Please provide email address and choose a newslettter option.
Thank you for subscribing! Watch for an email arriving in your inbox soon.
We are sorry, something went wrong. Please try again later.
Schedule a demo.
Find out how our platform gives you the visibility you need to get more done.