Looking Back at 2021
to Move Ahead in 2022
As we usher in a new year full of opportunity and possibility, it's important to look back at all that happened in 2021. What a whirlwind year it was in the freight world—marked by recordbreaking numbers and unprecedented activity. As we reflect upon lessons learned, experiences gained, and milestones achieved, we can approach 2022 with clear eyes, deeper insights, and shared goals as we all work together to move the freight industry forward.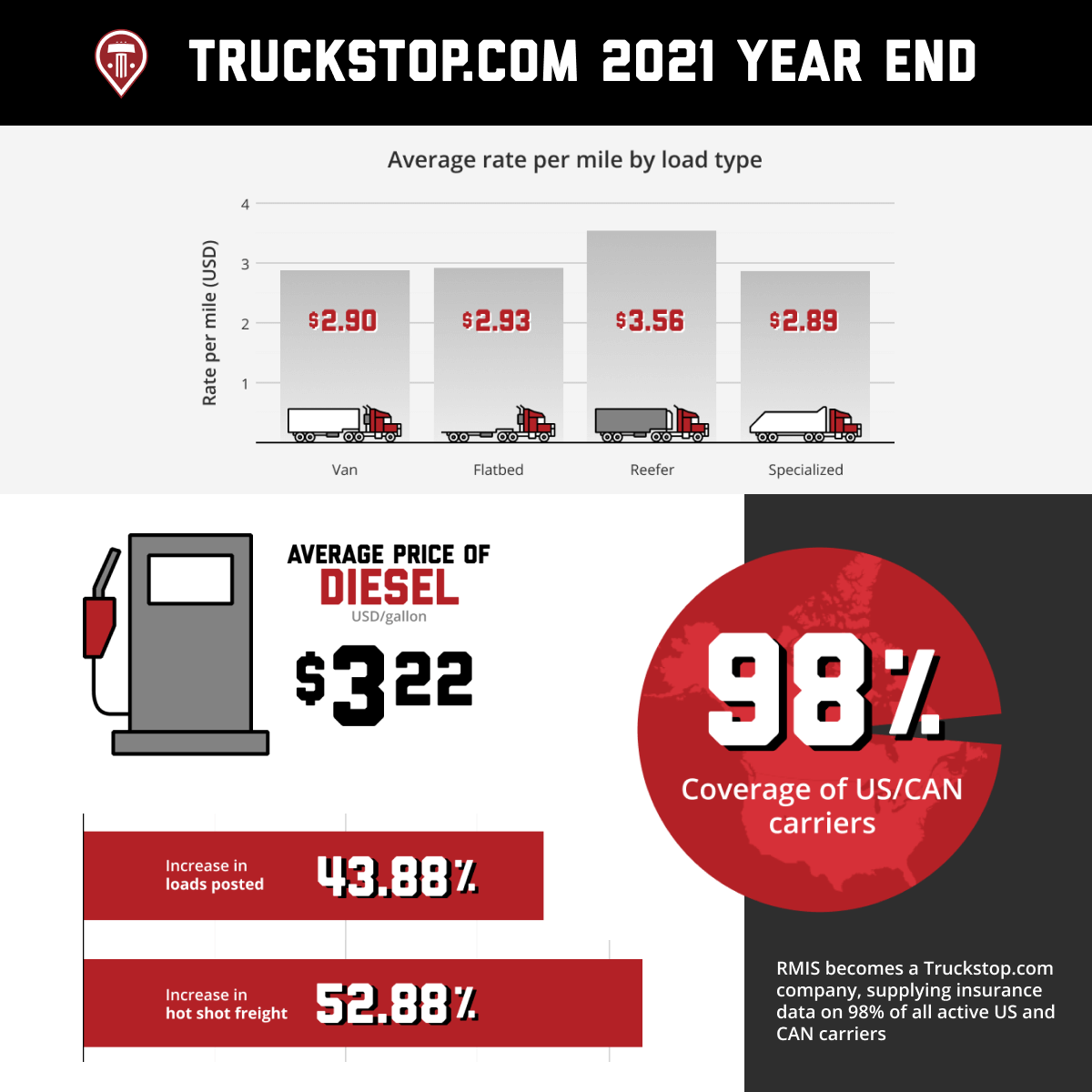 For our part, we at Truckstop have high hopes and big plans to continue to deliver the solutions that help you do your job and achieve success in these dynamic times. We don't have a crystal ball, but we're predicting another historical year, whether you're a carrier, a broker, or a shipper of goods. And we're optimistic! 2021 set the tone as we embraced change, committed to innovation, and formed new partnerships, all with the goal of providing you with the best way to move freight—whatever role you play.
Milemarker 2021
While we could make a laundry list of Truckstop milestones, product updates, load board enhancements, back-end improvements, and new numbers achieved, it's really the moments that matter most: The moment a carrier earned their highest ever paycheck on a load, completed a challenging haul, or found the right load in record time. Or the moment a broker trimmed the time it took to onboard a carrier from days to mere minutes, quickly found capacity for the most difficult lane, or hired more new carriers than ever before and formed lasting relationships for future capacity.
Maybe your moment was when you tried factoring for the first time and were able to put money back into your business without worrying about cash flow. Maybe it was when you got extremely helpful rate information for very specific load requirements and was able to post loads at rates that attracted more capacity—plus earned you a profit. Or maybe it was when you went above and beyond to assure a customer that their freight was in good hands, and you gained a lifelong loyal customer.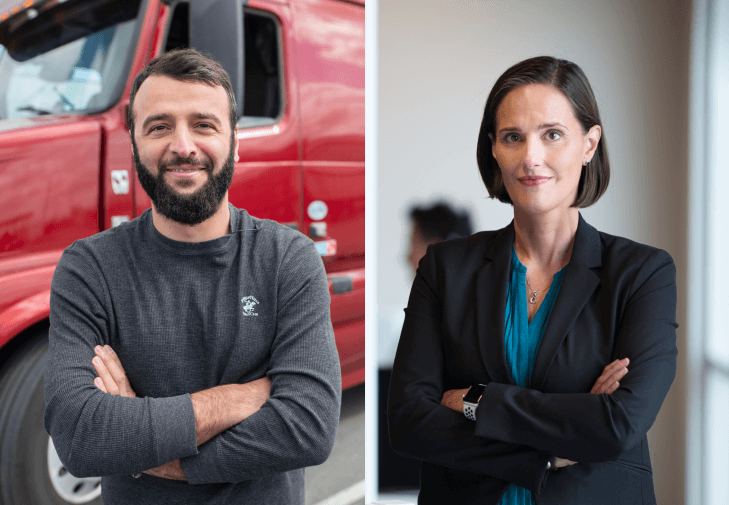 It's these moments of success that make our work at Truckstop meaningful. The goal behind every load board update, every factoring feature, every rates innovation, and every compliance improvement we deliver is a living, breathing human being doing a job and living a life: a carrier booking more loads and still enjoying plenty of free time, a broker covering loads even outside business hours, and a shipper who has a new level of confidence they're getting goods to their destination safely and on-time.
While our job is to harness innovative technology, build products, and engineer smooth customer experiences, our focus is entirely human. It's our sincere hope that any advancements we made throughout the year resulted in good things for you and the industry at large.
We can't talk about 2021 without talking about RMIS. Mid-year, Truckstop acquired the gold standard in carrier compliance and onboarding to give brokers access to the compliance data of more than 98% of active carriers in the United States and Canada. And given the year's unprecedented carrier shortage and capacity crunch, it couldn't have come at a better time. Ever pressured to act fast and move as much freight as possible, brokers can now utilize RMIS Carrier Onboarding to dramatically simplify the carrier hiring process with an automated tool that's 80% faster than tedious, labor-intensive manual processes.
When we checked in with RMIS customers, they were thrilled with the efficiencies gained, not to mention the peace of mind that the carriers they employ are in compliance with industry regulations, certificate of insurance mandates, and broker business rules. This added protection reduces broker risk without slowing them down in an industry that's moving fast and furious.
Here's what brokers are enjoying most about RMIS:
A custom website built to accommodate broker's business rules and reflect their brand.
Continuous real-time monitoring of changes in carrier risk profiles.
Speed of carrier registration and approval.
The timeliness at which they can respond to customer requests.
Fast, automated access to 98.3% of active North American carriers.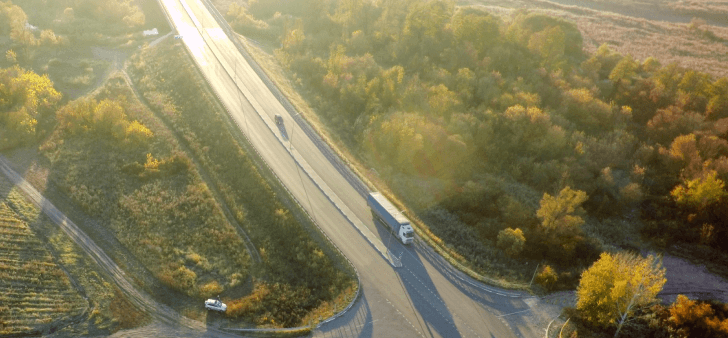 As the industry continues to evolve and more carriers come on board, our RMIS solutions will no doubt prove invaluable as brokers work to keep freight moving fast enough to keep up with demand while helping to mitigate risk for companies with a heckuva lot on the line.
Many proud moments
It's not in our nature to toot our own horn, but when it comes to helping our customers in big ways or making a positive impact on the industry, we don't mind talking about it! Here are some 2021 highlights we're particularly proud of:
Increased nationwide support during National Truck Driver Appreciation Week allowed us to reach over 24 million people to offer carriers a meal gift certificate.

With the help of former Today Show tech correspondent Paul Hochman, our "Haul-iday" promotion reached over 12.5 million people to offer carriers one free month of our load board.
Let's hear it for women in trucking! Let's hear it for women in leadership at Truckstop! Our own Kendra Tucker was promoted to chief operating officer. And Brett Webb was promoted to chief product officer. Congratulations, ladies. Well done and well-deserved.
More to come in 2022
From the forward momentum we gained in 2021, Truckstop is ready to attack the future, never resting on our laurels. Change is certain, so we will certainly embrace it. We're committed to rise to every occasion, good or bad, to equip you for the future of freight—your future in freight. Come along for the ride for 2022!
Find out how our platform gives you the visibility you need to get more done.
Get helpful content delivered to your inbox.
Thank you for subscribing to the Truckstop newsletter.
We are sorry, something went wrong. Please try again later.
Schedule a demo.
Find out how our platform gives you the visibility you need to get more done.