New Truckstop Mobile App Delivers Powerful Features for Carriers
You'd be hard-pressed to name a job that takes place outside the confines of an office more than that of the truck driver. Freight carriers are literally on the road for the vast percentage of their work week. But there's much more to being a carrier than simply picking up a load and delivering it to its destination. Whether the operation is a single truck ran by a single owner-operator or a larger fleet with multiple trucks and drivers, trucking is a business. And just like every business, there's much to be accomplished behind the scenes in order for it to run smoothly, efficiently, and profitably, especially in today's highly competitive and fast-paced freight industry.

Unique to trucking is the owner-operator who got into the business to get out from behind a desk and onto the open road. Many a carrier does the job they do for precisely those reasons, for the freedom to live life on their own terms, set their own schedules, and be their own boss. The reality is, though, truckers must make connections and build relationships to find loads and keep their truck moving, make sure they're getting the right rates to make money, invoice their customers to ensure they get paid expeditiously, keep track of finances, pay taxes, and a host of other tasks that typically require juggling paperwork and using a computer. And while all of that requires office work, it no longer requires an actual office, a desktop computer, or even a desktop, for that matter.
Welcome to your new mobile office: Truckstop Go™.
Now, chances are, if you're a carrier hauling freight today, you already use at least one mobile app—probably several—just to find loads. In fact, if you're like many truckers we talked to while building our app, you might be suffering from app fatigue. That's why we built Truckstop Go to deliver everything you need in one handy tool.
Packed with the features carriers need to get every job done—and done fast, done right, and done from anywhere—Truckstop Go puts a higher level of productivity right in the palm of your hand. With more speed, stability, and features than ever before, you can get more done in more places.
So you can say good-bye to app fatigue and switching back and forth to find what you need. Truckstop Go is the all-in-one spot market app that helps you accomplish many of your necessary tasks quickly and easily right from your Smart phone.
Get hundreds of thousands of loads just right for your trucking business at your fingertips.
Search loads by your unique needs and compare loads side by side.
Enjoy speed and stability that sends you on your way in record time.
Say so-long to clunky technology that slows you down.
Get daily rate information at the load level and negotiate with confidence.
Block a broker you don't want to work with.
Book loads instantly with Book It Now.
View live loads in real time.
Free with a Truckstop Load Board subscription, Truckstop Go gives you the freedom, flexibility, and control you signed up for, especially if you're averse to paperwork, office tasks, and the "traditional desk." And when you make it home at the end of a haul, much of your "office" work has already been accomplished along the way, and you can enjoy your free time doing what you enjoy with the people you enjoy.
Truckstop Go helps fulfill the promise of work/life balance for today's carriers.
Equipped with Truckstop Go mobile app, you can truly run your business your way. You can set your own hours and choose when and where you want to perform additional job duties to gain time-savings and be more efficient. Whether you want to work from your cab, while you're waiting in detainment, at your kid's baseball game, or, yes, even if you're at home—the choices are all yours to make.
With advanced features that help you do more than just find loads, you'll get more done in more places and stop wasting time looking at loads you've already seen. You can save a load you like, see live loads in real time, and even block a broker you know you don't want to work with.
Here's a closer look at how Truckstop Go goes above and beyond to simplify your day-to-day work life.
The Truckstop Load Board is home to up to a million loads on any given day. How do you sort through the vast load count to find the loads that match your criteria and meet your needs? With high-speed reliability built right in, our mobile app includes features that help you quickly zero in to find the loads relevant to you. You can swipe to hide loads you're not interested in. You can swipe to compare promising loads—and view up to 10 side-by-side on one screen to easily weigh the pros and cons and make a quick decision before another carrier snaps up the load you really want. Plus, you can save a load you might want to come back to—another time-saving feature that eliminates the frustration and confusion from your every load search. Another time-saving feature is the ability to hide a particular broker you've decided not to work with. You can "block" any broker, so you no longer see loads from them in your searches. All this in the palm of your hand gets you where you need to be—on the road and making money—much quicker.
Grow with Truckstop Go, the must-have app for new and seasoned carriers alike.
If you've recently entered the freight marketplace as a new carrier or are thinking about it, Truckstop Go can be a source of confidence. From finding your first load to celebrating your first paycheck paid by a trustworthy broker with a fast days-to-pay reputation, you can look to Truckstop Go to propel your dreams forward—and fast.
Choose from hundreds of thousands of live loads.
Book your first load in minutes.
Find the right loads for you. The right lane, the right equipment, and the right rate.
Post your truck and connect to brokers you can trust.
Do it all from your new office: the road.
If you're a veteran carrier who already knows the ropes but is ready for growth, whether it's adding trucks or increasing your bottom line, the advanced features of Truckstop Go can help you, too.
Especially helpful when it comes to time-consuming negotiations with brokers involving back-and-forth emails and phone calls, is our Rate Insights tool, a feature of Load Board Pro and accessible via Truckstop Go, Rate Insights gives you load-level details at the granular level, including preferred lanes, equipment type, and more, so you get the right price for every load you haul—in all market conditions. With daily rate info at the load level, you'll know the going rate going in every time, plus you can view 4-week and 36-month trend lines for future planning and be ready for seasonal shifts in pricing.
You can use features like Fuel Desk to economize and cut costs, especially in the time of exorbitantly high fuel prices. Fuel Desk help you control travel miles and plan the best routes to hit the top fuel spots and calculate IFTA taxes on the go, which you'll find invaluable come tax time.
You can even ditch time-consuming rate negotiations altogether with Book It Now. Book It Now lets you book loads instantly with brokers you know and trust. All the load information, including the rate, is posted, so you can accept it and book it without ever picking up the phone or sending an email, or move along to find a more suitable load. You can even book loads outside broker business hours, including nights and weekends.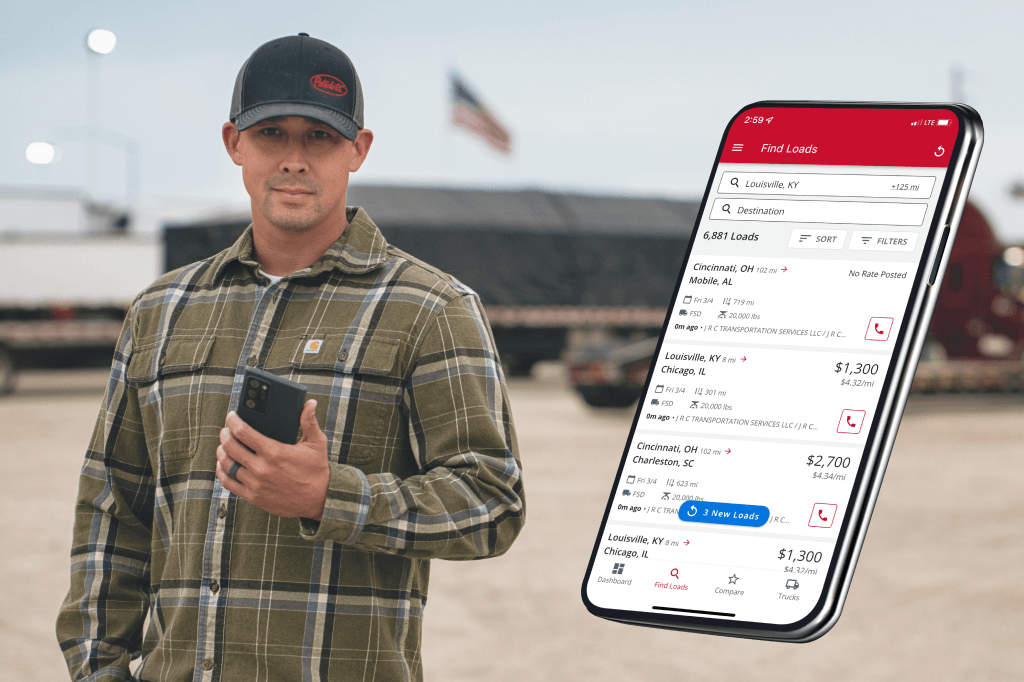 Ready. Set. Truckstop Go.
From the first online load board our founder designed over a quarter a century ago, we've been motivated by the wonders of technology and innovation, specifically how we could provide a better way for carriers to move freight. The industry—and technology—have come a long way since then, but innovation is still in our very DNA. As is our commitment to you.
To build Truckstop Go, we talked to the very people who'd be using it. The people who know the business better than anyone. Carriers like you. We listened, and we're working hard to deliver what you need at every turn. Your job is increasingly complex, way more competitive, and all kinds of challenging. But it still promises freedom, autonomy, and a day-to-day lifestyle you wouldn't give up for any office job.
Equipped with Truckstop Go, you can move fast, keep pace with the speed of freight, and keep ahead of the competition. You can work smarter instead of harder. You can build relationships that'll see you through the long haul. With Truckstop Go, you're always in control and well ahead of the curve. And we're right there with you, ready to listen and respond.
Get going today by signing up for the Truckstop Load Board (if you haven't already) and download Truckstop Go!


Schedule a demo.
Find out how our platform gives you the visibility you need to get more done.